Are these the weirdest baby products ever?
A poop alarm may be the solution to all your problems...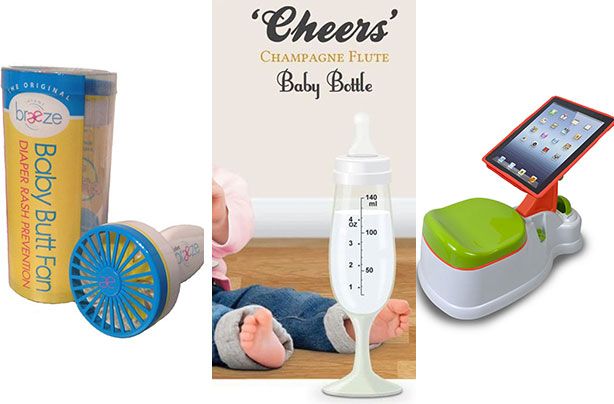 Ever wondered if your child could be multitasking while crawling, or how you can finally go for a wee in peace? Of course you have! Well fear not, because these baby products have the (ok, rather weird) solutions to all your parenting problems and needs...
While motherhood often brings out the best in us, the lack of sleep and exhaustion in the first few months may not be the best time to test that theory.
And while most of us just try to get on with the help we have, there are some people who clearly want to make parenting easier with a few 'clever' inventions. We just can't decide how useful we'd have found some of these, shall we say, rather unusual baby products...
1. Champagne Baby Bottle
Image: PrezzyBox (opens in new tab)
Have a celebration coming up? Let your baby join the toast with this baby bottle in the shape of a champagne flute. They'll have to wait 18 years for the real stuff, but this will probably do for now.
2. Baby heels
Apparently baby heels are a thing, but not quite like what you'd find in a grown woman's shoe closet - thankfully! Collapsible and made of fabric, the heels on these baby shoes are purely ornamental. Katie Price has made it clear she's not a fan (opens in new tab), what about you?
3. Baby bum fan
Image: Amazon (opens in new tab)
This baby bum fan can be used to air dry your baby's bum faster. Experts say letting your baby's bum dry naturally during a nappy change is key in preventing diaper rash, but if you ever find yourself wondering how you could speed up the process, we've found the solution!
4. Baby wigs
Image: Etsy (opens in new tab)
Wondering what your baby would look like with another hairstyle? Get a baby wig and find out...
5. Baby Keeper
Image: Mommysentials (opens in new tab)
Going for a wee in peace is every mum's dream, and with the baby keeper it might actually happen. This product allows you to put your child in the carrier and then hang it from a stall wall in public toilets or fitting rooms.
6. Hair bib
Image: Crumb Cap (opens in new tab)
Getting food everywhere is the number one requirement for being a baby (or is it crying as soon as you fall asleep? Maybe it's number two then), so someone clearly tired of cleaning sticky food off their kid's hair has finally come up with a solution. With the hair bib, everything's safely protected against incoming brocolli and mashed potatoes.
7. Baby mop
Image: Firebox (opens in new tab)
When your baby starts to crawl, get them to help with the housework with a baby mop costume. While they explore every corner of the house, they'll be cleaning the floor too. Multitasking at its finest.
8. iPotty
Image: Amazon (opens in new tab)
Potty training has had a very modern upgrade. Keep up with the times and get one of these for your children, equipped with a stand for your iPad so they don't get bored.
9. Poop alarm
Image: HKTDC (opens in new tab)
In case the smell isn't a strong enough clue, the poop alarm will remind you it's time for a nappy change with a sound and blinking LED light.
Trusted, informative, and empathetic – GoodTo is the ultimate online destination for mums. Established in 2007, our 15-year-strong archive of content includes more than 18,000 articles, 1,500 how-to videos, and 7,000 recipes.