What are the fines for breaking lockdown?
Wondering what the fines for breaking lockdown are? These are just some of the things you can be charged for by the police at the moment.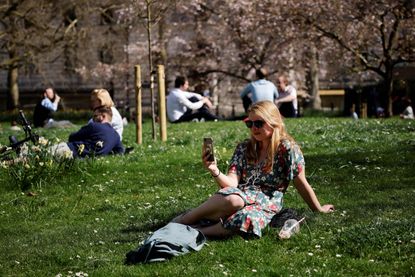 (Image credit: AFP via Getty Images)
Even as we come slowly out of the restrictions, fines for breaking lockdown rules will still be in place.
Under the government's roadmap out of lockdown (opens in new tab), many of the rules that were enforced at the beginning of the year are now being lifted - such as how many people you can meet outdoors (opens in new tab). However, there are now increased fines for anyone who flouts the restrictions still in place.
In the last month, the fine for breaking international travel rules in lockdown (opens in new tab) has increased dramatically, along with harsher penalties for those who bypass the hotel quarantine (opens in new tab) period when returning from a country on the government's red list.
What are the fines for breaking lockdown?
The fines for breaking any of the lockdown restrictions depend on what part of the UK you are in. In all cases, the police can issue monetary penalties to anyone they believe is breaking the rules.
Fines for breaking lockdown in England
In England, the standard fine for breaking the lockdown starts at £200 for the first offence. This can be lowered to £100 if it's paid within the first 14 days. It's £400 for the second offence and doubles for each offence to as much as £6,400.
In January 2021, the government introduced another type of fine: penalties for "large gathering offences". As it is still against the law to meet indoors with people outside your household or support bubble (opens in new tab), these fines are applicable to anyone meeting up in a group of more than 15 people within a private home, educational accommodation or anywhere indoors. The new penalty is also applicable if the gathering meets the definition of a rave by having more than 20 people present in the open air.
Anyone thought to be organising a large event can be fined £800 which is payable within 28 days. It is reduced to £400 if it's paid within 14 days. If a second "large gathering offence" is committed by the same period, they are given a second fine of £1,600 which then doubles for any more offences, capped at £6,400.
In England, there are also £10,000 fines for anyone found to be organising the illegal gathering.
Amidst another surge of coronavirus in Europe, the fine for travelling abroad for non-essential reasons has also increased to £5,000 as of March 29.
Under the current plan for easing restrictions, the earliest date that people in England could go abroad for a holiday would be May 17. However, this will only go ahead if the roadmap continues as planned.
[apester id="606d63db06faec0009501840"]
This are the same fines for both full-length lockdowns and a short, sharp circuit breaker lockdown (opens in new tab) - like the one England had in November.
Fines for breaking lockdown in Wales
In Wales, it's £60 for the first offence and this penalty can be reduced to just £30 if it's paid within 14 days. The penalty then rises to £120 for the second offence and for each further offence after that.
There are also fines for those found to be organising an "unlicensed music event of more than 30 people". This offence is punishable by conviction and an unlimited fine or as an alternative, a fixed penalty notice of £10,000.
In a statement, the Welsh government said, "The unlimited fine or significant fixed penalty for organisers of these illegal events reflects the potentially serious public health consequences at this time.
"We hope people understand the severity of the situation we are facing and will comply with the regulations, without having to be issued penalties."
Fines for breaking lockdown in Scotland
In Scotland, unlike elsewhere in the UK those over the age of 16 can be fined for breaking coronavirus restrictions. It's £60 for the first offence, then lowered to £30 if paid within 28 days.
It's £120 for the second offence, which then doubles for further offences up to £960.
During one week in January, 241 fines were issued to those found to be breaking travel rules which were in place at the time to stop people moving through areas with different restriction levels.
ACC Alan Spiers said, "The policing approach we adopted from the outset of the pandemic will not change. Our officers will continue to engage with the public, explain the legislation and guidance, & encourage compliance. We will use enforcement as a last resort where there is a clear breach.
"The Chief Constable has said publicly on numerous occasions that we will not be routinely stopping vehicles or setting up road blocks, and that will not change as a result of travel restrictions now being in law.
"However, officers may in the course of their duties come across people who are travelling from one local authority area to another. In areas where travel restrictions apply, they will continue to use the common sense, discretion and excellent judgement they have applied so far."
Fines for breaking lockdown in Northern Ireland
Much like Scotland and Wales, in Northern Ireland, it's £60 for the first offence which can be reduced to £30 if paid within 14 days.
It's then £120 for the second offence, doubling each time up to a maximum fine of £960.
What are the coronavirus rules you can be fined for breaking?
As lockdown restrictions change across the UK, what rules you can be fined for breaking is likely to change and they are also very hard to police in the first place. For example, while 'mingling' in the street is prohibited, the police can't technically fine you for bumping into someone that you know when out and about.
However, if you're caught by the police doing any of these things, then you can be fined...
Breaking the rule of six
Not wearing a face covering on public transport or elsewhere when it's required (unless you are medically exempt)
Breaking the quarantine rules after coming back from a country on the quarantine list
Failing to self-isolate if you are contacted by track and trace
Forcing someone else to break the quarantine rules
The level of penalty is dependent on the severity of the crime and whether you've committed the same offence before.
Can you be fined for not wearing a face mask?
Yes, you can receive a fine from the police for not wearing a face mask - if you're not medically exempt from wearing one.
While people aren't required to wear masks outside, they do have to wear them inside supermarkets and shops during the lockdown and when the new tier lockdown system comes into place, those in tiers one and two will have to wear masks in pubs, restaurants and other hospitality venues when not sat at a table.
Despite the rules being clear-cut, it seems that the police are hesitant to issue fines for not wearing a face mask. Statistics released by the NPCC show that just 89 fines were given out for breaching the rules on face coverings between June 15 and September 21.
Of these fines given out, 61 were related to not wearing a face covering on public transport while less than 30 fines were given out for breaches of the rules in other public settings, such as shops.
Grace Walsh is a Features Writer for Goodto.com, covering breaking news health stories during the Covid-19 pandemic as well as lifestyle and entertainment topics. She has worked in media since graduating from the University of Warwick in 2019 with a degree in Classical Civilisation and a year spent abroad in Italy. It was here that Grace caught the bug for journalism, after becoming involved in the university's student newspaper and radio station.