Are these the worst baby names of ALL TIME?
These parents decided to go one step further in choosing something special for their new arrivals...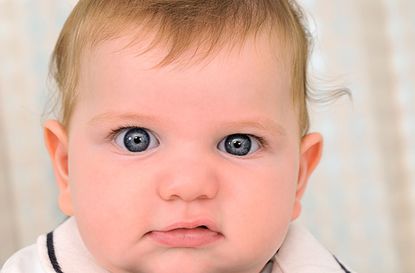 While we absolutely believe that all babies are beautiful, this can not always be said for their parents' choice of baby names. Here are some of the worst baby names...
Some parents go for sweet ideas, modern monikers or more traditional names (opens in new tab), and then others opt for something a little, shall we say, different for their newborns! And we've heard a few rather unusual ones that you might be surprised are even real.
We list the 'worst' cases of baby naming we've ever heard!
This creative spelling of 'Kaitlyn'
A couple from Queensland in Australia wanted to replicate the 'ait' sound in Kaitlyn with Roman Numerals, so chose to spell their daughters name this way: 'KVIIIlyn'.
Marks for trying and all that but this one is just a bit too unique for us truth be told.
A reddit user commented alongside the post of the couple's announcement to say, 'Kreaytiv spelling at its finest, because every child should be yooneek in every way. I think I'll rename my son MarX. If I were in charge of such things, I would offer all victims recipients of such names the opportunity to change their names for free when they turned 18.'
Parents win legal battle to name their son 'Wolf'
Wildlife fans, would you ever go this quirky with your choice? According to reports, one couple have won a case in the courts to name their son 'Wolf'.
The couple are based in Spain, so the boy's name will actually be 'Lobo', the Spanish word for the animal. Back in July 2016, the pair were told they were not legally allowed to choose the name, but after starting a Change.org petition and getting an impressive 26,000 signatures in support of their choice, the decision was amended and the name was approved. Apparently it was initially rejected because Lobo is a common Spanish surname, and it was thought that this could lead to confusion.
On their petition page, the new parents said that they have a long-time love of wolves, and have always supported campaigns for the protection of the 'beautiful animal'.
'Lobo is the contemporary Italian "Lupo" which means strength, cunning and intelligence,' they added. 'In Greek times the wolf was an animal related to the light, because it is a symbol of the aggressive power of the sun, so why not Wolf?'
Reddit threads reveals parents' worst baby names
We've found not one, not two, but three Reddit threads that have seen users fervently sharing stories of the 'worst baby names' they've ever heard - and the results are, unusual, to say the least.
The latest highlights the choice of the name 'Kimyonce', which one creative parent chose when they just couldn't decide whether to name their child after Kim Kardashian or Beyonce.
Another user chipped in that, 'My coworker named her baby "Strawberry Rain", which would be a great name, if she gave birth to a bottle of shampoo.'
Some of the names on the list were unfortunate phonetically: 'I read about a family who named their son Drew and their surname was Peacock,' one commenter revealed (say it aloud and you'll soon understand...), while another child with music-loving parents was given the name Aero Smith.
Other 'unusual examples' in the discussion included Dolphin, Chandelier and Xaos, which should be pronounced Chaos, apparently.
In a second thread, the surprising twist on a classic Elizabreth was voted top of over 200 comments. And there were others which we aren't convinced weren't just a spelling error, too, like Beberly for instance. Beverly, surely?
Further down more commenters started to point out a recent trend for replacing vowels with y's like in the cases of Mhavryck (pronounced Maverick) and Gryffynne (pronounced Griffin). Needless to say these users weren't going to be jumping on the trend any time soon. All we can think is how hard it'll be for these poor children to learn how to spell their names!
Another common gripe from users seemed to be names that had a double 'e' at the end instead of a 'y'. Examples included Billee and Melanee with one user, PurpleThirteen, saying 'Worst I heard was where they'd spelt it Bethanie instead of Bethany because 'then she can dot her I with a little heart.'
One of the more, err, left-field names listed was Little Sweetmeat which the user posting said they would 'swear to God' it was true.
And it wasn't long before other names came flooding in. One person commented saying that they worked in child care and Danger and Legend were among their 'favourite' worst names
On a third list, people shared stories of some, shall we say, passionate parents.
'My daughters had friends in middle school whose parents were astronomers.
'They named their three girls Galaxy, Neptune, and Uranus. I really felt sorry for Uranus. This is 100 per cent true,' a user wrote.
Other Reddit commenters added they knew twins named Vodka and Orange as well as two sisters named Misty Moon and Amber Moon. Nothing like a matching pair, eh?
Some of our favourites
Swipe to scroll horizontally
Nevaeh
Heaven spelt backwards
Aliviyah
Pronounced Olivia
Colon
As in :
Ernest
Ehann
Pronounced Ian
MyAngel
Spartacus
Panthy
Jarica
Jessica and Erica combined
North West
(ouch Kim!)
JaMocha
Merika
Quistina
Pronounced Christina
Honasty
Pronounced Honesty
Londyn
Alucard
Dracula spelt backwards
Parents name their child Saw Jet Star (after a plane!)
https://www.facebook.com/JetstarAsiaAirways/photos/a.54869962581.66576.31975232581/10153673755792582/?type=3&theater
A little boy has been named Saw Jet Star after being born on a Jetstar Asia flight. The airline company made the announcement via their Facebook page, telling their followers that, 'The baby boy weighed six pounds, seven ounces and is the FIRST baby to be delivered on a Jetstar Asia flight'
They also wrote that they'd be contributing 100 Singapore Dollars for baby supplies, which is roughly £500!
Well, it's certainly... unique.
Dad named daughter after favourite football team
One football fan managed to hoodwink his unsuspecting wife for a full two years, with his unusual choice of name for their baby daughter.
Clare Smith from New South Wales, Australia, wrote to a popular daily magazine to explain how her husband had chosen the name Lanesra, which she liked because it was 'unique and romantic', not questioning his lightning bolt of naming inspiration...
It was only two years later that he revealed it was actually just the name of his favourite football team - Arsenal - spelt backwards.
This comes after Olympic gold medalist, Mo Farah, admitted to Hello! magazine that he was also keen to name his fourth child after his beloved Gunners; 'I wanted Arsenal to be Hussein's middle name, but Tania wasn't having it.'
We're on Tania's team on this one.
Parents planned to legally change son's name from Diesel to Popcorn
A Welsh couple revealed plans to rename their three-year-old son Popcorn, just in time for him starting nursery, because it was the 'obvious choice'.
Three-year-old Diesel's nickname apparently started early on, with his mum and dad calling him popcorn while he was still in the womb.
His dad Huw Roberts, 36, told Mail Online at the time: 'Popcorn, it was the obvious choice. He was a bit of a fighter during pregnancy.
'And the kicks in the womb were like the popping that happens when you put the corn in the saucepan. It's stuck ever since that day.'
According to a database of babies' names, there are no other records of children named Popcorn in the UK, ever.
We wonder if this is the start of a new naming trend. Watch this space to see if it pops up again...
Mum named baby after taxi app
A mum from Delhi, India named her new-born child Uber, after the taxi app.
The heavily pregnant woman was forced to use the private taxi service whilst she was in labour, after her calls for an ambulance were unanswered.
On the way to the hospital, they became stuck in gridlock traffic and she ended up giving birth in the back of the car.
The Uber driver, Shahnawaz, said; 'I pulled out the towels from the seats and poured some drinking water into a bowl. The child was born within minutes and I was really happy to see that he was responding.'
'This was one of the happiest moments of my life.'
The mother then asked Shahnawaz to name her child, and he couldn't help but pick the name Uber.
Well we certainly hope she rated him five stars for that trip!
ANOTHER dad named his son after football team
A South London football fan named his three-week old son Bermondsey Millwall Den Bloomfield in honour of his beloved club.
But without telling his wife first.
Mike Bloomfield, 58, from Croydon said 'I just love Millwall' and argued that if celebrities like David Beckham can name their children Brooklyn, then 'I can name mine Bermondsey'.
'One of the women at the registry office was a Millwall fan and she loved it when she saw what we are going to name him.'
Mike's wife Kelly said that the name, which she had not approved before her husband went to legally register little Bermondsey, was 'growing' on her.
Speaking about her husband's decision afterwards she said; 'He was a bit frightened to come home. I'm coming around to it though and I quite like it.'
'I think he looks a bit like a Bermondsey and it's definitely unique. I don't think anyone else has got a name like that.'
Trusted, informative, and empathetic – GoodTo is the ultimate online destination for mums. Established in 2007, our 15-year-strong archive of content includes more than 18,000 articles, 1,500 how-to videos, and 7,000 recipes.