Zara and Mike Tindall announce birth of their second child
Zara Tindall, the Queen's granddaughter, and her husband Mike Tindall have announced the birth of their second child.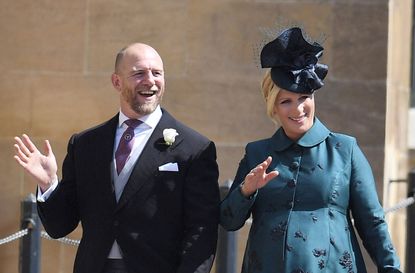 Zara Tindall, the Queen's granddaughter, and her husband Mike Tindall have announced the birth of their second child.
The couple welcomed a baby girl on Tuesday 19 June. The happy news was confirmed by the Royal Family with an official statement which said: 'Mrs Michael Tindall was safely delivered of a baby girl on 18th June, at Stroud Maternity Unit. Mr Tindall was present at the birth. The weight of the baby was 9lbs 3oz.'
The couple have not yet revealed their daughter's name but another announcement will be made 'in due course' according to the official statement.
It was only a few months ago that a heavily pregnant Zara, who shares four-year-old daughter Mia with the former England rugby player, attended the wedding of her cousin Prince Harry, who wed Meghan Markle at St George's Chapel, Windsor on May 19th.
The couple's new arrival, now 18th in line to the throne, is just a few months younger than its royal cousin, Prince Louis, who arrived on April 23rd – Prince William and Kate Middleton's third child.
The Olympic equestrian and Mike's new bundle of joy comes after the couple revealed Zara tragically suffered a miscarriage in December 2016, when she was four months pregnant.
Opening up about the devastating loss last year, Mike told The Sunday Times: 'One thing you do learn is how many other people have had to go through the same.
'The saving grace for us has been Mia, our daughter who is now three. However down we feel she will come running up in our faces.
'When I was playing I hardly saw her; now we can see her grow up. I can take her swimming and I can take her to Ninja Tots. You'll never be able to see her there because she disappears in a puff of smoke.'
News of the miscarriage broke on Christmas Eve 2016, just weeks after the pregnancy was announced at the end of the previous month.
In a short statement, a spokesperson for the couple said: 'Very sadly, Zara and Mike Tindall have lost their baby. At this difficult time, we ask that everyone respects their privacy.'
The sporting couple have been married for nearly eight years and met during England's Rugby World Cup-winning campaign in Australia in 2003.
They were introduced to each other in a bar in Sydney by Prince Harry.
A Freelance Writer and Content Editor, Jenni has been working on the women's lifestyle team at TI-Media on and off for over three years. She writes about your favourite celebrities and TV shows so you never miss an update. Jenni also writes beauty news and features - so for all of your skincare and make-up needs, drop her a line.