Best children's cookbooks 2022: Gruffalo, Ella's Kitchen and more
The Gruffalo Cookbook, The Red One by Ella's Kitchen, and Omari McQueen's Best Bites Cookbook are just a few of the best children's cookbooks for 2022.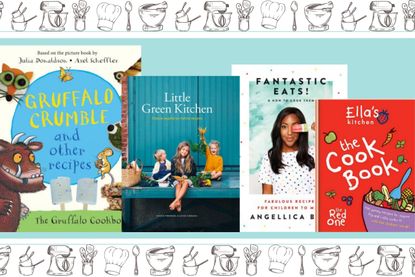 The Gruffalo Cookbook, The Red One by Ella's Kitchen, and Omari McQueen's Best Bites Cookbook are just a few of the best children's cookbooks for 2022.
We've put together a list of our favourite cookbooks for kids including a range of bestsellers and some exciting new releases. From learning new skills to understanding basic health and safety practices in the kitchen, from easy breakfasts for kids to baking recipes for kids (opens in new tab), we've got plenty to choose from.
Getting your little ones to eat their food can often be a huge challenge that many parents face on a daily basis. Involving your child in food preparation is a great way to encourage them to eat better. Teaching children about the food they eat, how to prepare it, and even allowing them to cook food themselves will naturally peak their interests, and will more than likely lead to them being more enthused about food overall. Choosing to start this journey with a cookbook specifically for kids is a great choice.
"I just love cooking with my kids," says Senior Content Editor, Jessica Dady (opens in new tab). "A cookbook is a great tool. You can choose the recipes together, have a permanent visual reference of how you want the end result to look and you can keep going back to the book for more recipes. The kids love taking it in turns to read the cookbook too, instructing each other - and me!"
Best children's cookbooks for 2022
Why you can trust GoodTo Our expert reviewers spend hours testing and comparing products and services so you can choose the best for you. Find out more about how we test.
1. Cooking Step By Step: More than 50 Delicious Recipes for Young Cooks
Aimed at: 5 - 9 years old
Why we love it: A children's cookbook featuring 50 easy-to-follow recipes for kids, Cooking Step by Step is the perfect book for children who want to learn to cook and bake with confidence.
Teach your children the fundamental skills they're going to need to cook or bake. With this book, they will learn how to chop, mix, and stir and put their skills to good use making a mixture of tasty savoury, and sweet dishes.
One of the best children's cookbooks, this book has been rated an average of 4.7 stars out of 5 on Amazon. One happy Amazon customer comment; "I bought this because my 10-year-old son is getting more interested in cooking and baking and he absolutely loves this book. Good mix of different recipes, very kid-friendly with lots of pictures and simple instructions, but it doesn't compromise on the quality of the dishes - everything my son has made from the book so far has been delicious and the whole family enjoys the food!"
2. My First Cook Book: Bake, Make and Learn to Cook
Aimed at: 5 - 9 years old
Why we love it: Recipes in this cookbook are given a healthy twist with ingredient swaps and substitutes. The illustrations make this book great for engagement.
Great British Bake Off winner, David Atherton is inspiring young cooks to throw on an apron and have their whisks at the ready. Packed with beautiful illustrations and easy-to-follow sweet and savoury recipes. Recipes vary from speedy suppers to show-stopping bakes.
Amazon customer Mrs D, rated this cookbook 5 stars saying; "I bought this book for a 3-year-old son, who loves to cook. We needed some new ideas that weren't just cakes! This book is amazing, the recipes are easy to follow and the use of ingredients is genius. Who'd have thought about making chocolate brownies with sweet potato but it works and tastes amazing. The illustrations are also beautiful and so true to modern-day lives. We've had the book for just over a week and have already made 5 different recipes from it. Cant recommend enough." Rated an average of 4.6 stars overall.
VIEW AT AMAZON | £9.03 (opens in new tab)
3. Gruffalo Crumble and Other Recipes: The Gruffalo Cookbook
Aimed at: 3 - 9 years old
Why we love it: A great one for Gruffalo fans - it's the perfect children's cookbook for having fun and expanding their skills as well as imaginations.
Let their imagination come to life in the kitchen, with this Gruffalo cookbook. Make your own owl ice cream, scrambled snake, roasted fox, and of course, Gruffalo crumble. With 24 recipes specially designed for adults to use with children, step-by-step instructions and lots of hints and tips on what to do next, Gruffalo Crumble and Other Recipes is a great way to introduce Gruffalo fans to cooking and baking. "There are four (at least I think there are only four) cookery books for children based on the wonderful Julia Donaldson stories. I conveniently have 4 grandchildren all of whom enjoy cooking with their mums so this makes an ideal gift. I can thoroughly recommend them as a way of getting a young child interested in preparing their own food," said one satisfied Amazon customer.
4. Cool Kids Cook: Delicious Recipes and Fabulous Facts to Turn into a Kitchen Whizz
Aimed at: 8 - 14 year olds
Why we love it: Cool Kids Cook is an informative, fun, and stylish first cookbook for the pre-teen market.
Packed full of interesting facts, challenging recipes that are designed to empower young minds to feel proud of what they've made not to mention healthy options, and vital, basic cooking skills to set them up for life. Recipes vary from fruity crumble to spaghetti and meatballs. This cookbook has great step-by-step images too to help develop basic cooking skills such as chopping, or grating for example.
One very happy Amazon customer reviewed this book as 'excellent' with a 5-star rating; "Bought this for my (just turned) 13 yr old son's b'day. He has a learning difficulty, but has really enjoyed special one-to-one cooking lessons at school this past year, so thought it would be great for enabling him to be able to get on by himself in the kitchen at home (I suffer from poor health, so can't assist him a lot of the time). It's set out beautifully - lots of pictures, illustrations, and very clear step-by-step instructions (inc safety info/tips). What makes it even better is that it's also packed with nutrition, ethical, and sustainability info too, which I think is really important for kids to know. Would thoroughly recommend it."
5. Ella's Kitchen: The Cookbook: The Red One by Ella's Kitchen
Aimed at: 3 years +
Why we love it: This book is a basic must-have for every household with toddlers.
This impressive cookbook from baby food brand Ella's Kitchen, comes with stickers and colouring in. With 100 easy, tasty, and healthy recipes for snacks or full dinners, or leisurely weekend breakfasts. Plenty of pictures and easy-to-follow instructions for the recipes.
With over 1,000 positive reviews on Amazon and an average star rating of 4.5 stars, this certainly is one of the best children's cookbooks out there. "Great book if you need inspiration for dinner time, and great that recipes can be easily adapted to suit little ones tastes, as well as according to what you have in the cupboard! My daughter (3 years) loves choosing what she'll be eating and then putting a sticker on the page when she inevitably likes it! Have recommended it to lots of people already."
6. Fantastic Eats & How to Cook Them - Fabulous Recipes for Children to Make
Aimed at: 5 years +
Why we love it: Firsthand mum experience of cooking with kids and the reality of it. Along with easy-to-follow recipes and simply laid-out methods.
Angellica Bell has not only spent years as a presenter on CBBC and BBC, but she's also a fantastic cook who won BBC TV's Celebrity Masterchef. This cookbook includes 30 fun, step-by-step recipes that she makes with her own children. Angellica gets youngsters excited about creating tasty sweet and savoury dishes for everyone to share. Her recipes will bring the whole family together as you try your own homemade burgers, butternut squash and sweet potato fritters, Jamaican rock buns, and icy watermelon lollies.
"Aw what a fabulous cookbook this is! Not only do you find yourself enjoying the food it's really easy to follow and it's so colourful and wonderful to look at! Your kids will enjoy it too especially the Monster Crispy Treats just delicious," says Amazon customer Emily.
VIEW AT AMAZON | £12 (opens in new tab)
7. Little Green Kitchen: Simply vegetarian family recipes
Aimed at: 3 years +
Why we love it: All of the dishes are veggie-packed, colorful, kid-friendly, and simple with most taking under 30 minutes to prepare.
Vegetarian cookbook authors and husband and wife duo, David and Luise have added a fifth addition to their cookbook family with Little Green Kitchen. They, like many parents, have experienced first-hand the struggle of making sure dinner plates are empty and that the food is in tummies and not on the floor. This cookbook has been created with the palettes of children at the center while creating recipes that all the family will enjoy.
Amazon customer Stefanie called this a 'lovely family cookbook' giving it 5 stars on Amazon. She added; "Waited for this cookbook and it doesn't fail to live up to the other books in this series. I have two fussy 2 and 4-year-olds who have had no qualms eating the recipes from this book. Easy to follow."
8. The Silver Spoon for Children New Edition: Favourite Italian Recipes
Aimed at: 7 - 10 years old
Why we love it: A collection of quick, wholesome, easy-to-make Italian dishes for kids to prepare (adapted especially for children from the most influential Italian cookbook of the last 50 years).
This newly designed edition presents a fresh, easy-to use layout. With its charming specially commissioned illustrations, a lively layout, and bright and tempting photographs of the finished dishes, this book is sure to please budding cooks in kitchens around the world.
Rated an average of 4.5 stars on Amazon. One happy customer gave it 5 stars calling it a cookbook 'good for adults too'. They added; "We love this book and use some of the recipes (try the ice cream) as family classics. It's a great present for children, but if you like Italian food it works for adults too."
9. Omari McQueen's Best Bites Cookbook
Aimed at: 8 - 14 years old
Why we love it: It's the winner of the PETA Best Vegan Cookbook Award 2021.
Omari McQueen is one little guy on a huge road to success. The 12-year-old star of TV's What's Cooking, Omari McQueen's cookbook comes full of delicious vegan recipes, for young and old. Get cooking with the UK's youngest, award-winning vegan chef, learn how to makeover 35 plant-based recipes from pizza to pasta, snacks to smoothies.
"I bought this for my children and had to come back a few more books for my nieces and nephews. They absolutely love cooking. My children wanted to use a cookbook with step-by-step instructions that can be easily followed. We have tried a couple of recipes and they were delicious, so they are really keen to try out more. We like the fact that these are grown-up dishes and use fresh ingredients and written by a twelve-year-old boy it's so inspirational for children who love to get in the kitchen," said one very happy Amazon customer who rated Omari's book as 5 stars on Amazon.
10. The Kew Gardens Children's Cookbook: Plant, Cook, Eat
Aimed at: 6 - 8 years old
Why we love it: By having fun growing different plants, children won't be able to wait to try their tasty produce, encouraging great, healthy eating habits.
This beautiful grow-your-own kitchen-garden cookbook, produced in association with the Royal Botanic Gardens at Kew. The book contains step-by-step guides to show how easy it is to grow peas, beans, potatoes, carrots, and more in your garden, in patio containers or in window boxes, or on an allotment. Then transform your home-grown produce into delicious meals and desserts by following easy, step-by-step recipes. Learn all about how plants grow, from seeds to seedlings, watering and weeding, to harvesting and composting.
Rated 5 stars by over 80% of Amazon customers. One customer, Susan said; "A nice simple book for children to start planting and growing vegetables. It has a step-by-step guide on how to cook a dish using vegetables. And has shown them how to grow veg too. It tells children enough to keep them interested but does not overdo the information, so they get bored."
11. The mymuybueno Cookbook: 160 refined sugar-free recipes
Aimed at: 4 years +
Why we love it: This is a book to inspire, to share, to reflect - with good, healthy, refined sugar-free food at the heart of it.
Wife, mother, chef, crew agent, school principal, and successful entrepreneur, Justine Murphy wears many hats, but her journey has not been an easy one. With a genuine passion for inspiring others through her story, she has now, in her most personal endeavor yet. The mymuybueno Cookbook shares not only her unique recipes but also an insight into her world and her past, with tips on how to juggle the many balls of modern life whilst ensuring that the joy of good food - and sharing it with those you love - takes center stage in life.
This is by far one of the best children's cookbooks out there. With over 87% of Amazon customers giving it 5 stars, this cookbook has been called the 'must-have cookbook', as well recipes classed as 'guilt-free fabulous food' and 'delicious good food without compromise'.
And if our best children's cookbooks don't inspire you, we've got plenty of recipes tailored to making with kids here on Goodto.com including the following:
Video of the week
With over 12 years of experience, arts graduate Keiron turned to food to channel his creativity, specifically cake decorating. Keiron set up his wedding cake business in 2015. And, in late 2016 won a scholarship at the world-renowned culinary institute - Le Cordon Bleu, London, where he studied the art of French Pâtisserie. He's worked in some of London's finest 5-star hotels, collecting a wealth of knowledge along the way. As a Food Writer and Stylist food isn't just a job, it truly is Keiron's passion.