8 Christmas bargain buys every mum needs (from just 99p!)
Mum vlogger Sarah hits the shops to find the best festive bargains...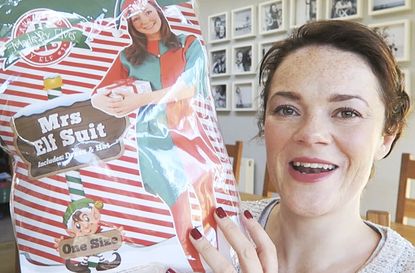 In this week's Kids Kitchen (opens in new tab), mum vlogger Sarah has hit the shops in a bid to find the best festive bargains around!
She's managed to pick up Christmas biscuit tins, festive glass tumblers and even a Mrs Elf suit that'll go down a treat with the kids (and because Christmas parties are so much more fun if you're dressed up, obviously).
Starting at just 99p, these Christmas bargain buys are a steal. Sarah tells us they're 'things I have been buying that I love, that are really good value and you can pick up yourself too.'
She's got quite a haul from Home Bargains and a few fun festive bits from Poundland too!
If you've got your Christmas food sorted and it's now time to get some extra bits together for the festive period, don't miss these bargain finds!
1. Festive cupcake boxes
'These are great if you want to make a homemade food gift (opens in new tab), you could make little boxes of four cupcakes and give them to people - they'll be a really nice thing to give!' Sarah says, and we couldn't agree more.
Who wouldn't love to get a box of Christmas cupcakes (opens in new tab) this year?! At 99p for a pack of three, they're fab value for money from Home Bargains.
2. Christmas biscuit tins
'I often bake for people at Christmas... and for £1.49 these would be really nice to put cakes in and give to the recipient so they end up with a nice tin as well.' So you're not only getting cake or some Christmas biscuits (opens in new tab), but you have a lovely tin to keep too!
3. 'Let it snow' mug
Sarah says: 'I love this - it was £1.29 and it's a really nice shape and size!' and what's even better, 'it feels like it's a lot more expensive than £1.29!'
We can just imagine having a lovely warm cup of hot chocolate (opens in new tab) out of these on Christmas Day!
4. Christmas glass tumblers
These lovely, elegant glasses have snowflakes and stags on them, which means they're probably as Christmassy as you can get. 'They'll be really nice with a snowball cocktail (opens in new tab)!' Sarah adds. At £1.99 for four glasses, they're a real steal.
5. Mrs Elf suit
This Mrs Elf suit from Home Bargains is only £3.99 and Sarah can't wait to show her kids - 'I know that the children will absolutely love it! When we go to a Christmas party, I'm going to dress up as an elf!' Because if you want to get dressed up and be silly, there's no better time than Christmas.
6. Christmas plates
These lovely paper plates from Poundland are £1 for 20 and perfect 'for a kids tea party'. They're bright, colourful and go really well with the next item in our round-up....
7. Festive table cover
To match the paper plates at your Christmas party, this frosty friends table cover is 'a really nice design for Christmas' according to Sarah. Plus, you can get two for £1!
8. Elf hat
And last, but not least... From Poundland, Sarah has picked up this elf hat at only £1.
'It makes a nice change from the usual Christmas hat', she says. And if you're going to wear the elf costume, then you definitely need the hat too!Save