Why Aldi Champagne deserves its award-winning status
Have you tried a bottle of Aldi Champagne?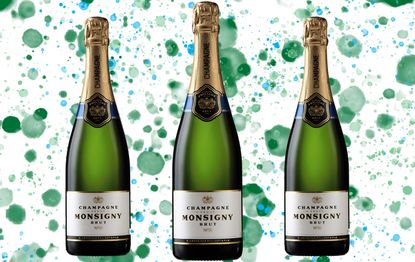 Aldi Champagne is a fizz fit for all occasions. GoodtoKnow went behind the scenes to see why this award-winning Champagne continues to rocket in popularity.
Aldi know how to quench the UK's thirst for bargain booze without scrimping on quality. If you're already a fan of Aldi gin and Aldi wine, you need to add a bottle or two of Aldi Champagne to your next mixed case order...
Aldi Champagne: What's all the fuss about?
Aldi's Veuve Monsigny Champagne Brut NV is one of the supermarket's bestselling bottles of booze with a big reputation and lots of awards under its blue trimmed collar. This year it was awarded a prestigious 'Silver Outstanding' medal at the International Wine & Spirit Competition.
In December last year Aldi sold more than 6.8 million bottles of wine, Champagne and Prosecco which equates to an impressive 200,000 bottles a day!
At just under £2 a glass (£11.49 a bottle), Aldi's champagne costs a fraction of the price you'd need to pay for its competitors and yet it often trumps them in blind taste tests.
The supermarket also recently launched a wedding section on its website, with a handy calculator enabling customers to plan how many bottles of Champagne they'll need to order depending on the number of wedding guests they invite.
They suggest ordering nine bottles for 50 guests, which costs around £100 – this wouldn't even get you two bottles of some big brand Champagnes.
GoodtoKnow were invited behind the scenes to find out what makes Aldi Champagne so good, and why so many people are choosing to celebrate with it.
About Aldi's Champagne producers:
Aldi's Champagne is produced by Philizot & Fils which is run by husband and wife duo Stéphane and Virginie Philizot. Their business is located in the village of Reuil which is at the heart of the Champagne region, close to the river Marne.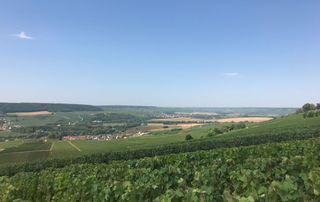 Philizot vines in Reuil
Stéphane started producing his own Champagne in 2002 with the help of his uncle Gérard l'Herondelle, the former head of winemaking at Champagne Lanson.
Aldi first started working with Philizots in 2012 and soon realised they would need to increase production. The partnership started with an order for 120,000 bottles and last year the supermarket sold 1.25 million bottles!
How is champagne made and why is Aldi's so special?
Champagne is made from grapes exclusively grown in the Champagne region, France. The three varieties of grape used include: Chardonnay, Pinot Noir and Pinot Meunier (one white and two red). Aldi's Champagne consists of equal blends from each grape.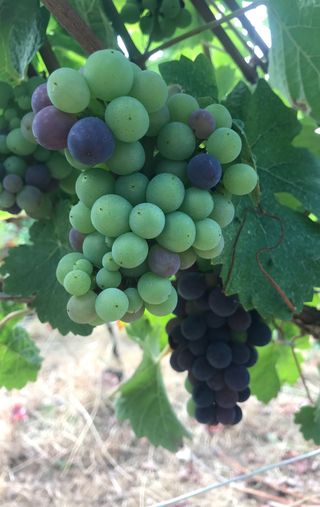 These are the Meunier grapes just starting to take on their colour
Once the grapes have been picked they are pressed and the juices are filtered. This is transferred to large stainless steel tanks, though some producers still use oak, which is a trend that's coming back into fashion.
As primary fermentation takes place in the tanks, the natural grape sugars are transformed into alcohol. Essentially this produces three still wines, which are then blended together.
Once combined, the mixture is bottled and a sweet solution, known as the 'liqueur de tirage' is added along with some yeast.
As the yeast eats the sugar it releases alcohol and carbon dioxide, which is what gives the Champagne its bubbles and distinctive flavour.
Second fermentation takes around six to eight week. As the yeast multiplies and dies it eventually forms a deposit known as the lees in a process called autolysis.
Champagne must mature in its bottle for a minimum of 15 months, 12 of which on the lees for a non-vintage. What sets Aldi's Champagne apart from its rivals is that their Champagne matures for at least 48 months!
Champagne houses with more established reputations can get away with doing the minimum amount of time, as people still buy the brand but the quality of the Champagne is not as good.
This is why Aldi's Champagne continues to perform at blind taste tests.
What happens next?
Once the bottles have finished maturing they need to be rotated to move the yeast sediment to the neck of the bottle before they can be corked, labelled and boxed up.
The turning process is known as riddling. Bottles are turned an eighth of a turn at a time using gyropalette machines. This process takes a week but if done by hand it would take six weeks with no extra benefit.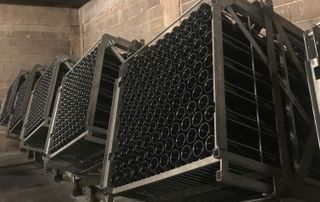 The gyropalettes in action – the bottles will end up vertical with the neck of the bottle facing down
Once the sediment is at the neck of the bottle, it is carefully placed into a freezing cold solution (around minus 24 degrees) to form a frozen plug. This is then released from the bottle in a process called disgorgement.
The Champagne bottles are topped up with a small quantity of 'liqueur d'expedition' (a mix of still Champagne and a sugary solution) to replace any lost during disgorgement. Brut Champagnes can have around 0g-12g of sugar per litre added.
Bottles are corked and labelled immediately after this process. They will sit for another three months to ensure everything is nicely mixed together before being packaged up ready for shoppers to buy.
Celebrating with Aldi Champagne:
Whether you choose Aldi Champagne to be your birthday fizz or the booze you pop on your wedding day, it's sure to be a winner.
If you're hosting a dinner party or looking ahead for Christmas you'll also be delighted to hear that alongside the renowned Veuve Monsigny Champagne Brut NV, Aldi will be selling a Vintage Champagne, a Magnum of Champagne and a Veuve Monsigny Champagne Rosé. The Magnum will be on sale from 14 November but the other two are available from 1 October.
Aldi's Veuve Monsigny Champagne Brut NV is available all year round.
Feeling inspired to head out and try a bottle of Aldi's award-winning Champagne or maybe you're already a huge fan? We'd love to hear your thoughts, so head over to our Facebook page to join the conversation!
Excuse us while we stock up...
Parenting advice, hot topics, best buys and family finance tips delivered straight to your inbox.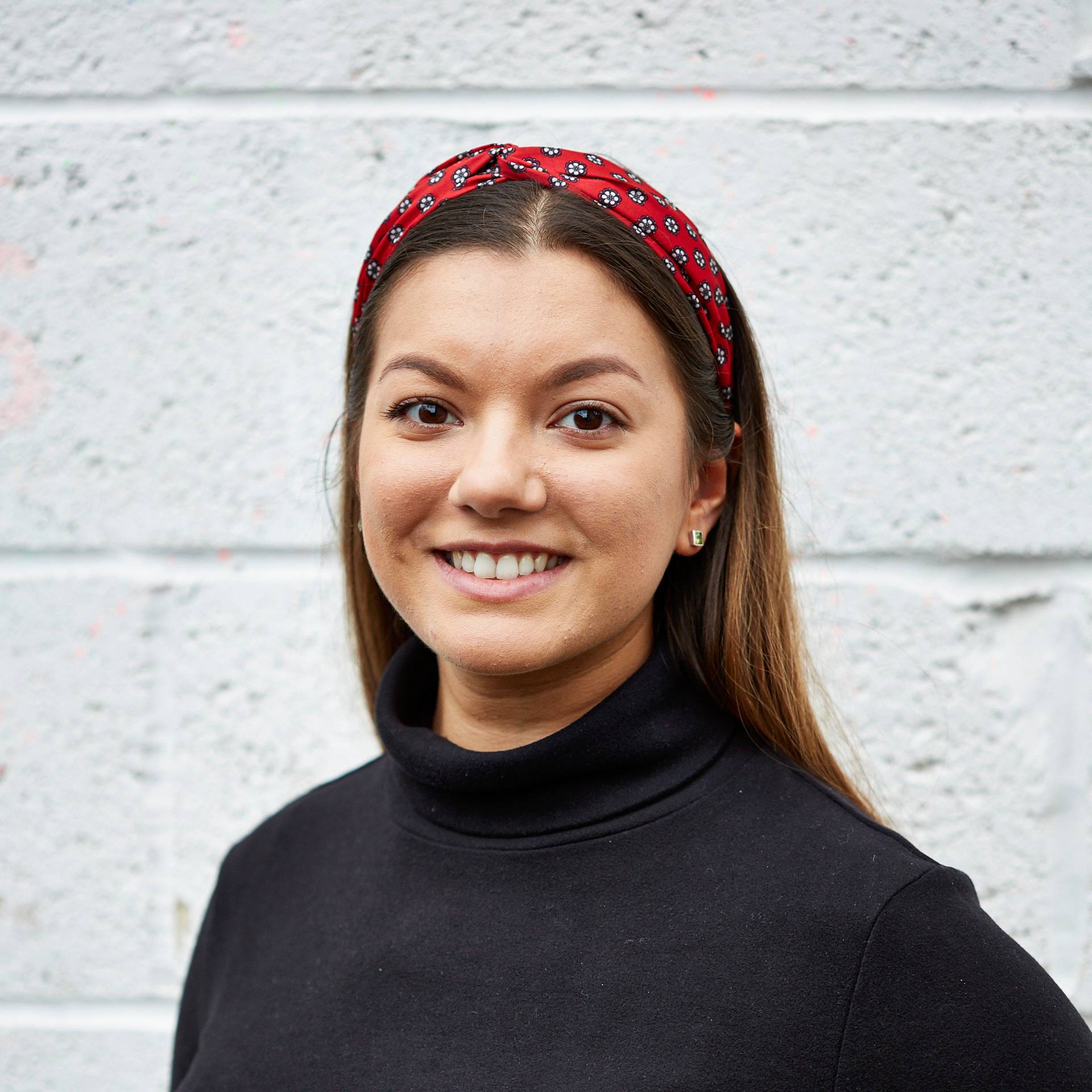 Jessica is a freelance food writer, stylist and recipe tester. She previously worked as Senior Food Writer at Future. While at Future Jessica wrote food and drink-related news stories and features, curated product pages, reviewed equipment, and developed recipes that she then styled on food shoots. She is an enthusiastic, self-taught cook who adores eating out and sharing great food and drink with friends and family. She has completed the Level 1 Associate course at the Academy of Cheese and is continually building on her knowledge of beers, wines, and spirits.