This hotly-anticipated Aldi Christmas favourite goes on sale TOMORROW
We need them all!!!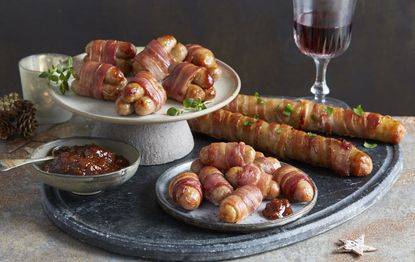 Aldi is launching foot-long pigs in blankets for Christmas 2018 because everyone knows they're the best part of your Christmas dinner...
Aldi's foot-long pigs in blankets are sure to fly off the shelves this Christmas!
It can't just be our family that's forever fighting at the dinner table over who gets the last pig in blanket and someone is blamed for not buying enough?
Luckily you might be able to keep the peace with Aldi's brilliant solution - foot-long sausages wrapped in bacon.
These porky delights will set you back just £2.99 for a pack of two. Although the 12-inch beauties are intended for sharing, we're not going to judge anyone who decides to try and feast on the whole thing for themselves.
A few less sprouts and you'll have room right? After all Christmas is a time to indulge...
The inspired festive creation is going on sale online and in Aldi stores tomorrow, so get your hands on them as quick as you can and stock up for the big day!
And that's not the only pigs in blanket item Aldi are launching that you can get excited about. Also hitting the shelves are Three Little Pigs pigs in blankets, a trio of mini cocktail sausages all safely secured by a piece of streaky bacon) and specially selected pigs in blankets.
People are already very excited by Aldi's latest launch and have been sharing their delight online. One person described the launch as 'the dream'.
If all this talk of pigs in blankets has got you craving them right now, why not try your hand and making some at home with our easy recipe?
While you're in Aldi don't forget to check out their selection of award-winning wines, gin and Champagne. GoodtoKnow recently got to go behind the scenes to meet the producers of Aldi's Champagne and learned that secrets behind why it consistently comes out on top during blind taste tests...
Get down to stores now to get hold of all these festive treats!
Will you be heading out as soon as these foot-long pigs in blankets hit the shelves? Do you know someone who is going to love them? Head over to our Facebook page to tag your friends and family and spread the fantastic festive news!
Jessica currently works as a Senior Food Writer at Future. She writes food and drink-related news stories and features, curates product pages, tests, and reviews equipment, and also develops recipes that she styles on food shoots. An enthusiastic, self-taught cook Jess adores eating out and sharing great food and drink with friends and family. She has completed the Level 1 Associate course at the Academy of Cheese and is continually building on her knowledge of beers, wines, and spirits.