Now THAT'S a milkshake! The most amazing milkshakes from around the Internet
Like milkshakes? You'll love these!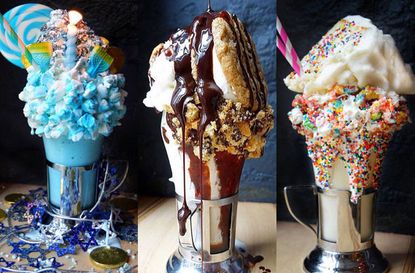 GoodTo newsletter
Sign up to the GoodTo Newsletter. You can unsubscribe at any time. For more information about how to do this, and how we hold your data, please see our privacy policy
Thank you for signing up to . You will receive a verification email shortly.
There was a problem. Please refresh the page and try again.
Like milkshakes? You'll love this lot...
Better known as 'freakshakes', the sky-high, junk-food towered milkshake craze started in America but is spreading fast, and we want in! These mouth-watering milkshakes have taken the Instagram world by storm, causing foodies to have a serious meltdown – and we can see why!
From Sweet N' Salty and Cookie Dough to Cotton Candy flavours, there are so many jaw-dropping creations to choose from, you won't know where to begin. And the best bit? Well, you should be able to make them at home with a little bit of creative flair (and heaps and heaps of junk food of course!).
So which one is your favourite?
Time to get drooling, oh, we mean browsing...
The UK version
[instagram]
[/instagram] London cafe, Molly Bakes has taken a shine to the all-American milkshakes and has now jumped on the freakshake band wagon. Say hello to a strawberry wonder and chocolate dream. It's time to hop on a train to London we think...
The one for birthdays
[instagram]
[/instagram] This American milkshake, from Black Tap restaurant in New York, is piled high with cake, cake and more cake - we just wouldn't know where to start eating and drinking this tower, would you?
The dynamic duo
[instagram]
[/instagram] We're particularly impressed with the freakshake on the right - candy floss?! It looks more like a piece of art work than a drink.
The one for Hannukah
[instagram]
[/instagram] WOW. How does it all manage to stay balanced on top of the cup? It's just boggling our minds.
The one the Cookie Monster made
[instagram]
[/instagram] What better combo than milk and cookies. This stunner has got a massive stamp of approval from us. Hmmm... wonder if we can create one at home this weekend?!
The one you want to face plant
[instagram]
[/instagram] It's sweet, it's salty and it's topped with heaps and heaps of cream. There's only one thing for it... FACE PLANT.
The messy one
[instagram]
[/instagram] Oh my. Is that an ice cream sandwich we spy? Goodbye diet...
Have you spotted any extreme milkshakes on your travels? Share your pictures with us on our Facebook page or comment below!