Asda is bringing back their foot-long chocolate and caramel éclair for Christmas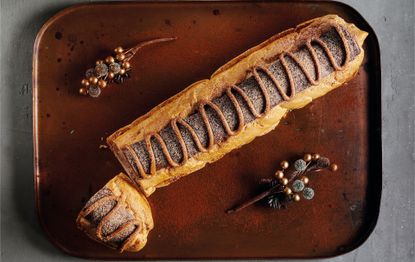 (Image credit: Asda)
GoodTo newsletter
Sign up to the GoodTo Newsletter. You can unsubscribe at any time. For more information about how to do this, and how we hold your data, please see our privacy policy
Thank you for signing up to . You will receive a verification email shortly.
There was a problem. Please refresh the page and try again.
Christmas is here, which means that we officially have permission to eat whatever we want.
And over the last couple of months, supermarkets across the country have been releasing decadent gastronomic creations for us to get our hands (and mouths) on come Christmas time.
From budget store Aldi's showstopping chocolate bauble cake (opens in new tab), their boozy twist on a classic with prosecco panettone (opens in new tab), their sticky salted caramel mince pies (opens in new tab), and their nod to the European with chocolate and caramel churros (opens in new tab), to leading supermarket Asda's indulgent melt in the middle Christmas desserts (opens in new tab) and their supersized giant mince pie (opens in new tab).
With all of these dishes, there has definitely been no shortage of extravagant and tastebud-pleasing treats on our radar this season.
And now purse-friendly Asda has done it again. They have taken a teatime classic and put an almighty spin of indulgence on it - say hello to Asda's giant chocolate and caramel fudge éclair.
Oh yes.
The Asda Giant Éclair comes in at a whopping 12 inches (so the same size as a foot-long Subway sandwich).
The soft choux pastry is filled with chocolate mousse and caramel flavour sauce and is topped with chocolate fondant and caramel flavour fudge icing.
All with a dusting of gold for a shimmery hit of festive fabulousness of course.
Asda say that the super-sized seasonal treat is able to serve 10 people, but in our case it may not stretch that far…
Fans have been raving about the afternoon tea sweet on Twitter, comparing it's huge size to everyday mundane objects, such as an iPhone.
'Finally found the giant chocolate eclair in ASDA,' wrote one Twitter user. 'Best day of my life'.
'Anyone wanting a picture this is it compared to a iPhone 6S,' says another. 'Very large'
Others commented that they 'couldn't wait to eat it' and many agreed that they definitely wouldn't get 10 servings out of it.
We can say, we might have to eat the whole thing in just one sitting it looks that good!