Aldi is selling a chocolate bauble cake just in time for Christmas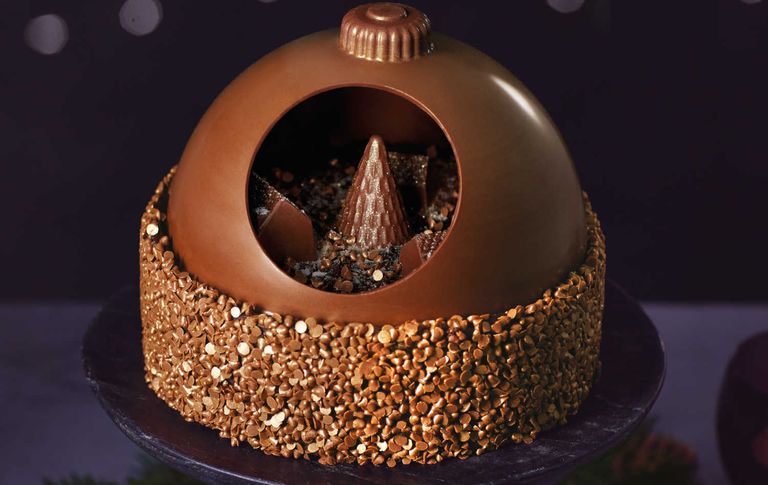 (Image credit: Aldi)
It really is the most wonderful time of year.
Christmas is fast approaching and as much as we all can't wait to unwrap our presents and crack out the board games, there's one thing we're even more excited to get to – the food.
Mulled wine cheese (opens in new tab), prosecco panettone (opens in new tab), gingerbread gin (opens in new tab) and not forgettging pigs in blankets that now suddenly come in every form – foot long (opens in new tab), wrapped in pastry (opens in new tab), with mac and cheese (opens in new tab), in tea (opens in new tab)…okay maybe we're not down with that last one.
And now budget supermarket Aldi is treating us to an extra special little something to satisfy our post Christmas dinner (opens in new tab) sweet tooth (because no matter how many Yorkshire puds we wolf down there's always room for chocolate).
Always on point for a good foodie showstopper, Aldi has released a Christmas cake (opens in new tab) with a difference.
And there's not a piece of dry fruit in site.
Made with Belgian milk chocolate and smooth buttercream, their rich and moist chocolate cake it topped with a thin and crispy crackable chocolate bauble!
And what's even more exciting is that there's a special treat waiting inside this extravagant filled bauble (opens in new tab).
When you crack the dome open, waiting underneath will be hand-decorated chocolate village that you can dig into.
You can get the 'one-of-a-kind Belgian chocolate masterpiece' for only £12.99 in-store, but unfortunately it's not available to buy online, probably due to the fragile nature of the dessert.
Fans on Twitter have been excited by the prospect of this showstopper, raving about how they can't wait to give it a try.
'Looking forward to devouring that delightful Exquisite Chocolate Bauble Cake!!' said one follower. 'Although I will have to share with another 10 family members.... it would be rude not to!!'
Another wrote: 'Of all the available #Christmas food brochures, @AldiUK offerings are the most exciting imho...8 mince pies flavours and a Christmas city inside a giant bauble cake...omg #ChristmasIsComing'
Pass us the dessert forks!
Aleesha Badkar is a lifestyle writer who specialises in health, beauty - and the royals. After completing her MA in Magazine Journalism at the City, the University of London in 2017, she interned at Women's Health, Stylist, and Harper's Bazaar, creating features and news pieces on health, beauty, and fitness, wellbeing, and food. She loves to practice what she preaches in her everyday life with copious amounts of herbal tea, Pilates, and hyaluronic acid.