Aldi has released a prosecco panettone for Christmas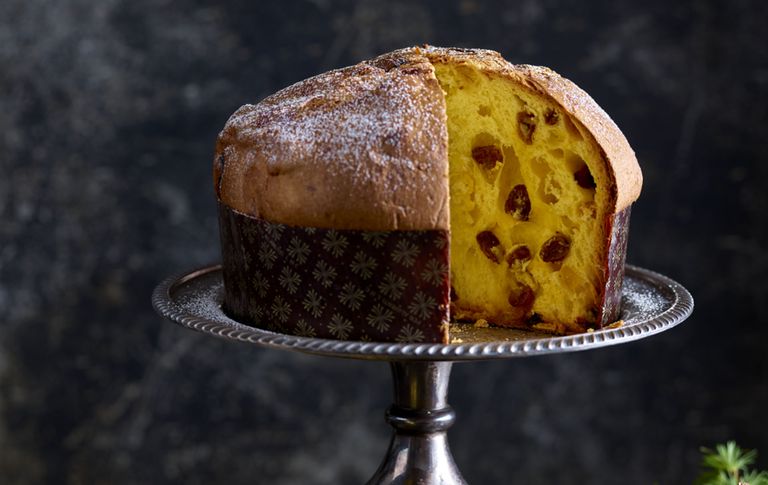 (Image credit: Aldi)
Say hello to Aldi Prosecco Panettone.
Christmas time bring together all of our favourite foods and drinks.
And while Costa's match of pigs in blankets and mac n cheese (opens in new tab) and Aunt Bessie's creation of Yorkshire pudding and pizza (opens in new tab) sure did make our tastebuds happy, Aldi's new Christmas offering might just be our favourite match made in heaven out there.
The budget supermarket has brought together Christmas staple panettone and year-round favourite prosecco to make their festive Aldi Prosecco Panettone.
We're not sure if our stomachs can handle so much deliciousness.
The slow baked Exquisite Prosecco Panettone is from the store's Specially Selected range, which Aldi fans will know is reserved for the most indulgent of the shop's gastronomic offerings.
Made using a 40-year-old mother dough, which gives it a rich and authentically Italian flavour, the fruit-filled panettone is blended with juicy apricots and a hefty infusion of two different types of prosecco from Italy's Venezia Giulia region, home to some of the country's best vineyards.
It comes in at only £6.99 and is available in stores nationwide. Unfortunately you can't get it online, but it does give you an excuse to head down to your local store and fill up a trolley (or two) with all of Aldi's Christmas goodies.
If this indulgent Christmas staple leaves you craving a bit of bubbly, Aldi's selection of fizz won't disappoint.
Not only do they have their award-winning Champagne (opens in new tab) that comes in at well below the price of its market competitors (opens in new tab), but they also upped their prosecco game this Christmas with a selection of iconic bottles.
Following on from the success of their three-litre prosecco jeroboam (opens in new tab) last festive season, they decided to go double as bubbly this December with their prosecco methuselah bottle.
The gigantic bottle contains six-litres of their popular Giotti Spumante Prosecco (opens in new tab) and holds the equivalent of eight normal-sized bottles, giving you a whopping 64 glasses of prosecco from bottle.
So while you're out grabbing your panettone, stash one of these in your basket too.
Though on second thoughts, a trolley might be better…
Aleesha Badkar is a lifestyle writer who specialises in health, beauty - and the royals. After completing her MA in Magazine Journalism at the City, the University of London in 2017, she interned at Women's Health, Stylist, and Harper's Bazaar, creating features and news pieces on health, beauty, and fitness, wellbeing, and food. She loves to practice what she preaches in her everyday life with copious amounts of herbal tea, Pilates, and hyaluronic acid.