B&M Bargains is selling a range of gins that taste like your favourite cakes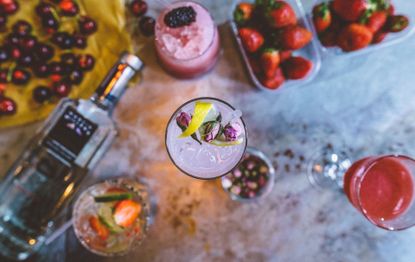 (Image credit: Getty Images/EyeEm)
In the UK our love of gin has led to some unusual creations dedicated to everyone's favourite spirit.
These include Lidl's Pomegranate and rose liqueur (opens in new tab), G&T ice lollies (opens in new tab), a Gin & Lemon spread (opens in new tab) for your toast and even gin flavour crisps for Christmas (opens in new tab).
And now B&M Bargains is joining in the fun, selling a range of sweet gins you're going to want to enjoy along with your elevenses.
A couple of Mrs Cuthbert's flavoured gins are now on sale and they come in the flavours of all your favourite classic British cakes.
The Lemon Drizzle Cake Gin Liqueur, is infused with tangy lemon and a sweet sugar syrup.
Add a drop to a glass of prosecco for zingy twist, or get creative with some cocktails and enjoy it over ice for a refreshing Limoncello-esque tipple.
If lemon's not your flavour or you want to go even sweeter, try their Cherry Bakewell Tart Gin Liqueur, which is flavoured with notes of biscuit, cherry and vanilla.
Mix it with your tonic or whip up a batch of pink cocktails that will give off the prettiest colour from its cherry hue.
Both the Lemon Drizzle Cake and Cherry Bakewell Tart bottles contain 20 per cent alcohol so will make for a pretty good evening G&T.
They're available in store at £9.99 each for a 50cl, but you'll have to be quick if you want to get your hands on them as they're only available until stocks last.
Mrs Cuthbert's full range also includes Victoria Sponge Cake, Black Forest Gateau, Rhubarb and Custard Crumble, Blueberry Muffin and Parma Violet Cupcake flavoured gins.
These other flavours aren't available at B&M Bargains, but there a plenty of other sweet drinks to chose from in store however.
B&M Bargains also sell JJ Whitley Violet Gin, which tastes like childhood favourite Parma Violet sweets, or you could switch up the spirits and go for their Rhubarb Vodka. Both are available in store and online for £14.99 each for a 70cl bottle.
Or if you want an after dinner sweet treat, get hold of B&M Bargains' On the Rocks Adult Gin Ice Pops. A 10 pack box includes Gin and Tonic flavour, Gin and Elderflower flavour and Gin and grapefruit flavour for only £2.99!
Happy drinking!
Aleesha Badkar is a lifestyle writer who specialises in health, beauty - and the royals. After completing her MA in Magazine Journalism at the City, the University of London in 2017, she interned at Women's Health, Stylist, and Harper's Bazaar, creating features and news pieces on health, beauty, and fitness, wellbeing, and food. She loves to practice what she preaches in her everyday life with copious amounts of herbal tea, Pilates, and hyaluronic acid.