Disney Princess cakes your kids will go crazy for!
Whoever made these cakes must've won Parent Of The Year! Let's just hope our lot don't get any ideas...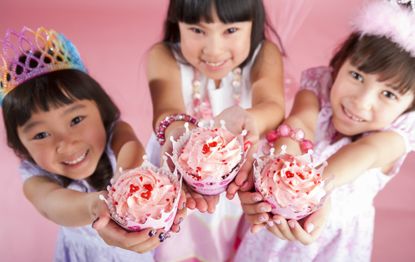 (Image credit: Getty)
These Disney Princess cake ideas are pure magic!
Kids today are just so lucky, back in our day we'd have been happy with a bit of jelly and ice cream, never mind a Disney princess cake.
But the parents of these little tykes have gone all out to make their birthdays extra special with these brilliant Disney Princess-themed cakes.
Aren't they just magical? Whatever Disney character your little one likes- whether they're Belle's biggest fan, or see themselves as a mini Pocahontas, or maybe they prefer the villains-there's something special for them all.
While we may not be quite skilled enough to make them ourselves just yet, there's no harm in dreaming big! Just don't show the kids unless you want a serious project on your hands...
1. The Cinderella cake
2. The Aladdin's magic carpet cake
3. The Beauty and the Beast cake
4. The fairytale castle cake
5. The Aladdin cake
6. The Disney storybook cake
7. The Frozen cake
8. The Sleeping Beauty cake
9. The crown cake
10. The princess cupcakes
11. The Rapunzel birthday cake
12. The Lion King cake
13. Snow White's dwarfs cupcakes
14. The Mickey Mouse & Friends Cake
15. The poison apple cake pop
16. The Princess and the Frog cake
17. The Mrs Pots and Chip cake
18. The Little Mermaid cake
19. The Toy Story cake
20. The Alice in Wonderland cake
21. The Puss in Boots cake
22. The Moana cake
23. The Anna and Elsa from Frozen cake
24. The Mulan cake
25. The Mickey Mouse cake
26. The Disney princess cake pops
27. The Disney villain cake
28. And finally, the "what if your child likes ALL the Disney films?" cake