The 9 reasons we love Bake Off's Rahul Mandal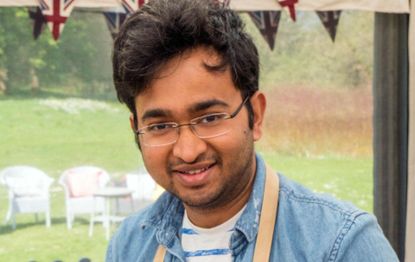 (Image credit: Mark Bourdillon/Love Productions)
Sorry Paul Hollywood, but we might love Rahul even more than you already do!
He's the twice over star baker of the new Great British Bake Off series, having managed to capture the hearts (and hunger) of the nation.
And, with social media currently inundated with praise for the lovely Rahul Mandal, here's the eight reasons why we might love the 30-year-old culinary genius even more than Paul Hollywood already does.
1. He's forever melting our hearts
In the latest episode of GBBO, Rahul made us tear up when he revealed his vegan showstopper was a tribute to his late grandmother, because he's never seen her eat cake.
Rahul said: 'My grandpa died in 1984. In India, when the husband dies the wife gives away quite a lot of different foods. So my grandmother didn't have eggs or meat for the rest of her life after my grandfather died. I've never seen her eating a cake, so it's kind of a tribute to her.'
After Rahul's touching tale, he also revealed: 'I love my grandma. She's not here any more but she loved me a lot.' Awwww!
2. He's the kind of friend that bakes for you
As all great mates should, Rahul uses his incredible culinary skills to show his pals he cares about them.
During the third episode of the series, host Sandi Toksvig revealed: 'Rahul moved to the UK eight years ago and now bakes cakes to make friends'.
3. He's a clever cookie
Despite his humbled approach to life, Rahul is also incredibly clever - and spends his nine-to-five as a Nuclear Research Scientist.
In fact, the 30-year-old moved to the UK in 2010 to study a PhD in optical metrology at Loughborough University.
4. He talks to his parents every day
Despite his very busy baking schedule (and, you know, simultaneously making major Scientific advancements), Rahul still makes time to catch up with his parents every single day.
5. He's not afraid to eat a slice of humble pie
Despite having produced 'perfect' Chelsea buns and baking a korovai hailed 'a little genius' by none other than Paul Hollywood, Rahul doesn't seem to let it go to his head.
In fact, he still can't quite believe he's made it to the Bake Off tent - telling the cameras: 'It's so surreal, I still can't believe. I keep pinching myself. I think I can bake.'
6. He's a natural baking genius
Rahul has only been baking for the past two years, and has a natural talent for it.
'Colleagues I knew during my PhD don't have a clue that I can bake. Back in India I didn't bake either,' he said. 'All of them and actually myself are surprised that I made it into the tent.'
Have you ever seen anything as regal as this Garden Wedding Korovai?! We're pretty sure they're not at all surprised, Rahul!
7. He's not afraid to show his feelings...
8. Or his love of nature...
In particular, pheasants...
9. And he's even already made GBBO history
Shaking his hand, Paul told a gobsmacked Rahul: 'I've never given a handshake for a showstopper before', before adding 'that is a fantastic cake'.
We could imagine it, Paul.
The 2018 Bake Off winner?! Let us know your predictions on our Facebook page!
Words by Alice-Rose Perry
Anna Bailey is the editor of GoodTo. She joined the team in June 2018 but has been a lifestyle writer and online editor for more than 14 years. Anna graduated from Bournemouth University in 2004 with a degree in Multimedia Journalism and went on to gain her NCTJ and NCE journalism qualifications. She began her career in local journalism, working as a reporter for the Basingstoke Gazette in Hampshire. As Lifestyle Editor for ITV.com she managed the websites for the broadcaster's best-loved shows including This Morning, Loose Women, Coronation Street, Emmerdale, Coleen's Real Women, and Britain's Best Dish. Before joining Goodto.com she was also a Features Editor at MSN UK and Digital Lifestyle Editor for the broadcaster UKTV. She's also contributed to The Mirror, The Sun, LoveFood, LoveExploring, and TBSeen.