Iceland has launched a family fish and chip meal deal for £5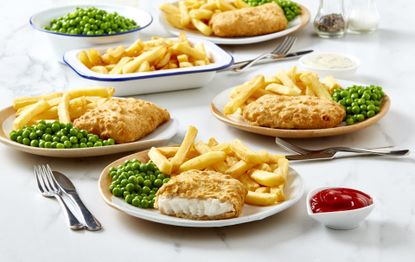 This is perfect for your Good Friday dinner…

Iceland is well-known for its unbeatable frozen food deals, and this Easter (opens in new tab) it's got something special up its sleeve.
A fish and chip dinner (opens in new tab) is a longstanding Good Friday tradition for many families. But while popping out to Harry Ramsden for your fish fix will set the average family of four back by more than £30, Iceland's brilliant deal will only cost you a fiver – that works out at just £1.25 each!
That's right, for just £5, you can pick up a 500g pack of Iceland's Luxury 4 Battered Chunky Cod Fillets, a 1.25kg bag of Straight Cut Chips and an 800g pack of Frozen For Freshness Garden Peas. Saving you more than £6 per person, that's what we call a catch of the day.
Iceland's crisp and crunchy Luxury Battered Chunky Cod Fillets are already a favourite with online shoppers. 'This is honestly the best cod I have eaten in many years and I have told all my family that they should start buying this too,' one reviewer raved. 'Thick white flesh in decent batter.'
'I gave them a try and now there's no going back,' agreed another. 'Seriously good quality fish. A weekly essential for me now 10/10.'
Iceland's straight cut chips are a huge hit too, with an average rating of four-and-a-half stars from more than 200 reviews. 'Crisp and fluffy, great!' said one shopper.
And if you like fish (which we're guessing you probably do) you're going to be spoilt for choice. The supermarket is offering a 3 for £10 deal across 20 of its seafood options, including wild pink salmon fillets, king prawns, rainbow trout fillets, sea bass fillets, tuna steaks, calamari rings and red shrimp. Each one usually costs £4 per pack.
Having family over and need to stock up on vino? Iceland is also slashing the prices of 45 of its wines just in time for the Bank Holiday – and you can pick up their Byrne Estate Chardonnay for just £5, saving you £1.75 off the usual price of £6.75. You're welcome.
Samantha is a freelance writer at Goodto who has been with team since 2019. Initially trained in psychology, she specialises in health and wellbeing and has additionally written for magazines such as Women's Health, Health & Wellbeing, Top Santé, Healthy, Refinery29, Cosmopolitan, Yahoo, CelebsNow, Good Housekeeping and Woman&Home.