Easter food traditions: 12 things you eat at Easter and why we eat them
Easter is a time of year that is deeply connected with food traditions. We eat very specific foods only at this time of year - have you ever wondered why?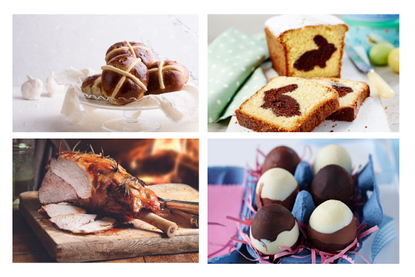 Easter food traditions, from giving Easter eggs to eating hot cross buns, have been an important part of our Easter celebrations for years.
But have you ever wondered why these Easter food traditions are so important this time of year? Is there a hidden deeper meaning why Easter lunch comprises of roast lamb and heaps of carrots? And why are there eleven marzipan balls on top of a simnel cake? Many of our Easter food traditions, like dyeing eggs in bright colours, have been a part of Christianity for centuries. Others, like eating roast lamb or cured ham, are even older and can be traced back to Jewish Passover traditions or pagan springtime rituals that are the reason why we celebrate Easter.
Easter is big business nowadays, with one of our relatively new customs - giving Easter eggs - among our most essential. According to study by Kantar, we spent £153 million on chocolate eggs last year, with the majority being Easter eggs for kids. But the older traditions are still going strong too - Easter decorations are proving popular this year, and an average of £37 million is spent on hot cross buns.
GoodtoKnow's Senior Content Editor, Jessica Dady says; "Every year it seems Easter food is getting bigger and bigger. And it's not just about chocolate eggs. Easter food traditions and gifts are now more popular than ever - from some of the most indulgent Easter hampers to personalised Easter eggs. Hot cross buns have been given a makeover and are now flavoured with lemon, chocolate, or even cheese and tomato. It's certainly interesting to learn where all this Easter food has originated from. And to truly understand the traditions behind why they are served at Easter time - and why they continue to be so popular."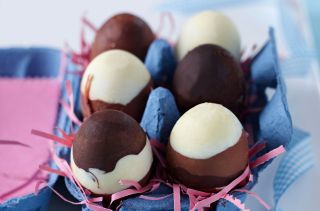 1. Chocolate eggs
Symbolises: New life, rebirth, fertility, and the brightness of spring.
History: Compared to many Easter traditions, several of which pre-date Christianity, chocolate eggs are relatively new. Eggs are an ancient symbol of fertility, but making them from chocolate originated in France and Germany in the early 1800s. By 1875, a certain Mr. Cadbury was making them. Originally they were dark chocolate, and some were solid, while others were filled with sweets like sugared almonds. In 1905, Cadbury Dairy Milk was born and the Easter egg market began to boom. Today they're probably the most popular Easter food traditions and a symbol of Easter indulgence.
How to make them at home: It's so simple to make your own Easter eggs. You can do it even if you don't have a mould, using real eggs. Once you've removed the egg from the inside, clean out the shells and fill them with milk, white or plain chocolate. If you prefer a more traditional, the larger egg gets creative with our in-depth guide to homemade Easter eggs, below. We'll even show you how to decorate the outside in contrasting chocolate.
Recipes to try: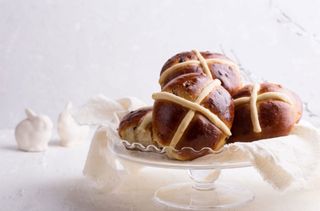 2. Hot cross buns
Symbolises: The cross on top symbolises the crucifixion, the spices may also symbolise spices used to embalm Jesus after the crucifixion.
History: No one is quite sure where hot cross buns originated. The first literary reference to them is not until 1733 (from the rhyme 'One a penny, two a penny, hot cross buns'). But they were definitely eaten before then. It's possible they originated in St Albans in the 12th Century when a monk made them on Good Friday to distribute to the poor. In the 1500s, Queen Elizabeth I banned them except at Easter, Christmas, and funerals because they were thought to have magical healing powers.
How to make them at home: You need a bit of patience to make hot cross buns, but it's a simple process with plenty of downtime. They require kneading, then proving, then kneading and proving again - about two hours in total. You can make the crosses either by scoring the top of the buns or making a paste out of plain flour and water to stick on top.
Recipes to try: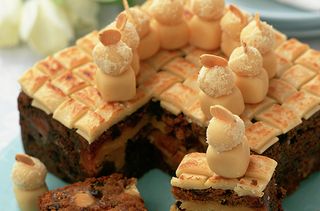 3. Simnel cake
Symbolises: The eleven who went to heaven. Simnel cake is usually topped with 11 balls of marzipan, to represent the twelve apostles, minus Judas Iscariot, who betrayed Jesus with a kiss.
History: The story is a little fuzzy, but it seems simnel cake was originally more of a Mother's Day tradition - in fact, Mothering Sunday is sometimes known as Simnel Sunday. In the UK, this falls on the fourth Sunday in Lent, a day when servants would return to their mother church (and see their families). The fasting rules of Lent were relaxed and simnel cake was made. Now it's usually eaten for tea on Easter Sunday.
How to make it at home: Similar to a Christmas cake with lots of dried fruit and spices, simnel is quite an easy cake to make. The ingredients list is long, but everything is easy to source. You can make your own marzipan (see the red berry recipe) or use shop-bought. There is traditionally a layer of marzipan through the middle of the cake, as well as on top.
Recipes to try: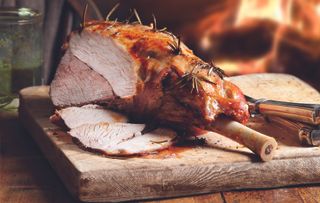 4. Roast lamb
Symbolises: Purity and goodness, and also Jesus' sacrifice.
History: Long before Easter was a Christian tradition, the lamb was the main meal of the Jewish Passover. This usually falls around Easter so when Christianity was born, converting Jews brought the tradition along. It's neat too since Jesus is the 'Lamb of God' and he sacrificed himself at Easter.
How to make it at home: Roasting lamb is easy - if you've roasted a chicken, you can roast lamb. The leg is probably the easiest cut and takes about 25 minutes per 500g to cook medium/medium-rare. To keep it really simple, just cover it in a garlic and herb rub (try lamb boulangere). If you're hoping for something a little speedier, try a rack of lamb, which takes more than 15 minutes per 500g. Alternatively, go for a really low and slow cook - shanks or shoulder are great cuts for this. Cooked for a few hours, the meat should be meltingly tender, and just fall off the bones. These cuts are also great with some hefty fruity flavours like prunes, pomegranate, or orange.
Recipes to try: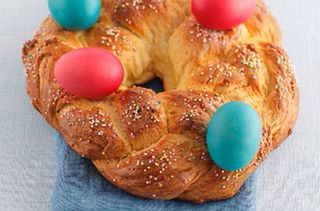 5. Easter bread
Symbolises: The end of the Lenten fast, and peace and good luck in the coming year.
History: Bread has always been important at Easter, a symbol of Christ's body during holy communion, and The Last Supper. Easter bread varies wildly by country but it's very common for people to share and give traditional bakes as gifts. In Greece, Turkey, and Eastern European countries there is plaited wreath bread with brightly dyed eggs pushed into the dough. In Germany and the Netherlands, people eat Osterbrot or stol, which is like Christmas stollen. Italian delis sell a version of panettone which is usually shaped like a dove of peace.
How to make it at home: Using fast action yeast and the kneading attachment on a mixer, it's very easy to make traditional Greek Easter bread with coloured eggs. You can knead the bread yourself if you don't have a mixer - it takes about 10 minutes and lots of people enjoy the little workout it gives your arms. You then divide the dough into three sausage shapes and plait it. Finally, you need to hard boil the eggs and dye the shells red, pink, or blue (you don't eat them), and push them into the dough as beautiful decorations.
Recipes to try: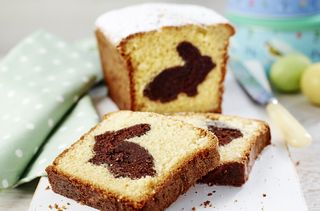 6. Easter bunny bakes
Symbolises: Fertility, and possibly the virgin birth.
History: The Easter bunny (or at least his cousin the Easter Hare) has been busy delivering eggs to children since the 1600s, originally in Germany. And just like Santa, he traditionally decided whether children were naughty or nice first. Rabbits are a symbol of fertility because they reproduce prolifically. Hares were originally thought to be hermaphrodites, which meant they were associated with virgin births.
How to make them at home: Our Easter bunny cupcakes topped with fondant icing are a really delightful project, and great to bake with older children. All you need is some ready-to-roll white and black fondant icing, and food colour gels in pink and yellow. The step-by-step guide takes you through each of the steps you need to make each part of the face.
Recipes to try: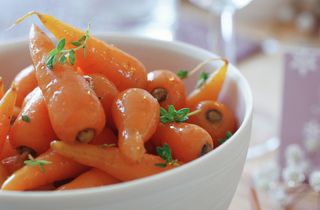 7. Carrots
Symbolises: Springtime, plenty and food for the Easter bunny
History: It's probably not as common as leaving them out for reindeer at Christmas, but traditionally children would leave out carrots for the Easter bunny. It makes much more sense, too. Reindeer wouldn't naturally eat carrots - but bunnies definitely would. British carrots are available all year round, so it also makes a handy side dish for your Easter feast. And they're not limited to savoury dishes. Carrot cake became popular during the Second World War, when sugar was rationed. In recent years, carrot cake with white frosting, decorated with mini eggs or little marzipan carrots, has become one of the most popular Easter food traditions.
How to make them at home: For adding some wow factor to your Easter spread, try our recipes that use whole chantenay carrots. They're so sweet and delicious you don't need much in the way of extra ingredients - just minimal herbs and spices, butter and maybe some honey to glaze. It's so quick and easy.
Recipes to try: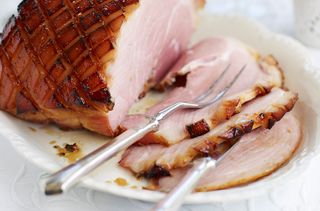 8. Cooked ham
Symbolises: Feasting. There's no deeper meaning here - in some parts of Northern Europe ham was the meat that was most readily available at this time of year, so it became the Easter tradition.
History: Spring celebrations to celebrate new seasons and rebirth predate Christianity, and eating ham at this time probably does too. There is evidence people were eating it in Germany as early as the sixth century. In America it's now the most popular choice for Easter Sunday lunch.
How to make it at home: Cooking a ham as a centrepiece for a big family dinner can be as daunting as a Christmas turkey, so prepare for it in the same way. Check the cooking instructions and your recipe a few days beforehand. If your ham is salt-cured you may need to soak it before you start. You might need to parboil it before roasting it, too. Give yourself plenty of time to get everything ready, and cook in advance if you can, so it's as stress-free as possible.
Recipes to try: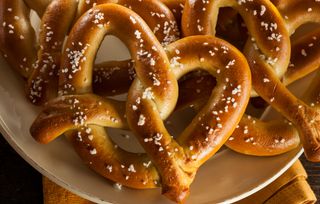 9. Pretzels
Symbolises: Prayer
History: Originally pretzels were a Lenten snack, which appeared on Ash Wednesday (the day after Pancake Day) and were eaten up until Easter Sunday. Early Christians did not eat dairy products during Lent, and pretzels were made simply from flour, salt and water. The word means 'little arms' because it's meant to look like arms locked in prayer.
How to make them at home: One of the easiest Easter food traditions, these are simple to make because there are so few ingredients. Our soft pretzel recipe contains yeast so the finished bake rises a little. Knead the dough until it is soft and stretchy to make it easier to shape into the classic cross. If you don't fancy making your own from scratch, use shop-bought ones to decorate brownies or chocolate slab.
Recipes to try: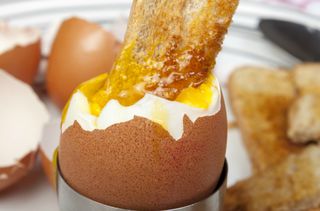 10. Boiled eggs
Symbolises: Fertility, the tomb of the resurrection and, when dyed red, the blood of Christ.
History: Decorating eggs is an ancient craft. Ostrich eggs from the palaeolithic era have been discovered with engraving on them. Early Christians used to paint chicken eggs red to symbolise Christ on the cross. Over the years it has become an Easter food tradition to paint emptied eggs as a fun Easter craft for kids, and hang them on trees for decoration. More recently, cracking the eggs open has come to represent the opening of Jesus' tomb after the resurrection, which is why it's common to eat hard or soft boiled eggs on Easter morning. In the North of England, egg jarping is a traditional Easter game that involves knocking the pointed end of a hard boiled egg agains opponents eggs. The last egg to crack is the winner.
How to make them at home: Boiled eggs are one of the most basic recipes and a foundation of learning to cook (in her book 'How to Cook', Delia Smith makes it the very first thing she teaches). It's very easy, but precise - you will need an egg timer to get the cooking right. Both our recipes below have videos to guide you through.
Recipes to try: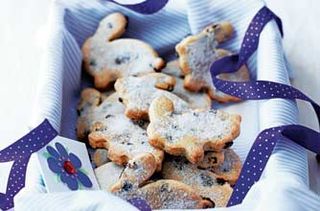 11. Spiced Easter biscuits
Symbolises: The crucifixion.
History: Special Easter biscuits are a common Easter food tradition from the South-West of England. Slightly-spiced, sultana currant biscuits are made in the West Country to celebrate the festivities. Original recipes included cassia oil in the belief that it was used to clean Jesus's body after his crucifixion, and spices have the same connotation. These Easter biscuits can be left as they are, but often take on Easter-themed shapes or decorations - like the Easter bunny.
How to make them at home: Cassia oil has a cinnamon flavour, but it can be hard to source in food grade quality. Our biscuits use cinnamon and mixed spice instead for the same effect. You will need rabbit shaped cookie cutters for these recipes.
Recipes to try: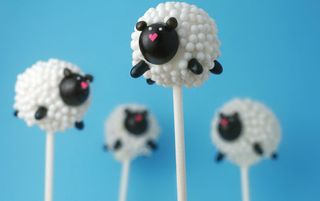 12. Decorated Easter cakes
Symbolises: New life and spring
History: Chicks, lambs and flowers are all popular motifs on easter cakes. Like many Easter traditions, these probably reflect the pre-Christian pagan traditions of Eostre and the coming of spring. In more recent times, flowers and baby animals like chicks, ducks, rabbits and lambs have all become important motifs for all kinds of Easter decorations - including Easter food traditions.
How to make them at home: Basic cupcakes are one of the easiest cakes to cook, using little more than butter, sugar, eggs and flour. These give you a nice smooth surface to create your mini work of art on. Ready rolled fondant icing is brilliant for creating chicks and daffodils, but get creative with sprinkles, mini marshmallows (for lamb wool) and other cake decorations. These recipes are fun projects to do with kids at Easter.
Recipes to try:
Video of the Week
Parenting advice, hot topics, best buys and family finance tips delivered straight to your inbox.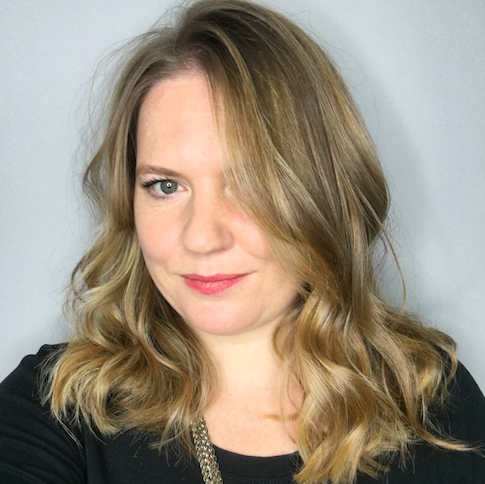 Food and Lifestyle Writer
Octavia Lillywhite is an award-winning food and lifestyle journalist with over 15 years of experience. With a passion for creating beautiful, tasty family meals that don't use hundreds of ingredients or anything you have to source from obscure websites, she's a champion of local and seasonal foods, using up leftovers and composting, which, she maintains, is probably the most important thing we all can do to protect the environment.