John Torode and Lisa Faulkner set to return to ITV with weekend cooking show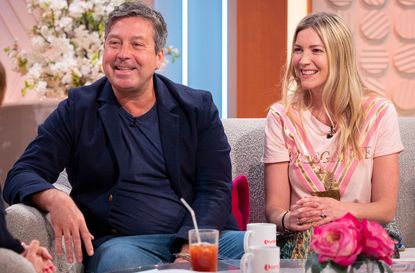 (Image credit: REX/Shutterstock)
John Torode and Lisa Faulkner are set to return to ITV.
The TV chef and his actress fiancée have been commissioned by the popular network to return with their weekend cooking show (opens in new tab).
Back in March, the pair, who announced their engagement in January, took to Instagram to tease that they had some exciting news to share with their followers.
https://www.instagram.com/p/Bu_RBGkn9XZ
Of course, fans thought that the foodie couple might have a bun in the oven, but they were quick to shut down those theories, confirming instead that they were taking to ITV with their very own weekend cooking show.
John and Lisa's Weekend Kitchen saw the pair sharing their cooking ideas and advice for an hour every Sunday morning.
Read more: John and Lisa's Weekend Kitchen - Everything you need to know about the show (opens in new tab)
And it has now been picked up for a second series.
The new series will see the TV chefs spending Sunday mornings in a cosy kitchen just like their own and will give viewers guidance on cooking breakfast, Sunday lunch, dinners, snacks and even cocktails.
'We're thrilled that viewers have welcomed us into their homes on Sunday mornings and we look forward to being joined by some fantastic foodie guests in the forthcoming new series,' said John.
'It's a dream come true for John and I to present our very own cooking series together,' added Lisa, 'especially as we now get to invite some of our friends and favourite food personalities into our kitchen too.'
'John and Lisa are inspiring to spend a weekend morning with,' added the show's executive producer Sue Walton, 'always providing plenty of take out along with a warm welcome.
'We are delighted to be going to a second series and look forward to bringing viewers even more fabulous and accessible food inspiration, not to mention an abundance of expert tips from John and Lisa in the brand new series.'
You can catch the new series on ITV every Sunday from 9th June. And in even better news? The segment has now been extended from one hour to two – so that's even more John and Lisa for your weekend!
Happy cooking!
Aleesha Badkar is a lifestyle writer who specialises in health, beauty - and the royals. After completing her MA in Magazine Journalism at the City, the University of London in 2017, she interned at Women's Health, Stylist, and Harper's Bazaar, creating features and news pieces on health, beauty, and fitness, wellbeing, and food. She loves to practice what she preaches in her everyday life with copious amounts of herbal tea, Pilates, and hyaluronic acid.