John and Lisa's Weekend Kitchen: Everything you need to know about the new show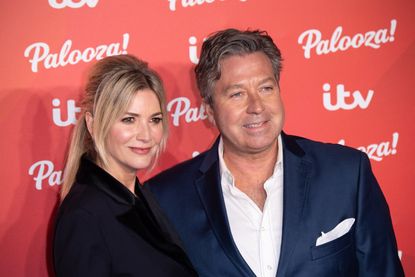 (Image credit: Jeff Spicer/Getty Images)
GoodTo newsletter
Sign up to the GoodTo Newsletter. You can unsubscribe at any time. For more information about how to do this, and how we hold your data, please see our privacy policy
Thank you for signing up to . You will receive a verification email shortly.
There was a problem. Please refresh the page and try again.
John Torode and Lisa Faulkner's show, Weekend Kitchen first aired in March last year.
It invites viewers into their kitchen for a morning of feel good food, catering to everyone who likes cooking - from aspiring chefs to beginners and keen home cooks. Of course you can expect tasty recipes from John and Lisa and some of their celebrity friends, but also shortcuts, inspiration and tips that you'll definitely be thankful for.
This season however, the show will be a little different. Along with offering easy recipes to feed the whole family, Lisa and John will be aware of the fact that many ingredients are still difficult to get hold of, due to the coronavirus pandemic and food shortages for many people. As John has previously said, "Food has always been a massive focus and an important part of our lives, and it's evident that it's becoming more and more so for everyone, especially during these unprecedented times of lockdown. Great food, cooked with a smile brings us a sense of comfort, happiness and warmth, nostalgia and hope."
During the lockdown, Lisa has been sharing plenty of tasty recipes on her Instagram account - so no doubt she'll be recreating some of these at home. This cheat's chip tortilla looks like a great Sunday morning breakfast!
Or why not try Lisa's My My Chicken Pie!
John and Lisa's Weekend Kitchen recipes
If you're wondering what recipes Lisa and John will be making on air, then you'll be pleased to know they'll be cooking everything from desserts, to bakes, to delicious mains – with some celebrity recipes thrown in for good measure.
Last series, Lisa and John's recipes included a mouthwatering Spring roast chicken (opens in new tab), a super simple Victoria Sponge (opens in new tab), cheats raspberry jam (opens in new tab) and easy cheese scones (opens in new tab), as well as chicken wings from Levi Roots (opens in new tab).
They also made an easy-peasy flat bread, chicken chow mein (opens in new tab) and stuffed tomato. For pudding, they whipped up a 'cheat's' banana ice cream and a self-saucing chocolate pudding (opens in new tab) – yum!
John cooked up a one pan spicy roast lamb and Lisa made a pear tarte tatin (opens in new tab). They also enlisted the help of Bake Off's John Whaite, who whipped up a lemon drizzle cake (opens in new tab), and Ching He Huang prepared a tasty teriyaki salmon.
John and Lisa also served up lamb fritters, scrambled eggs (opens in new tab) and a dreamy leftover Easter egg chocolate cake. (opens in new tab) Bake off champ Jane Beedle made a cherry and pistachio tart for dessert.
If you're looking for more of Lisa and John's recipes, here are more of our favourites.
When does John and Lisa's Weekend Kitchen air?
John and Lisa returned to ITV on Saturday 6 June at 11.35am, and the series will run for 10 weekly episodes.
The duo, who married (opens in new tab) in October last year, surprised fans with the news that their much-loved television programme, John and Lisa's Weekend Kitchen, has been renewed for another series.
John and Lisa both took to Instagram stories to make the announcement, "So we have some exciting news, our Weekend Kitchen has been re-commissioned,
"We're going to be filming it next week, social distancing, and everything sorted."
John added, "John and Lisa's Weekend Kitchen is back and it will be on Saturday mornings and it will be showing on ITV in the early part of the summer, but of course we've got to film it don't we?"
If you're excited to see the pair in action again, here's what you need to know…
READ MORE: Where is the BBC Repair Shop TV show filmed? (opens in new tab)
Where to buy Lisa Faulker and John Torode's recipe books
If you can't wait for the next episode? Weekend Kitchen, why not try out some of Lisa and John's home-grown recipes in their books?
From Mother to Mother: Recipes from a Family Kitchen
In her first book Lisa centres on ideas of generational cooking – passing on recipes and favourite meals down the generations. Speaking about the novel, she has said, "This book, From Mother To Mother, wouldn't have come about without an email I wrote to my family and friends who are mothers. I asked them what they liked to cook and eat: what their fallbacks are, their comfort dishes, the meals they make for their families when time is short."
My Kind of Food
Published in 2015, My Kind of Food is John Torode's personal collection of recipes – the ones that he loves to cook when the cameras stop rolling. He said, "This book is about how I cook at home and the chapters reflect me and the things in life I love - how I eat and how I cook. At its heart, it is simple, but it's definitely also influenced by my years in restaurant kitchens. I don't tend to define my food by type or style. I guess you could say that these are my real favourites - a behind-the-scenes look at my own kitchen!"
The Way I Cook
With over 130 recipes to share with friends and family, Lisa Faulkner's second book gives you a eye into her own kitchen.
John Torode's Chicken: And Other Birds
In this book, John Torode delves in the world of chicken and presents all the ways to prepare the nation's favourite bird. He also has a similar book, about all the ways to prepare beef (opens in new tab).
Tea and Cake
Full of "delicious things to dunk, slice, pile up high for a party or eat on your tea break", Tea and Cake is Lisa Faulkner's third cookery book.
John Torode's Sydney to Seoul
Inspired by his adventures around Australia and the Far East, John Torode accumulates his passion for travel and knowledge of food to create a fantastic combination of flavours, along with some straightforward home cooking in his most recent book.