Marks & Spencer launch 'Love Sausage' for a special Valentine's Day breakfast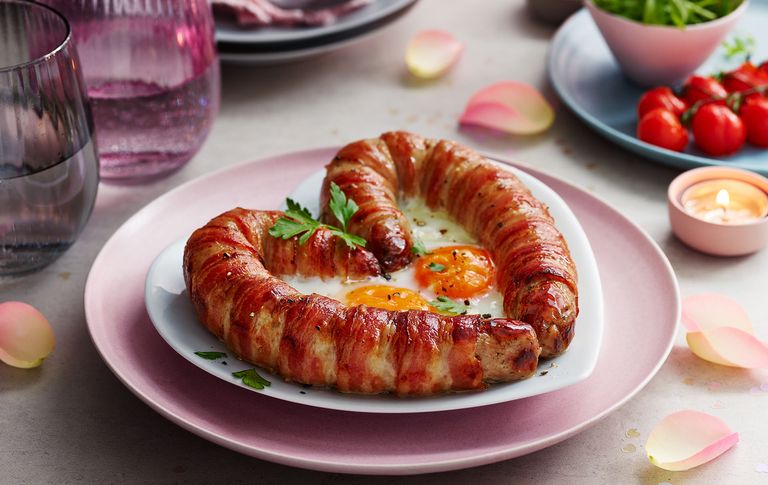 (Image credit: Marks & Spencer)
Valentine's Day is coming around quickly.
Like every year, January (opens in new tab) dragged out for what felt like a whole year in itself, so that when we actually do finally reach February, it seems to whizz by in comparison.
So with the countdown to the day of love down to one week now, loved-up pairs and singles alike are undergoing a last minute scramble to make sure they're all prepared for the big day.
And now one supermarket is releasing a novel breakfast treat that who name might make you take a double take.
High-street food store Marks & Spencer are launching a cheekily named Love Sausage as part of their Valentine's range.
Tesco launches Valentine's meal deal (opens in new tab)
And before you start thinking up all manner of wild products, M&S's new product is a breakfast sausage that's formed into the shape of a heart.
And for a flavoursome Valentine's Day twist the outdoor-bred pork sausage is wrapped in streaky bacon and infused with a touch of truffle for an indulgent start to the day.
'We're encouraging customers to start the fun of Valentine's Day celebrations early with a Love Sausage for breakfast,' said an M&S spokesperson.
'The recipe includes a hint of delicious truffle to make it extra special and my top tip is to crack two eggs into the centre of the heart, eight minutes before serving for the breakfast of dreams.'
Fans of the high-end supermarket have taken to Twitter to express their thoughts on the retailer's encouragement to 'say it with sausages', with some excited to try the product.
The social media team at @marksandspencer have just "won" Twittter for the day, give up folks, nothing to see here but some
While others were more consumed by Marks & Spencer tongue in cheek innuendo, writing: Morning, you're really opening yourselves up for real innuendo today with your 'love sausage' and '"Love Sausage" though. #ewww'.
The store responded on Twitter with a winky face, writing: 'I don't know what you're talking about..'
The cheeky breakfast dish will be available in stores across the country from tomorrow (8th February) and comes in at only £5.
But if you want to get your hands on one of the retailers Valentine's Day bangers, you'll have to be quick because we don't expect they'll be around for long…
Aleesha Badkar is a lifestyle writer who specialises in health, beauty - and the royals. After completing her MA in Magazine Journalism at the City, the University of London in 2017, she interned at Women's Health, Stylist, and Harper's Bazaar, creating features and news pieces on health, beauty, and fitness, wellbeing, and food. She loves to practice what she preaches in her everyday life with copious amounts of herbal tea, Pilates, and hyaluronic acid.