Best Valentine's meal deals 2023: Top supermarket dine-in deals tried and tested
We've tried and tested the best supermarket Valentine's Day deals for two...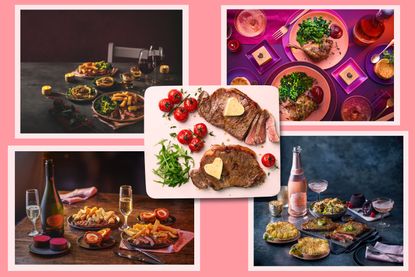 (Image credit: Future)
Who needs to spend a fortune at a fancy restaurant, when you can enjoy some of the best Valentine's meal deals from home.
Valentine's Day is just one sleep away and if you're yet to buy one of the best Valentine's gifts for him or best Valentine's gifts for her, then make sure you're ahead of the game when it comes to getting your Valentine's Day dinner sorted. Fortunately, our favourite supermarkets are offering some deliciously indulgent three-course Valentine's meal deals this year, so you can enjoy a romantic supper from the comfort of your own home. As Goodto's very own Consumer Editor, Heidi Scrimgeour, says, "Dressing up for a fancy meal in a restaurant on Valentine's Day is the last thing I feel like doing this year, and I know I'm not alone. Blame it on the pandemic, if you must, but my friends and I practically have to be dragged kicking and screaming to a restaurant these days. You have to get properly dressed for a start, then there's the stress of whether they'll have what you want on the menu, and don't even get me started on the cost of dinner out. Nope, I'd much rather pick a fancy V-day meal deal, tee up a romantic movie and then snuggle up on the sofa once the kids are in bed - don't even need a babysitter!"
That's why we've tried and tested the best supermarket Valentine's meal deals on offer this year, and we've got all the details from how much they cost and what's included to (most importantly) how they taste. Forget the fussy eater, there's something for everyone on these menus, with both alcoholic and soft drink options - as well as plenty of plant-based plates. If you want to make your night in extra special, why not treat yourself to one of the best Valentine's Day hampers too, and don't forget your gal pals - get them together and treat them to something from our pick of the best Galentine's Day gifts.
M&S Valentine's meal deal
BUY NOW - Marksandspencer.com
Price: £20 | Available: Now | What you get: Starter + Main + Side + Dessert + Drink
Starters: Coquilles St Jacques, Luxury prawn cocktail, Cheese and souffle tarts, Duck parfaits with orange glaze, Three cheese bake, Crispy tempura vegetable fritters, Prawn tempura with sriracha mayo
Mains: Rump steak with peppercorn steak, Sirloin steak with garlic butter, Cod with tomato, paprika and sherry, Butternut squash risotto, Herb-crusted rack of lamb, Mushroom stroganoff pie
Sides: Dauphinoise potatoes, Triple-cooked chips, Rosemary hasselback potatoes, Cheesy spring greens, Vegetable medley, Asparagus spears, Purple sprouting broccoli, fine beans and carrots
Desserts: Raspberry profiterole stack, Billionaire's pots, Chocolate melt-in-the-middle puddings, Lemon cheesecakes, Creamy berry dessert pots, Chocolate and orange brownie, Mini cheese selection
Drinks: Conte Priuli prosecco, Conte Priuli rose prosecco, Conte Priuli Veneto blush, Casa Clos Chardonnay, Gold Label Sauvignon Blanc, Facon Grabado Malbec, Valdemadera Gran Reserva, Pink raspberry lemonade, Fizzero rose
GOODTO REVIEW:
"Yet again M&S has a great choice to choose from this Valentine's Day. We chose Prawn Tempura as a starter with a Sriracha and Lime Mayo dip which was just delicious - lightly spiced, and creamy with a zing of lime.
"For the main course, we tried the Cod and Peppers with a Sherry Tomato Sauce paired with a side of tender butter-fried asparagus spears. The sherry tomato sauce was sweet, with ratatouille qualities, and just perfect alongside the fish. We also tried the Vegan Stroganoff Pies - as often vegan choices are rather limited or not as impressive as the meat options, however, the vegan pie was a great choice with golden shortcrust pastry, and a hearty mushroom and truffle filling - rich in flavour with a thick creamy texture.
"To end the meal we tucked into M&S Creamy Berry Pots paired with a glass of extra bubbly Prosecco Rose. The berry pots were sweet, with a light vanilla and tangy berry topping not to mention a delightful oat base - similar to a cheesecake."
Aldi Valentine's meal deal
BUY NOW - Aldi.co.uk
Price: From £3.63 | Available: Now | What you get: Starter + Main + Side + Dessert + Wine
Starters: Mini Heart Shaped Garlic Bread (£1.29), Chicken Love Nuggets (£2.99), Scallop & Champagne Gratins (£3.99), Mushroom Arancini (£2.99)
Mains: Heart Shaped Lobster Filled Pasta (£2.99), Ashfields 21 Days Matured British Beef Steak (£2.89), Tuna Steaks (£4.99), Vegan Pies (£1.79)
Sides: Specially Selected Wagyu Basted Thick Cut Chips (£2.29)
Desserts: Chocolate Vegan Melt in the Middle Heart (£2.99), Valentine's Heart Shaped Cookie (£2.49), Profiterole Stack (£2.99), Vegan Melt in the Middle Heart (£2.99)
Wine: Grapevine Pinot Grigio (£3.99), Grapevine Merlot (£3.89), Grapevine Sauvignon Blanc (£3.89), Costellore Vegan Prosecco Vino Frizzante (£4.99)
GOODTO REVIEW:
"Aldi is boasting the cheapest supermarket dine-in deal this Valentine's Day, with a three course meal from as little as £3.63 per person, or £5.64 with wine.
"While customers can mix and match from the Valentine's range on offer, Aldi have suggested some indulgent combinations for the perfect Valentine's meal. These include the 'Unbeatable Value Meal', which includes a garlic bread starter, lobster pasta and melt in the middle heart for just £3.63 per person.
"We tried the 'Let's Get Veggie' meal, which costs just £4.78 per person - or £7.27 with wine - and includes mushroom arancini, vegan pies, a vegan chocolate melt in the middle heart and a bottle of prosecco.
"The mushroom arancini is a huge portion for just £2.99, so you're really getting your money's worth with this starter. Crisp and crunchy on the outside and filled with a thick and creamy risotto, they're a great option for a vegan Valentine's meal.
"Meanwhile, the pies were hearty, flavourful and comforting, and we were especially impressed with the dish given that often vegan Valentine's choices are rather limited, or not as impressive as the meat options."
Sainsbury's Valentine's meal deal
BUY NOW - Sainsburys.co.uk
Price: £15 | Available: Now | What you get: Starter + Main + Side + Dessert + Drink
Starters: Scallop Gratin, Vegan Antipasti Platter, Vegetable Tart, Antipasti Platter
Mains: Rump Steak with Butter, Sirloin Steak with Butter, Scottish Salmon Encroute, Pork Belly, Wild Garlic Kyiv, Plant Based Wellington
Sides: Triple Cooked Chips, Dauphinoise Potatoes, Cauliflower Cheese, Mashed Potato, Green Veg Medley, Rainbow Chard
Desserts: White Chocolate Profiteroles with Strawberry filling, Raspberry & Choc Torte, Chocolate Melt In the Middle, Lemon Tarts, White Chocolate & Raspberry Cheesecake Slices
Drinks: Prosecco Conegliano, Casablanca Chilean Sauvignon, Fronton Negrette Rosé, Barrihuelo Rioja Crianza, Pomegranate & Rose Gin&Tonic, McGuigan Zero Sauvignon Blanc, McGuigan Zero Shiraz, Shloer Celebration pink fizz
GOODTO REVIEW:
"Sainsbury's have quite the feast on offer for Valentine's Day 2023, and customers can enjoy a delicious romantic meal by selecting from a total of 22 different dishes from the supermarket's Taste the Difference range.
"Standout choices this year include the scallop gratin starter, the sirloin steak, pork belly and plant-based wellington for mains and classic triple cooked chips on the side. For dessert, customers can indulge in six white chocolate profiteroles with strawberry crème pat filling, or try something lighter with a lemon tart.
"There's a huge range of drink options included too, from prosecco and wine to a tasty pomegranate and rose flavoured gin and tonic, as well as a number of alcohol free options."
Tesco Valentine's meal deal
BUY NOW - Tesco.com
Price: £12 | Available: Now | What you get: Starter + Main + Side + Dessert + Drink
Mains: Tesco Finest Vegetable Moussaka, Tesco Finest Ranch Steaks Plus Garlic & Herb & Peppercorn Butter, Tesco Finest Smoked Salmon Gratin, Tesco Finest Chicken in Cabernet Sauvignon, Tesco Finest Tomato, Mascarpone and Basil Risotto, Tesco Finest Chicken Legs Mushroom White Wine & Tarragon, Tesco Finest British Beef Burger Kit, Tesco Finest Beef Bourguignon Pies, Tesco Finest Lasagne, Tesco Finest Duck Breast Portions with a Raspberry Hoisin Sauce
Sides: Tesco Finest Truffle Mac & Cheese, Tesco Finest Heart Shaped Potato Croquettes with Black Pepper and Parsley, Tesco Finest Green Vegetable Selection, Tesco Finest Creamed Spinach, Tesco Finest Chunky Chips, Tesco Finest Potato Dauphinoise
Desserts: Tesco Finest 6 Raspberry Royale Profiteroles, Tesco Finest Chocolate Brownie Heart (vegan), Tesco Finest 2 Millionaires Tarts, Finest Belgian White Chocolate and Raspberry Pots, Tesco Finest 2 Caramel Melt in Middle Puddings, Tesco Finest 2 Lemon Meringue Cheesecake Slices
Drinks: Tesco Finest South African Malbec, Tesco Finest South African Sauvignon Blanc, Tesco Finest South African Cinsault Rose, Tesco Finest Prosecco Valdobbiadene Docg, Peroni Nastro Azzurro Lager Beer, Bottle Green Elderflower and Apple, Tesco Finest Pink Lady 2 Pack Apple Juice & Still Lemonade, Coca-Cola Zero, Diet Coke Pack, Nozeco Rose
GOODTO REVIEW:
"If you're a savvy shopper then you've probably got your hands on a Tesco Clubcard by now, but if not, you're going to want one just for this fantastic Valentines offer.
"Available online and in store, you could get your hands on the perfect dinner for two for less than £15, with a choice of Tesco Finest favourites such as Beef Bourguignon Pies or Smoked Salmon Gratin, as well as the addition of new vegetarian main and side dishes for this year.
"More than enough for two people, the lentil and aubergine moussaka is comfort food and luxury combined into one. The rich filling is delicious and I'm a big fan of anything with bechamel sauce, so this was a winner for me. The pecorino and paprika crumb is a nice touch too, and really makes the meal feel extra special."
Co-Op Valentine's meal deal
BUY NOW - Coop.co.uk
Price: From £12 | Available: Now | What you get: Starter + Main + Side + Dessert + Drink
Starters: Irresistible Garlic and Parsley Tear and Share with Camembert, Irresistible Soft Set Scotch Eggs, Irresistible Mediterranean Antipasti Selection
Mains: Irresistible Hereford Rump/Sirloin Steaks 2s, Irresistible Wild Garlic Chicken Kyiv, Irresistible Salmon & Prawn En Croute, Irresistible Mushroom Wellington Parcels
Sides: Irresistible Triple Cooked Chips 360g, Irresistible Buttered Mashed Potato, Irresistible Garden Vegetable Medley
Desserts: Irresistible Melt in the Middle Puddings, Irresistible Tart Au Citron, Irresistible Dark Chocolate and Raspberry Velvet Tortes, Irresistible Strawberry Kisses Cheesecakes
Drinks: San Pellegrino Lemon 6x330ml, Diet Coke 4x250ml, Coke Zero 4x250ml, Irresistible Prosecco 75cl, Irresistible Leyda Valley Sauvignon Blanc 75cl, Irresistible Rioja Crianza 75cl
GOODTO REVIEW:
"Co-Op's Valentine's Day meal deal consists of 14 gastro-inspired dishes from their premium Irresistible range. You really can't go wrong with a camembert starter, so we opted for this option as our starter. More than enough for two people, the bread came out of the oven beautifully fluffy and warm and had a nice herby flavour, while the cheese had melted beautifully - the perfect consistency for dipping.
"Meanwhile, the chocolate and raspberry tortes feel like a really luxury dessert, but you don't have to do any work. Super creamy and chocolatey, it's hard to believe they're vegan. The biscuit base is delicious too, and the sharpness of the raspberry centre cuts nicely through all that rich chocolate.
"Sign up for a Co-Op member card and add a bottle of bubbly to your Valentine's meal deal for just £4 extra."
Morrisons Valentine's meal deal
BUY NOW - Morrisons.com
Price: £15 | Available: Now | What you get: Starter + Main + 2 Sides + Dessert + Drink
Starters: Camembert Heart Wreath with Cherry Bell Peppers, Scottish Cooked Mussels in Chianti & Iberico Chorizo sauce, Chipotle Cauliflower Wings, Antipasti Platter, Roasted Vegan Mushroom Pate, Cornish Scallop & King Prawn Thermidor Gratins
Mains: Beef Wellington, Pork Tenderloin Wrapped in Prosciutto & Balsamic Glaze, Rump Steaks with Peppercorn Butters, Slow Cooked Coq au Vin, Spaghetti Carbonara, Miso Mushroom Stuffed Butternut Squash, Scottish Salmon filets with a Hollandaise butter
Sides: Greens, Beans and Carrots with a lemon & parsley dressing, Maple Roasted Carrot & Parsnips, Cauliflower Cheese, Maris Piper Dauphinoise Potatoes, Chunky Chips, Garlic Bread Sticks
Desserts: Mango & Passionfruit Cheesecake, Gu Zillionaires Cheesecake, Gu Chocolate & Honeycomb Dessert, Gu Hot Chocolate Molten Middles, Raspberry Panna Cotta, British Cheese Collection, Caramelised Biscuit Profiteroles
Drinks: Sparkling Sicilian Lemonade, Sparkling Raspberry Lemonade, Ginger Beer, Apple & Elderflower, Elderflower Presse, Menestrello Prosecco Spumante, Chevaliers St Martin AOP Bordeaux, Fairbank Wines Sauvignon Blanc, La Bellamente Pinot Grigio Blush, Isoletta Catarratto Pinot Grigio, Isoletta Nero D'Avola
GOODTO REVIEW:
"Morrisons customers can sample from the supermarket's The Best range for Valentine's Day 2023, and at just £15 for My Morrisons members, that's a saving of up to £20.45.
"The Rump Steak with Pink Peppercorn Butter was just delicious - easy to follow, simple instructions, quick to cook so there wasn't much faff or waiting around involved and the pink peppercorn butter added a lovely flavour to the steak.
"The dessert was also on point. The panna cotta had a subtle vanilla flavour and the lightly tanged raspberry compote on top paired perfectly. A bargain meal at just £15 - including a bottle of Prosecco too!"
ASDA Valentine's meal deal
BUY NOW - ASDA.com
Price: £15 | Available: Now | What you get: Starter + Main + 2 Side + Dessert + Bottle of wine or box of chocolates
Starters: Truffle Mac 'n' Cheese with Slow Cooked British Beef, Chicken Liver Parfait with Raspberry Jelly, Vegan Mushroom Arancini Hearts with Truffle Dip
Mains: 30-Day Dry Aged Sirloin with Smoked Garlic Butter, Wild & Roast Garlic Stuffed Yorkshire Bred Pork Kiev Cutlets, British Duck Breasts with Morello Cherry Sauce, Aberdeen Angus Beef Burger with Smokey Bacon & Cheese Heart, Braised British Beef Cheek Parcel with a Creamy Porcini Mushroom & Peppercorn Sauce, Cod Fillet with Samphire & Sicilian Lemon & Marjoram Butter, Plant Based Wellington with Mushroom Duxelle, or Nduja Stuffed Chicken Parcel
Sides: Chantaney Carrots with Citrus Yuzu, Truffle Mac & Cheese, Triple Cooked Chips, Dauphinoise Potatoes
Desserts: Italian Espresso Tiramisu Cups, Dark Belgian Chocolate Heart with Raspberry
Drinks or chocolates: Extra Special Malbec Merlot or Extra Special Sauvignon Blanc, or a box of the new Extra Special Chocolates
GOODTO REVIEW:
"This year, Asda is pulling out all the stops for those looking to celebrate love. Their Valentine's Day Meal Deal features 17 all-new options, plus returning favourites and vegan offerings across all courses of the meal - including wine.
"And if all that wasn't enough, Asda is offering the ultimate date night deal with a free Sky Movies voucher when shopping the meal deal. The voucher is worth £5.49 and can be redeemed at Sky Store website or app. Full terms and conditions can be viewed at movienightsin.co.uk.
"We tries the mac & cheese, which makes a great side for a romantic meal. The cheese sauce is in a thick layer on top, which is great because it avoids the crunchy and burnt pasta you sometimes get with oven-ready pasta dishes. The parsley crumb adds both texture and flavour, and the subtle hint of truffle makes this dish feel really luxurious without being overpowering.
"Meanwhile, the tiramisu cups are a perfect portion to end an indulgent meal. The mascarpone mousse is light and sweet while the coffee sponge and coffee sauce are full of flavour."
Waitrose Valentine's meal deal
BUY NOW - Waitrose.com
Price: £20 | Available: Now | What you get: Starter + Main + Side + Dessert + Wine
Starters: 2 Scottish Poached Salmon Mousses, Heston from Waitrose Bloody Mary Prawn Cocktail, Waitrose Scottish Mussels in Garlic Butter, Waitrose Bacon Leek & Roquefort Tartlets, Waitrose Cheddar & Emmental Souffles, Duchy Organic Tomato & Thyme Soup, Waitrose Vegan Layered Mushroom Parfait, Waitrose Spanish Tapas Platter
Mains: Waitrose Beef Ribeye Steaks with Bearnaise, Waitrose Sea Bass with Tomatoes & Olives, No.1 Beef Bourguignon, Waitrose Beef Rump Steaks with Chimichurri, Waitrose Easy To Cook Coq au Vin, No.1 Lasagne, No.1 Truffle & Parmesan Chicken Kiev, Waitrose Slow Cooked Duck with Apple & Cherry Ketchup, PlantLiving No Beef Bourguignon
Sides: Waitrose Watercress Spinach Rocket Salad, Waitrose Mediterranean Roasting Veg, Waitrose Potato Gratin, No.1 Green Vegetable Medley, No.1 Ultimate White Mash, Waitrose Cauliflower Cheese, Waitrose Frites, PlantLiving Dauphinoise Potatoes
Desserts: Waitrose 8 Churros, No.1 Raspberry Panna Cotta, Heston from Waitrose Espresso Martini Choc Tortes, No.1 Rhubarb & Custard Love Hearts, The Perfect British Cheeseboard, Waitrose Classic Fruit Salad, No.1 Blonde Chocolate Dreams, No.1 Melt in Middle Chocolate Pud, 2 No.1 Sicilian Lemon Tarts
Fine wines: Jackson Estate Stich Sauvignon Blanc, Thomson & Scott Noughty Sparkling Alcohol Free, Yalumba Galway Vintage Barossa Shiraz, San Leo Nerello Mascalese Garganega Rosato, Jardin de Roses AOP Languedoc Rosé, Cune reserva, La Gioiosa Prosecco Superiore Valdobbiadene DOCG, Tails Cocktails Espresso Martini Vodka Cocktail, Tails Cocktails Bacardi Rum Daiquiri Cocktail, Tails Cocktails Passion Fruit Martini Vodka Cocktail - £16.00
GOODTO REVIEW:
"Waitrose have a huge variety of options for this Valentine's Day, so whether you're a meat-lover, prefer fish or a dedicated vegan, there's something for everyone to enjoy in this great value meal deal.
"Customers can experience the culinary magic of Heston Blumenthal at home too with a selection of Waitrose's Valentine's dishes, including the Bloody Mary Prawn Cocktail and Espresso Martini Chocolate Tortes.
"Cocktail lovers will be happy with this selection too, because as well as a great selection of wine and bubbly, you can also choose from espresso martini, passionfruit martini or daiquiri ready-made cocktails as part Waitrose's Valentine's Dine In."
Lidl Valentine's meal deal
BUY NOW - Lidl.co.uk
Price: Varies | Available: Now | What you get: Starter + Main + Side + Dessert + Drink
Starter: Deluxe Antipasti Platter with Prosciutto (2.49)
Mains: Birchwood Beef Sirloin Steak Grass Fed (£5.79), Deluxe 2 Aberdeen Angus 6oz Beef Burgers (£3.19), Deluxe Sourdough Chargrilled Veg & Pesto Pizza (£3.99)
Sides: Deluxe Potato Dauphinoise (£1.99), Deluxe Halloumi Fries (£2.59)
Dessert: Deluxe Chocolate Melt in the Middle Puddings (£2.35)
Drinks: Rosé Prosecco D.O.C (£6.99), Malbec Uco Valley (£5.99)
GOODTO REVIEW:
"Lidl aren't offering a set Valentine's menu this year, meaning you can mix and match from all of their Deluxe products to put together your own perfect romantic meal. And if you love, it'll still be there to repurchase after February 14th! Sounds like a win to us.
"The halloumi fries were a stand out choice for us, and these are one of the foods you can cook in the air fryer if you're lucky enough to own one. While they're delicious out of the oven too, if you want to get them really crispy then an air fryer is the way to go. I popped mine in for ten minutes and they came out perfectly crispy and golden, and I'd recommend trying them with a good chilli jam. Super quick and easy, the perfect starter or side for a romantic meal for two."
Related Valentine's Day features:
Video of the Week
Ellie is Goodto's Feature Editor, having joined the team as a Junior Features Writer in 2022, and covers everything from wellbeing for parents to the latest TV and entertainment. Ellie has covered all the latest trends in the parenting world, including baby names, parenting hacks, and foodie tips for busy families. She has a distinction in MA Magazine Journalism from Nottingham Trent University and a first-class degree in Journalism from Cardiff University, and previously Ellie has worked with BBC Good Food, The Big Issue, and the Nottingham Post, as well as freelancing as an arts and entertainment writer alongside her studies.