Move over pigs in blankets, the pig in duvet has arrived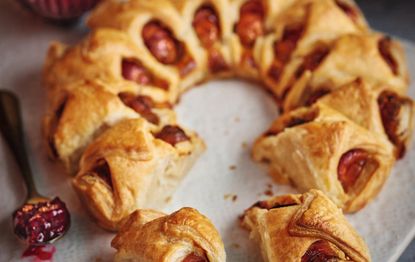 No matter how many MasterChef meals you perfect throughout the year, none of them come close to being as anticipated and satisfying as the plate at your table on 25th December.
And while some love the Christmas meat, and others live for the gravy, surely no trimming is as worshipped as the pig in blanket?
So to bring just a little bit of extra magic to our dinner tables this Christmas, Tesco are taking the bacon-wrapped cocktail sausage one step further.
Gone are the pigs in blankets, it's now all about pigs in duvets!
Yes. You read that right.
And while you may now be imagining a supersize banger wrapped in a hefty rasher of back bacon, the leading supermarket has gone a slightly different way.
The pigs in duvets come in a wreath of the classically sized, original recipe pigs in blankets, but with a 'duvet' of puff pastry wrapped around each one.
So they're essentially fancy sausage rolls with a layer of crispy bacon inside. We're not complaining.
For another hit of festivity the tear-and-share wreath comes with a tub of cranberry sauce to dip the individual bites in.
And in even better news, the Christmas showstopper comes in at only £5, so we'd say stock up on a few.
The only hitch? It's not available to buy yet. The 400g box will be available in stores and online from 12th November, so you'll have plenty of time to get your hands on it before your Christmas dinner.
Or if the roasties and Yorkshires take up all the carb space on your plate, skip out on the pastry with Aldi's giant pig in blanket.
This Christmas, the budget supermarket is offering a foot-long pig in blanket as part of its festive range.
The giant 12-inch sausage comes wrapped in crispy streaky bacon and will be available at only £2.99 from 6th December.
We'd suggest eating it all to yourself, but if you're feeling nice you could always share.
So whatever Christmas recipes you're trying out this year, just make sure you've got your blankets and duvets
Aleesha Badkar is a lifestyle writer who specialises in health, beauty - and the royals. After completing her MA in Magazine Journalism at the City, the University of London in 2017, she interned at Women's Health, Stylist, and Harper's Bazaar, creating features and news pieces on health, beauty, and fitness, wellbeing, and food. She loves to practice what she preaches in her everyday life with copious amounts of herbal tea, Pilates, and hyaluronic acid.