Prue Leith: Everything you need to know about the new Bake Off judge
You've probably seen her on TV before...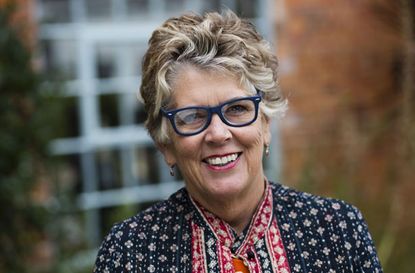 Prue Leith is about to hit our TV screens as the new Bake Off 2017 (opens in new tab) judge, following Mary Berry's shock departure. But how well do you really know her... ?
We're still recovering from the news that baking duo Paul and Mary will be absent from our lives this September, but a new season of the Great British Bake Off (opens in new tab) is imminent and a new judge is incoming, so it's high time we found out a bit more about the new tent addition!
It was back in March that Channel 4 revealed that Prue Leith will be Mary Berry (opens in new tab)'s replacement in the new Bake Off, after its move from the BBC.
If you're wondering who Prue Leith is, what she's been up to and why she was chosen for one of the UK's most coveted jobs (free cake - who wouldn't love that?), we've got all the answers for you...
Who is Prue Leith?
Prudence Margaret Leith is a South African-born restaurateur, cookery writer, author and television presenter.
After living in Paris to learn French for a while, she moved to London in 1960 to attend the Cordon Bleu Cookery School.
She's since made a huge impact in the British food industry with her cookbooks, cookery school, successful restaurant and her work as a TV presenter. As recognition for her impressive career, she's been awarded an OBE and a CBE.
Is Prue Leith married?
Prue's first husband was Rayne Kruger, whom she married at the age of 35 when she was expecting their first child. Prue had been his mistress for 13 years - Rayne was married to one of Prue's mum's best friends, Nan Munro.
Speaking to The Telegraph, Prue said that not having had a conventional relationship until she was in her thirties gave her more time to focus on her business - the restaurant which had a turnover of £15 million in 1995 before she sold it.
The cook also said the only reason she changed her mind about being the 'other woman' was because she wanted to have children.
'I wanted to have a baby, otherwise I'd never have done anything about it. The fact is, because Rayne was married, it meant I had more time to get on with the business', she told the publication.
Rayne, who was an author and 20 years her senior, passed away in December 2002, aged 80. In October last year, Prue married retired designer John Playfair, after dating him for five years.
Prue married John in October last year
Speaking about marrying John (who's seven years her junior) in her seventies, Prue said age was irrelevant when it comes to love.
'There's nothing in the world like it, and it's the same at 70 as it was at 17. Same anxiety, same longing, feeling sick, excitement, same everything. We just want to be Mr and Mrs. It's about happiness and commitment, to have and to hold, for richer, for poorer, in sickness and in health', she told the Daily Mail.
How old is Prue Leith?
The celeb chef was born in 1940, on 18th February, and is 77 years old.
Is Prue Leith's last name related to the famous cookery school?
Yes! Prue founded the school to train amateur cooks and professional chefs in 1975, turning it into a very profitable business.
However, she sold it in the nineties, so even though she's its founder and the school remains named after her, she is no longer connected to the business.
Does Prue Leith have children?
Prue has two children - Danny Kruger and Li-Da Kruger. She gave birth to Danny in 1975, at 35 years old. She and Rayne later adopted Li-Da Kruger, an orphaned Cambodian toddler.
Prue with daughter Li-Da, son Danny Kruger and daughter in law Emma Kruger
What jobs has Prue Leith had in the past?
After attending the Cordon Bleu cookery school, Prue began a business supplying high quality business lunches, which became Leith's Good Food.
By the age of 29, she had her own restaurant in Notting Hill, Leith's, which she sold in 1995. She also founded the prestigious Leith's School of Food and Wine in 1975, which still to this day trains professional chefs and amateur cooks. In 1993, she sold the school and set up the Prue Leith Chef's Academy in South Africa in 1997.
As well as setting up and managing her businesses in the food industry, Prue has also published cookbooks and novels, and presented TV shows.
The cook has also been involved in numerous companies as a non-executive director, including British Rail, British Transport Hotels and Halifax.
What shows has Prue Leith been on before?
Before being cast as the new Great British Bake Off judge, Prue was a judge for BBC Two's The Great British Menu (opens in new tab).
To promote the show, which has been running for 10 years, Prue and the other judges took part in a naked photo shoot!
Speaking about the experience, she told BT: 'I have to say, I rather enjoyed it! It was very funny because the photographer was so sweet and he was being so tactful, wasn't he? He was trying so hard to make you feel at home, and I felt quite at home. I thought "I'd quite like to do this more often." But it was really important to get the lighting right in my case!'
Image: BBC
Prue took part in a naked photo-shoot to promote Great British Menu
She was also a guest judge on the Channel 4 show My Kitchen Rules UK.
What will Prue Leith bring to The Great British Bake Off?
We all loved Mary Berry's affection for sugar and butter, but Prue might be bringing a new approach to GBBO.
Speaking to the Sunday Times, Prue said cakes with an abundance of sugar, eggs and butter should be eaten only as an occasional treat, adding that she 'would love to see healthy recipes (opens in new tab)'.
What books has Prue Leith published?
The culinary queen is responsible for quite a few best-selling cookbooks, including Leith's All Party Cookbook and Leith's Cookery Bible. She's also written novels, children's books and poetry, including her autobiography - Relish: My Life on a Plate.
As well as publishing her books, Prue has also worked as a cookery correspondent for several newspapers like the Daily Mail, The Sunday Express and The Guardian.
Trusted, informative, and empathetic – GoodTo is the ultimate online destination for mums. Established in 2007, our 15-year-strong archive of content includes more than 18,000 articles, 1,500 how-to videos, and 7,000 recipes.