Quality Street fans not happy as Nestlé remove classic chocolate from their selection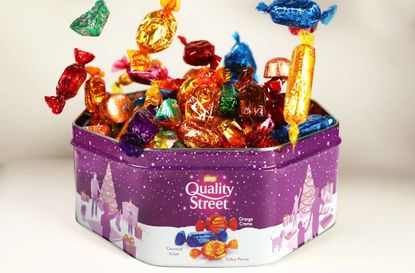 GoodTo newsletter
Sign up to the GoodTo Newsletter. You can unsubscribe at any time. For more information about how to do this, and how we hold your data, please see our privacy policy
Thank you for signing up to . You will receive a verification email shortly.
There was a problem. Please refresh the page and try again.
Quality Street chocolates are a family favourite – and no doubt some fans will not be happy as one of the classic treats has been axed!
Nestlé, the company that runs the traditional assortment of chocolates, has caused another outcry by removing the much-loved Toffee Deluxe sweet treat again - for a second time.
Nestlé attempted to axe Toffee Deluxe in 2016, but following social media frenzy and customer outrage the chocolate treat made a comeback in 2017.
But now, just two years later, Nestlé has axed the chocolate again and replaced it with a new variety: the Chocolate Caramel Brownie.
The new chocolate brownie has a milk chocolate outer layer, with a goey chocolate caramel in the centre – sounds pretty good to us.
Though, Nestlé have confirmed that this new chocolate is only a 'limited edition', and will not be a permanent chocolate in the beloved Quality Street assortment.
However, this may mean that Nestlé could bring back the Toffee Deluxe in the future.
It's seem Nestlé are deliberately trying to cause a storm with yet another assortment shake-up.
Last year, the pack dropped from 13 chocolates to 12, after the Honeycomb Crunch was axed (opens in new tab) from the assortment.
A spokesman for Nestlé said: 'Well, we know we got your attention the last time we dropped the Toffee Deluxe so couldn't resist trying it again.
'But seriously, everybody's got a favourite Quality Street and the assortment has changed a lot over the years.
'Every now and then we like to introduce new exciting flavours to the mix and are certain that our delicious chocolate caramel brownie will be a hit for 2019.'
Quality Street fans took to Twitter immediately to express their outrage at the chocolate swap.
One said: 'Absolutely fuming with @QualityStreetUK for getting rid of the Toffee Deluxe. It's my fave one & the reason I buy a stupid amount of them at Xmas 🙄 The new brownie chocolate looks yukky 🤢 Thank god for Celebrations & Heroes 🍫 Christmas won't be the same 😫 #qualitystreet.'
Another added: 'So we've lost another chewy / crunchy one to be replaced by yet another soft centre. It'll be a tub full of soft centres soon 😢.'
But remember, the Chocolate Brownie is only a limited edition – there is still hope that the Toffee Deluxe could make a return. Here's hoping!