11 ice lollies from our childhood we forgot existed
Oh, we do love reminiscing about the good old days, especially when it comes to these retro ice lollies - that we think need to be brought back immediately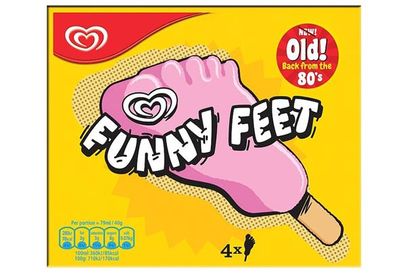 Oh, we do love reminiscing about the good old days. Our favourite song, TV programme, that chocolate bar we used to always save our pocket money for or that classic ice lolly that always got us chasing after the ice cream van!
Take a trip down memory lane with us and look back at some of these amazing retro ice lollies that once made our summers. There's some good news as you reminisce too - some of these lollies are actually still available in shops!
Scroll down to see our round up of classic retro ice lollies that need to be brought back immediately...
Zoom
Image from Facebook)
There's a fan group on Facebook for this ice lolly – that's how popular it was back in the day. This delicious lolly was officially out of this world, with three distinctive layers and that sweet, sweet taste. The temptation to pretend your ice lolly was a rocket and 'zoom' it around the room was too much to resist.
Cola Rola
(Image from kzwp.com)
These cola-flavoured ice lollies were only 2p back in the day and were a massive hit with the public, exceeding sales targets by 86% - now there's one popular pop!
Wall's funny feet ice cream
(Image from ocado.com)
Remember these? This classic 80's ice pop was axed in the 1990s but has only recently been voted back thanks to a petition with 7,000 signatures. Wall's Funny Feet ice cream is now available in Asda and Ocado. YAY!
Nogger
(Image from oocities.org)
Hands up if you remember the Nogger? With a similar look to the Feast ice lolly, this lolly had layers of chocolate and ice cream and a naughty nougat filling.
Wall's lemonade sparkle
(Image from ayrshirehistory.com)
Oh, we loved a Lemonade Sparkle or two. This refreshing lolly was one citrusy mouthful and left our taste buds fizzing with flavour.
Screwball
(Image from bigboyconcessions.co)
Yes! Another favourite that has made its way back into supermarket freezers is the Screwball. This delightful little cone of ice cream was one of our childhood favourites from the ice cream van after school. The highlight? The bubble gum at the bottle, of course!
Orange Maid
(Image from nestle.co.za)
Ok, so the Orange Maid ice lolly wasn't the most popular back in the day. The main reason? It was frozen orange juice and that was about it. These sweet citrus orange ice lollies are still available in shops though with a modern new look - and these days, we've come round to the idea.
Haunted House
(Image from kzwp.com)
These Haunted House lollies date back to the 1970s. Made with a variety of wrappers including Frankenstein, a haunted house, a witch and a spider, these ice creams were all the rage during October. Not sure how popular they were in the summer though…
Toffee Crumble
(Image from morrisons.com)
Vanilla flavour ice cream, a toffee centre, a chocolate flavour coating AND biscuit pieces – what more could you want?! The good news is, this retro ice lolly is still available in shops. Try Morrisons, Ocado or you could even be cheeky and ask the ice cream man when he next comes to visit – he might as well start stocking up!
Mini Milk
(Image from ayrshirehistory.com)
Those Mini Milk replicas you can buy in the supermarket nowadays will never match up to the pure enjoyment of the original Mini Milk. These delightful little pops came in three different flavours; milk, strawberry and chocolate. Now to decide our favourite…
Jubbly
(Image from ypo.co.uk)
Lovely Jubbly! We remember these triangular pockets of joy like it was only yesterday – actually, hold the phone, you can still buy them?! It's time to form an orderly queue. These sweet orange lollies were a big hit with the messy eaters.
Jessica Dady is Food Editor at Goodto.com and has over 10 years of experience as a digital editor, specialising in all things food, recipes, and SEO. From the best food hampers to cookbooks, from the best cake stands to kitchen appliances, Jessica has a wealth of knowledge when it comes to must-have food products. A passionate baker, she spends some of her time creating celebration cakes for friends and family including her two lucky children.