Tesco announce it will start selling smaller wine bottles to help customers cut down on alcohol consumption
What do you think of the new measure?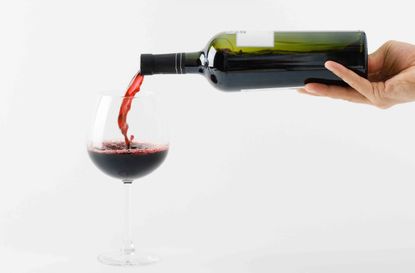 GoodTo newsletter
Sign up to the GoodTo Newsletter. You can unsubscribe at any time. For more information about how to do this, and how we hold your data, please see our privacy policy
Thank you for signing up to . You will receive a verification email shortly.
There was a problem. Please refresh the page and try again.
Tesco has announced that it will be launching bottles of wine that are 50 per cent smaller to help shoppers curb their alcohol intake.
News that Tesco is launching smaller bottles of wine probably won't incite as much excitement as news about cheap alcohol (opens in new tab) or the health benefits of gin (opens in new tab)...
However, the UK's biggest chain supermarket has said they are doing it for the benefit of their health-conscious customers.
According to the NHS, men and women should not drink any more than 14 units of alcohol a week on a regular basis. The average bottle of wine with an ABV of 13.5 per cent has 10 units.
Tesco will soon be launching 50cl bottles of wine alongside the regular sized 75cl range, so that customers who want the odd glass of wine or to use it in cooking, don't feel pressured to buy a whole bottle.
A recent study from Nielsen and the British Beer and Pub Association found that on average Brits are drinking one less alcoholic drink each week. So the number of people interested in buying smaller volumes of alcohol is likely to increase.
The 50cl bottles contain four or five glasses and are better for couples or friends who only wish to have a glass or two with their dinner.
More people are showing an interest in cutting down their alcohol consumption - are you?
Tesco will also be selling smaller bottles that are just 37.5cl in an attempt to give shoppers even more choice. The supermarket already stocks single glass measures and full bottles but this leaves shoppers with nothing in between.
According to the Mirror Online, the smaller bottles of wine will go on sale next week and will include a New Zealand Sauvignon Blanc and a Spanish Rioja Reserva.
The smaller bottles of wine will cost less than the full sized bottles so customers will not be paying a premium for purchasing a smaller volume of wine. The 50cl Rioja Reserva is priced at £6.25 compared to £8.50 for the standard bottle size of 75cl.
Tesco's product developer, Alexandra Runciman said: 'We are currently seeing an increase in the number of shoppers wanting to enjoy a smaller amount of wine or a mid-week treat without having to purchase and potentially waste a full size bottle.'
Waitrose and Aldi already sell half bottles of wine but it is not yet known if other supermarkets will follow the trend.
What do you think of Tesco's decision to make smaller bottles of wine? Is it a good initiative or should people just control their limits? Head over to our Facebook page and let us know your thoughts!