M&S's chocolate Easter bunny has gone viral thanks to its very saucy pose
Social media users are calling M&S out over the 'suggestive' position of its Yoga Bunny Easter Egg.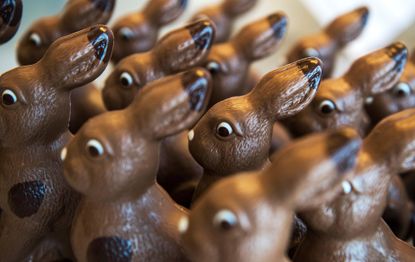 (Image credit: Keystone-SDA/REX/Shutterstock)
Social media users are calling M&S out over the 'suggestive' position of its Yoga Bunny Easter Egg.
The hand-decorated chocolate rabbit is depicted in a 'downward facing dog' yoga pose, with its tail thrust into the air.
The bunny's front and back paws are resting on a tasty-looking bed of milk chocolate decorated with raspberry nibs. But some customers have taken to Twitter to suggest that the bunny's pose is more sexual than meditative in nature.
'Why do M&S always produce at least one suggestive Easter egg every year?' one person tweeted. 'Or is it just my mind.'
'It seems Jessica Rabbit's gone a bit suggestive for Easter!' another user agreed.
'Suggestive? It's merely a bunny in the "downwards-facing dog" yoga position, Christian!' M&S responded.
'The whole shelf of @marksandspencer chocolate Easter bunnies looked like they were having mucho fun times… #naughtylittlebunnies,' another person insisted.
'The M&S Yoga Bunny Easter egg is very "door's on the latch, find me upstairs"', another user commented.
'Prayers for those of us who have to try and sell this product with a straight face appreciated,' an M&S customer assistant added. 'Also, if you haven't yet seen the 'Yoga Bunny' egg M&S has brought out, I unwillingly draw your attention to it…'
Last month, M&S 'won Twitter' with their Valentine's Love Sausage (opens in new tab), describing it as 'heart-shaped, lightly-truffled and wrapped in bacon'.
'Well. I'd like some of whatever the M&S marketing group were smoking during their Valentine's planning meeting,' a Scottish priest commented.
'You're really opening yourselves up for real innuendo today with your "love sausage,"' another pointed out.
'I don't know what you're talking about..' a member of the team replied.
If you're looking for something a little less PG-rated, the store has also launched a rather more sophisticated-looking Ruby Chocolate Easter Egg (opens in new tab).
If this tastes as good as their other Easter treats though, we're up for giving it a go. The Yoga Bunny costs £6 and is available in Marks & Spencer stores now.
Samantha is a freelance writer at Goodto who has been with team since 2019. Initially trained in psychology, she specialises in health and wellbeing and has additionally written for magazines such as Women's Health, Health & Wellbeing, Top Santé, Healthy, Refinery29, Cosmopolitan, Yahoo, CelebsNow, Good Housekeeping and Woman&Home.