How to make marzipan roses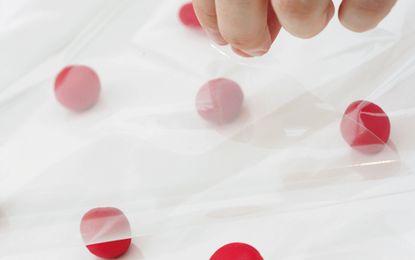 Learn how to make marzipan roses to top a cake. They're easy once you know how, with our step-by-step instructions. The results are impressive.
These simple marizpan roses are ideal for popping on top of homemade cakes and bakes, whether you're making a special birthday cake or a wedding cake. Homemade marizpan rose cake decorations will take your cake to the next level.
Our easy guide will make sure you achieve perfect roses every time. Dip your roses in edible glitter before them leaving to dry. Then they're ready to decorate your cake.
What you will need
marzipan
food colouring
cellophane
edible glitter

Step 1
For each rosebud, you will need 3 hazelnut-sized balls of marzipan (coloured with the food colouring of your choice) and 1 ball that's twice as large. Place these pieces of marzipan between two sheets of cellophane.


Step 2
Start with the larger piece of marzipan by pushing it down sideways to make it longer, and then flatten one long side with your thumb until it is very thin - dusting the marzipan with icing sugar helps prevent it sticking. For the other 2 petals, begin to push one of the smaller balls down with your thumb, starting from the centre to one side, until it forms a round petal, with one thick and one thin side. Repeat with the other balls.


Step 3
Take the large petal first and roll it into a spiral shape, thin side up. This will form the centre of the rose.


Step 4
Take one of the smaller petals, thin side up, and lay it around the centre over the seam.


Step 5
Tuck the third petal slightly inside the second petal and squeeze it around the centre.


Step 6
Slightly curve the edge of the petals out with your fingertips.


Step 7
To make a large open rose, continue by laying another 3 petals of the same size around a rosebud, each slightly overlapping the other.


Step 8
Pinch excess marzipan off the bottom of each rose.


Step 9
While still wet, dip the finished roses into some edible glitter then let the roses dry overnight.


Taken from Romantic Cakes by Peggy Porschen (Quadrille Publishing, £12.99).


Victoria Threader is 'the queen of cupcakes' and a contributing Recipe Writer at GoodTo. Not only can she bake delicious cupcakes, she can decorate them too - with each of Victoria's cupcakes topped with handmade edible toppers. Some of her most popular cupcakes include: rainbow cupcakes, hidden shape cupcakes and even giant cupcakes.