We earn a commission for products purchased through some links in this article.
We don't know about you, but when the sun is shining it's time to pop open that bottle of wine, shake up a few cocktails or treat yourself to a refreshing fizzy drink. The question is, how to keep them cool without watering them down?
Forget ice! We've found a nifty way to keep your drinks cool in the summer sun without diluting them like ice usually would. Frozen fruit is the answer.
It really doesn't take much to make these frozen fruit treats.
Just pick your favourite fruits – we've opted for grapes and blueberries but you could try strawberries or raspberries and pop onto a tray or board covered in greaseproof paper.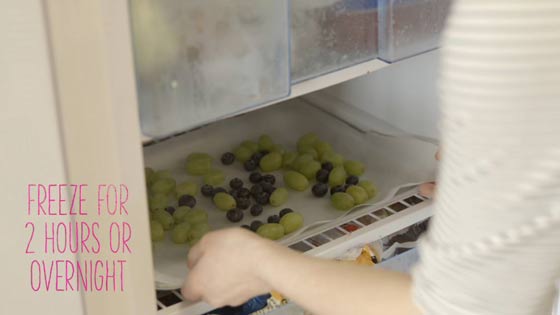 Freeze for about an hour or so and you've got sweet, frozen fruits that can be popped into your drinks to keep them chilled.
These frozen fruits make a great snack too and taste much better than an olive in your Martini or lemon wedge in your Diet Coke! Freeze plenty in one go and you'll have a stash for all your summer drinks – plus, they make a healthy snack when you need a little sweet fix but are trying to avoid ice cream and chocolate.
This is a great way to preserve fruits too, especially if they're nearing their Use By date.
Turn your frozen fruit into a sweet breakfast or healthy dessert – serve with natural yogurt or ice cream. You could even make your own sauce by mashing up or blitzing strawberries in a blender. The kids will love it, plus it's a little healthier than your usual dessert!