How to make the perfect scrambled eggs
Perfect your scrambled egg-making skills with this easy-to-follow guide. From preparation to cooking...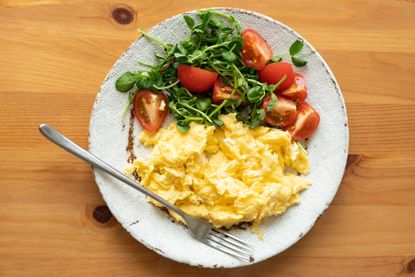 (Image credit: Getty)
They're a great way to start the day. We can certainly get on board with the vintage advertising slogan "Go to work on an egg". Here is everything you need to know to make perfect the ultimate light and fluffy scrambled eggs.
However you like yours there's no arguing with the fact that eggs make for a cracking filling breakfast. Here at GoodtoKnow we're big advocates of the humble egg. Scrambled eggs are an often overlooked egg option, but when done right is there any beating them?
They're the perfect partner to smoked salmon (opens in new tab) for a simple but luxurious meal. But equally as good served simply on buttered toast. Or nestled between smoky bacon and buttery mushrooms in the ultimate breakfast, the full English.
How to make scrambled eggs in the pan
This easy scrambled egg recipe makes delicious fluffy eggs in four simple steps. Always start with good eggs: fresh is best and free-range or preferably organic. We also favour non-stick pans (opens in new tab) for cooking eggs. As we all know what a washing up nightmare a scrambled egg pan can be!
The key to making fluffy scrambled eggs is regular mixing and being careful not to overcook them. Avoid the old fashioned method of adding milk to the eggs before scrambling them. This will make your eggs rubbery and hard.
Serves 2
Ingredients
knob of butter
4 medium organic eggs
salt and pepper
buttered toast, to serve
creme fraice (optional)
Method
1. We recommend melting butter in the pan prior to adding the eggs. This will stop the eggs from sticking. Add a knob of butter to a non-stick pan on a medium-low heat. Leave the butter to melt, swirling around the pan. When the butter begins to foam it's time to add the eggs.
2. While the butter is melting crack the eggs into a jug and beat with a whisk or fork. Add a pinch of salt and pepper and whisk again. Beating the eggs thoroughly before adding them to the pan is also a good way to make sure that they cook evenly and come out lovely and fluffy. Then add the mixture to the pan.
3. Mix the eggs constantly. Use a wooden spoon or spatula to pull the mixture away from the sides of the pan. It's important to keep moving the egg mixture around so that it scrambles. The egg will keep cooking as you stir.
4. Cook for just a few minutes, being very careful not to overcook it - remove from the heat when it looks almost ready, as it will continue to cook as you stir. (We also like to mix in a dollop of creme fraice at the end. This is a good way to stop the eggs from cooking and adds a great creamy texture.)
Serve on hot, buttered toast, and enjoy!
What is the healthiest way to scrambled eggs?
Scrambled eggs are already a healthy and filling meal. Eggs content minerals and vitamins D, B6 and B12. They are also high in protein which makes ideal for a filling breakfast. Eggs were previously thought to be bad for blood cholesterol. However, this has now been proven not to be the case.
If you are looking for a filling low-calorie breakfast (opens in new tab) you might consider cooking your eggs slightly differently.
In the recipe above we melt butter in the pan. This is to add richness to the eggs and to stop them from sticking to the pan. For a lower fat version leave out the butter. Instead, cook the eggs in a non-stick pan spritzed with low-calorie oil spray.
Also, be wary of what you are eating your eggs with. Swap out the classic bacon and toast for lighter spinach and mushrooms for a healthier option.
How to make scrambled eggs with cheese
Adding cheese to scrambled eggs is a delicious idea. You can add any cheese that you like. For a mild flavour grated cheddar cheese is good, but for something with more of a punch experiment with crumbling blue cheese into your eggs.
For a serving of scrambled eggs for two we recommend using four eggs and 50g of grated or crumbled cheese. First, scramble the eggs, then while they are still hot and in the pan mix through the cheese.
Beware that as cheese if often salty you will not need to season your eggs as much as you would normally. But a good grind of pepper never goes amiss! Try our recipe for Cheesy scrambled eggs with bacon recipe (opens in new tab). It's great for breakfast or brunch.
As well as cheese we also like to add chopped chives to our eggs. They add a great flavour and will make the scrambled eggs look more appetising too. Other herbs will also work.
How to make scrambled eggs in the microwave?
We knew it was possible to poach an egg in the microwave (opens in new tab) but how about scrambling one? We were dubious as first, but it is possible to make scrambled eggs using a microwave. Although the results aren't exactly the same as cooking them in a pan it can be done.
To scramble eggs in the microwave:
First crack them into a microwave-safe bowl and season.
Beat the eggs well using a fork until combined.
Microwave on the lowest setting for 30 seconds.
Remove the bowl and again use the fork or a small whisk to mix the egg mixture and break up any lumps.
Repeat this process until they turn to the consistency of scrambled egg that you like.
In total, the eggs will require around two minutes of cooking. We found that although the eggs were scrambled they had a slightly tougher consistency than when we cooked them in a pan.
Top celebrity tips for the perfect scrambled eggs
Heston Blumenthal pioneered the method of scrambling eggs using a sous vide machine (opens in new tab). But for those of us without state of the art new-fangled gadgets luckily Gordon Ramsay and Jamie Oliver (opens in new tab) have shared tips for making scrambled eggs in a more conventional way.
Contrary to our method above Gordon Ramsay cracks the eggs directly into the pan. He then adds butter and mixes constantly over a very low heat. Try Gordon Ramsay's scrambled eggs and smoked salmon croissants recipe (opens in new tab).
In Jamie Oliver's recipe for Spicy scrambled eggs and crispy bacon recipe (opens in new tab) he starts as we suggest by melting "a good knob of butter until frothy". Jamie suggests that you mix your eggs constantly. In the recipe he says to "Stir slowly with a wooden spoon or spatula, making sure nothing sticks to the bottom.".
In a charming video posted by Jamie Oliver on his Instagram, his son Buddy Oliver shows us how to make perfect scrambled eggs on toast. The video shows Buddy advising viewers to mix constantly and keep mixing the eggs until they are cooked to perfection.
He explains that to achieve the perfect scrambled eggs you must not under or overcook the eggs. Buddy said "You want it to be silky but you don't want to undercook it when it's too soggy. And you don't want it to get too dry and clumped up when it's overcooked."
So what are you waiting for? Get cracking, it's time to make scrambled eggs!
Rose Fooks is Deputy Food Editor at Future Publishing, creating recipes, reviewing products and writing food features for a range of lifestyle and home titles including GoodTo and Woman&Home. Before joining the team, Rose obtained a Diplome de Patisserie and Culinary Management at London's Le Cordon Bleu. Going on to work in professional kitchens at The Delaunay and Zedel.