Strawberry cheesecake cupcakes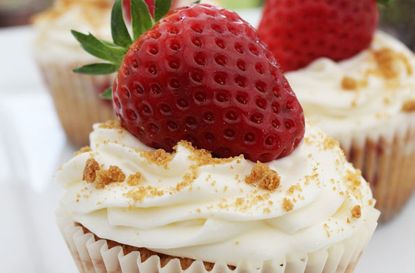 (Image credit: Future)
GoodTo newsletter
Sign up to the GoodTo Newsletter. You can unsubscribe at any time. For more information about how to do this, and how we hold your data, please see our privacy policy
Thank you for signing up to . You will receive a verification email shortly.
There was a problem. Please refresh the page and try again.
These light and creamy strawberry cheesecake cupcakes take just 30 minutes to bake.
Layered with sour cream and fluffy egg white filling, a rich Lotus caramelised biscuit base, and a cream cheese frosting, these cupcakes are irresistible. Finish with a strawberry and serve. These cupcakes are best made and eaten on the same day.
How to make strawberry cheesecake cupcakes
Ingredients
90g plain flour
90g unsalted butter
130g caster sugar
2 large egg whites
4 tbsp sour cream
½ tsp baking powder
¼ tsp salt
½ tsp vanilla
100g Lotus Caramelised biscuits
30g butter
40g chopped strawberries plus 12 to decorate
For the buttercream:
60g unsalted butter room temperature
200g cream cheese - cold
300g icing sugar
Strawberry cheesecake cupcakes: Step 1
Crush the biscuits by popping them into a sandwich bag and the rolling over with a rolling pin and chop 40g of fresh strawberries
Strawberry cheesecake cupcakes: Step 2
Mix the crumb with the butter and pop a dessertspoon of the crumb in the cases, pressing down with the back of the spoon. Bake in the oven for 5 minutes.
Strawberry cheesecake cupcakes: Step 3
Beat the egg whites until you have stiff peaks. Don't overbeat or it will become watery. Leave to one side.
Mix the flour, salt, baking powder
Strawberry cheesecake cupcakes: Step 4
Beat the butter, sugar and vanilla until light and fluffy and then add half the flour and the sour cream, beat until smooth and then add the remainder of the flour and beat again. Gently fold in the egg whites and then gently fold in the chopped strawberries
Strawberry cheesecake cupcakes: Step 5
Pop the batter on top of the biscuit bases, filling to ¾ full and bake for half an hour, depending on your oven.
Once the cakes are done the will have a lovely golden colour. If they are ready, remove and cool on a wire rack.
Strawberry cheesecake cupcakes: Step 6
Add the butter to a large bowl and mix a little of the icing sugar in at a time using a wooden spoon. Once all the icing sugar has been mixed it will seem quite dry, add all the cream cheese and beat until smooth. Don't over beat or the mixture will be runny. Add colour if you'd like


Add the 1M piping nozzle to the piping bag and pipe swirls on each of the cupcakes by starting in the centre, use the cases as a guide and pipe up into a swirl, to finish push down gently and pull up quickly.


Add a strawberry to each cupcake and sprinkle with crumbs.These cake can be kept in the fridge until you need them.



You might also like…
Strawberry cupcakes (opens in new tab)
Mary Berry's Strawberry cake (opens in new tab)
Basic cupcake recipe (opens in new tab)