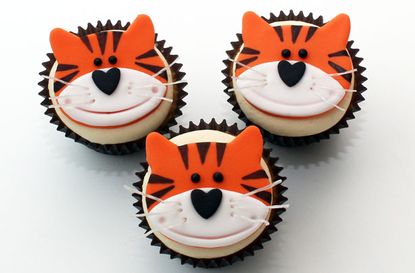 (Image credit: Future)
Love animal cupcakes? Try this tiger design from our cupcake queen Victoria Threader. These tiger cupcakes are great for beginners as they're not too fiddly and use only a few pieces of fondant. Cupcake toppers are a great to decorate your cakes as you can make them weeks in advance and store them in cardboard boxes until you need them. Fondant can be bought in most supermarkets in the cake decorating aisle. These cupcakes would make the perfect treat for a jungle-themed party.
Ingredients
1x batch of cupcakes using our cupcake recipe (opens in new tab)
1x batch of buttercream icing (opens in new tab)
120g orange modelling paste
60g white fondant
30g black fondant
Black sugar pearls
Clear Chinese noodles
Black edible ink pen
Step 1
Make your cupcake using our basic cupcake recipe and leave to cool.
Once cooled add the Wilton 2A nozzle to a piping bag and pipe a swirl of vanilla buttercream on each cupcake.
Step 2
Roll the orange modelling paste out to 1/8 of an inch thick and cut 12x cat heads, leaving them to dry on a large drying sponge or greaseproof paper.




Step 3
Roll the white fondant out to 1/6 of an inch thick and cut 12x cat heads. Using the same cutter upside down, cut a section off for the chin and stick on with a brush of water.




Step 4
Roll the black fondant to 1/8 of an inch thick and cut 12x hearts. Stick them onto the white fondant with a brush of water.




Step 5
Add two tiny dots of water above the nose and stick 2 sugar pearls on for the eyes.




Step 6
To add the smile, push the cat cutter into the fondant under the nose. Add two dimples at each end with a small ball tool.




Step 7
Draw triangle shapes around the outside of the head using the black edible pen.




Step 8
Cut the Chinese noodles to length for the whiskers and poke them into the fondant, 3 on each side.




Step 9
Leave the toppers to dry for a couple of hours before placing one on each cupcake.




You might also like…
Chocolate cupcake recipe (opens in new tab)
Vanilla cupcakes recipe (opens in new tab)
Lemon cupcakes (opens in new tab)
Victoria Threader is 'the queen of cupcakes' and a contributing Recipe Writer at GoodTo. Not only can she bake delicious cupcakes, she can decorate them too - with each of Victoria's cupcakes topped with handmade edible toppers. Some of her most popular cupcakes include: rainbow cupcakes, hidden shape cupcakes and even giant cupcakes.