Our animal cupcakes are created using a handful of clever ingredients including biscuits, chocolate buttons and sweets.
This cupcake recipe is perfect for kids parties or if you want a fun afternoon activity to enjoy with little ones. The cakes can be baked ahead and you can use shop-bought icing to save time if you like. Please note the nutritional information is based on the cupcakes and buttercream but does not include the decorations as this will vary depending on your design and preference.
Ingredients
125g butter or margarine (at room temperature)
125g caster sugar
1/2 tsp lemon zest
125g self raising flour
¼ tsp baking powder
2 eggs
For the buttercream:
100g soft unsalted butter
225g icing sugar sifted superfine sugar, sifted
1 tbsp milk
½tsp vanilla essence
To decorate a teddy bear cupcake:
Chocolate frosting
Chocolate buttons
Mini chocolate Digestive biscuits
White and red jelly beans
Black Writing Icing
To decorate a frog cupcake:
Green food colouring
White chocolate buttons
Green jelly beans or Smarties
Green Writing Icing
White Writing Icing
To decorate a piggy cupcake:
Pink food colouring
Pink marshmallows
Mini candy coated chocolates such as Smarties
Pink Licorice Allsorts
To decorate a marshmallow sheep:
Large white marshmallows, cut in half and then one half into quarters
Mini white marshmallows
Black Writing Icing
To decorate a cat:
Yellow M&Ms or Smarties
Black Writing Icing
Yellow Licorice Allsorts
To decorate a panda:
Chocolate Buttons
Brown M&M's or Smarties
White Writing Icing
Method
Heat the oven to 180C (160C fan, Gas 4). Line a muffin tin with 10 paper cases.
Put the butter, sugar, lemon zest, flour, baking powder and eggs into the bowl and beat in an electric food mixer until smooth.
Divide the mixture between the paper cases and cook in the oven for about 20 minutes or until golden and springy to the touch.
Remove from the oven and cool in the muffin tin for a few minutes, then transfer the cupcakes to a wire rack to cool completely.
Whilst the cupcakes are baking you can prepare the icing. Beat the butter in a large bowl until soft. Add half the icing sugar and beat until smooth. Add the remaining icing sugar, the milk and a few drops of vanilla essence. You can divide the icing into a few bowls and colour with a few drops of food colouring depending on the animals you want to make. For chocolate icing add a teaspoon or two of cocoa powder.
Once the cakes are cold, swirl some of the icing on top of the cakes and decorate them to look like animals using the sweets, writing icing and mini cookies.
Top tips for making animal cupcakes
You could use shop-bought cakes and buttercream to save time if you like. For more tips and time-saving tricks, continue reading below.
How to decorate cupcakes like animals?
It's quite simple to create cupcakes with animal faces on, especially when using some clever ingredients. For our animal cupcakes, we use chocolate buttons to look like ears for our teddy bear and panda faces. We use mini biscuits as the note for our bear and then stick a red Smartie or jelly bean on top with writing icing for some added detail.
We think the marshmallow sheep are very simple but effective. You can draw eyes using writing icing or pens or buy some edible googly eyes instead.
Can animal cupcakes be frozen?
Unfortunately you cannot freeze the cupcakes once decorated. However, the undecorated cakes can be frozen in an airtight container for up to a month. Simply defrost and then decorate with your chosen animal design.
How to make zoo animal cupcakes?
If you'd like to create a lion cupcake, you could use pretzel sticks broken into small pieces and placed around the outer edge of the cupcake to create a main. Then use icing to draw eyes and a nose.
Put all the cupcake ingredients in the bowl of a stand mixer and let it do all the work while you prepare the decoration ingredients. If you've been considering buying one for a while, read food editor Jessica Dady's KitchenAid stand mixer review.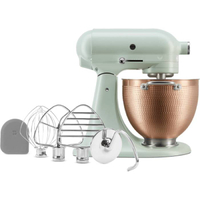 KitchenAid Mixer Design Series 4.7l Blossom Artisan - View at KitchenAid
A stand mixer will help take all the stress out of baking. The machine does all the hard work and your hands are freed up to start the washing up or another step of the recipe. We love the combination of copper and soft sage in this mixer but there are plenty of KitchenAid colours to explore.
For more cupcake inspiration the kids will love, check out our rainbow cupcakes and ice cream cupcakes. These mini cupcakes are also very cute and perfect for little hands and appetites!