This Nando's favourite is making a much-anticipated return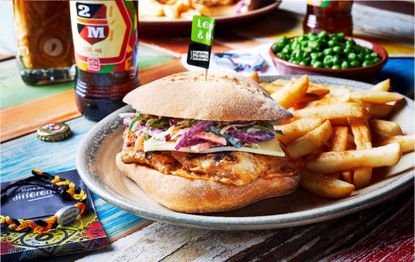 Going for a 'cheeky Nando's' has become an integral part of British living.
Even overseas celebs go crazy for the spicy chicken restaurant when they come over to the UK.
So when our favourite dishes suddenly disappear from the menu it can be a national travesty.
Of course, we could try whipping up Peri-Peri chicken at home (opens in new tab), but it's just not the same.
Thankfully, Nando's are giving us an autumn treat because they're bringing back one of their most coveted burgers.
The popular Churrasco burger will be back on menus throughout the country next week and we can't wait.
The only catch? It'll only be available for a limited time so you'll have to be quick if you want to get your hands on it.
Filled with two flame-grilled chicken thighs, fino coleslaw and cheddar cheese, the burger is served in a traditional Portuguese roll.
And, as if normal PERinaise (which now comes in new larger bottles (opens in new tab)) wasn't yummy enough, this burger is topped with their signature barbecue flavoured Churrasco PERinaise. Dreamy.
Returning to the restaurant this October, the tastebud-tingling burger is going towards helping a good cause.
Throughout the month, from every purchase of the Churrasco the restaurant will donate 25p towards the Nando's Fighting Malaria campaign.
The campaign launched in 2017 with the aim to help fund spraying projects in Mozambique, the home of PERi-PERi and a high-risk area for contracting malaria.
Despite being relatively easy to prevent and treat, the disease still goes on to kill thousands of people a year. Nando's hopes that their campaign will go towards reducing these numbers.
The PERi-PERi chicken (opens in new tab) specialists will also donate 10p from every purchase of 2M beer towards the cause and, throughout October, every time a customer buys both a Churrasco burger and a 2M beer together, Nando's will top up its donation contribution to 50p.
If customers want to support the campaign further, they can purchase one of the restaurants specially designed bracelets that were handmade by communities in Southern Africa and will be on sale in restaurants throughout the year.
You'll be able to buy these for £3.50 each, which is enough to protect two lives against the deadly disease for a year.
Get a bite of the Churrasco burger in restaurants between 1st and 31st October for only £7.75. Or if you're feeling lazy, go for the delivery option (opens in new tab).
Time to get cheeky!
Aleesha Badkar is a lifestyle writer who specialises in health, beauty - and the royals. After completing her MA in Magazine Journalism at the City, the University of London in 2017, she interned at Women's Health, Stylist, and Harper's Bazaar, creating features and news pieces on health, beauty, and fitness, wellbeing, and food. She loves to practice what she preaches in her everyday life with copious amounts of herbal tea, Pilates, and hyaluronic acid.