15 new budget supermarket Christmas foods you'll WANT to try this year
From Tesco's handy Christmas dinner in a box to M&S' stunning chocolate pine cones dessert, we've rounded up some of our favourite brand spanking new Christmas food products for 2016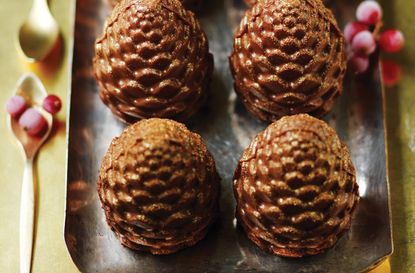 From Tesco's handy Christmas dinner in a box to M&S' stunning chocolate pine cones dessert, we've rounded up some of our favourite brand spanking new Christmas food products for 2016.
Christmas is the perfect time of year to try something new, and what better way to celebrate than by heading down to your favourite supermarket to pick up some tasty treats for the whole family?
Making everything from scratch isn't for everyone - who really has the time?! But our pick of Christmas foods isn't something you'd be making anyway, whether it's a glossy chocolate log that looks like it came straight from a patisserie (but you won't believe how cheap it is!) to mind-boggling chocolate truffle sprouts that look just like the real deal (you HAVE to see them).
These products will help bring a bit of fun factor to your Christmas table. Sure, everyone is going to have the usual Christmas dinner with all the trimmings, but these little extras and really worth picking up.
Psst… In Christmas planning mode? Take a look at all of our mouth-watering Christmas recipes.
Scroll down to see our favourites. You're seriously going to be spoilt for choice this year…
1. Tesco finest* Christmas Dinner in a box, £25
The finest* Christmas dinner for two includes succulent turkey, veg accompaniments, half a bottle of champagne and a deliciously moreish Christmas pudding. The perfect cheat and it probably costs less than your average roast dinner for two, too!
2. Tesco Finest* Cocoa and Spiced Rum Crisps, £4
Tesco finest* chocolate and a touch of delicately spiced rum transform this traditional savoury snack into a sweet treat perfect for the festive season – you just have to try them!
3. ASDA Extra Special Black Pudding Croquettes, £3
Like black pudding? You're going to love these black pudding sausage meat croquettes filled with an apple and berry chutney. Ideal for Christmas parties!
4. Morrisons The Best Smoked Salmon, Prawn & Watercress Terrine Garland, £8
How impressive would this look in the centre of your table come Christmas day or how about Boxing day served with all the leftovers? Mmmm...
5. Morrisons The Best Chocolate Christmas Tree, £9
We just love this! Layers of chocolate sponge, chocolate crunch, dark chocolate mousse, white chocolate mousse finished with a chocolate glaze and all finished to look like a Christmas tree - perfect!
6. ASDA Extra Special Tiered Christmas Pie Cake, £12.49
We bet you've never seen a showstopper like this before (other than on the Bake Off of course!) This pie cake is loaded with different meats and flavours and will really impress your guests.
7. M&S Eggnog Cream, £11, 70CL
The is the ideal after dinner drink, made using fresh cream from the Ballyrashane creamery, with notes of nutmeg and vanilla. Serve chilled on the rocks and finish with freshly grated nutmeg. Sounds perfect right?
8. Co-op Merry Crisps, £1.89
Anyone fancy trying Christmas dinner flavoured crisps? New to Co-op this year, these crisps are a festive mix of turkey and stuffing flavour crisps, lightly salted carrot and maple parsnip. Tempted?
9. Tesco finest* The Reveal Dessert, £12
This beautiful Belgian chocolate dome, flecked with gold, encases a decadent dessert that is revealed when the sweet caramel sauce is heated and poured over. It's a trendy centrepiece that's for sure!
10. M&S Fire Roasted Tortilla Chips dipped in dark chocolate, £2
The ultimate sweet and savoury combination: crunchy tortillas baked with red bell and jalapeño peppers, then dipped in rich dark chocolate. Would you give them a go?
11. Morrisons The Best Raspberry & White Chocolate Bouche and The Best Chocolate & Caramel Bouche, £8 each
You won't know which one to choose! The pink raspberry and white chocolate bouche is made up of layers of hazelnut, almond and pistachio sponge, white chocolate mousse, raspberry mousse and finished with that impressive pink glaze. The chocolate bouche is made with a chocolate sponge, chocolate crunch, caramel ganache and chocolate mousse, finished with a chocolate glaze and gold dusting - yum!
12. M&S Chocolate Pine Cones, £12
These mind-boggling chocolate pine cones are made with chocolate mousse and have a hidden chocolate truffle centre and a dusting of gold lustre. Sounds perfect right?
13.Tesco finest* Truckle Tower, £6
This impressive tower is sure to stand out on your festive cheese board. The gourmet cheese trio encased in wax includes a large Coastal Bite Cheddar truckle, a medium Wensleydale with Cranberry and Blueberry truckle, and a mini creamy Cave Aged Goats Cheese truckle!
14. Tesco Chocolate Truffle Sprouts, £3
Don't they look like Brussels sprouts? Ah! Eating your greens has never been so fun! These Tesco Truffle Sprouts will have the whole family fighting for the last one. Made entirely from creamy Belgian chocolate, these delicious greens are fun for the family or make a great little gift.
15. Morrisons In-store prepared Christmas Tree Meringues, £1.75 each
The kids are going to love these! Christmas tree shaped meringues with a chocolate flavour coating, sandwiched together with cherry compote and whipped cream. Yes please!
Jessica Dady is Food Editor at Goodto.com and has over 10 years of experience as a digital editor, specialising in all things food, recipes, and SEO. From the best food hampers to cookbooks, from the best cake stands to kitchen appliances, Jessica has a wealth of knowledge when it comes to must-have food products. A passionate baker, she spends some of her time creating celebration cakes for friends and family including her two lucky children.