Petition to bring back Cadbury's Snowflake chocolate bar has over 4,000 signatures
Would you like to see it make a comeback?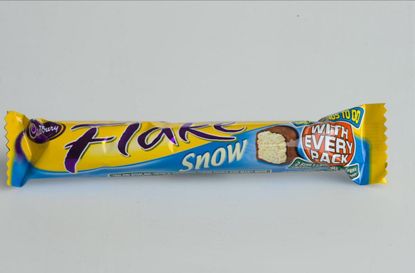 It hasn't been available on UK shelves for 10 years but that doesn't mean that lovers of the Cadbury's Snowflake chocolate bar have forgotten about it.
In fact, one such fan has gone as far as to create a petition in the hopes Cadbury will bring back the white chocolate flake coated in thick, smooth milk chocolate.
John Malogony set up the campaign, writing: 'In 2008 Cadbury broke hearts by discontinuing the Snow Flake (or Flake Snow). The bizarre decision still baffles people to this day and it needs to be rectified
'Say it with me now: BRING. IT. BACK! BRING. IT. BACK!'
And so far, chocolate lovers are uniting as the plea for its return has already gained over 4,000 signatures.
33 retro chocolate bars that need to be brought back IMMEDIATELY
Many have even shared their fond memories of the chocolate, with one signatory writing on the petition: 'These things were amazing! One of the only sweets I remember from my childhood, mostly because of my disbelief and disgust when they stopped making them.'
Another added: 'My life has never been the same since you took them back you b******s'.
While a third said: 'Please sign on get these delicious little beauties back... I literally talk about how yummy these were at least once a week'.
And a fourth devastated fan of the chocolate wrote: 'I'm signing because the Slowflake should never have disappeared in the first place. I remember when I realised they weren't being sold anymore. I couldn't leave my house, I was scared, disorientated and paranoid.
'The Snowflake may not seem like a big deal to all you big people in your big houses and big offices but down here in the only average/slightly above average sized houses/offices areas of the England it does ok, and I'm not just going to stand here and not do anything about it ok!?'
Snowflakes first hit shelves back in August 2000, but eight years later they were taken out of action for good.
Did you like Cadbury's Snowflake? Would you like to see it come back? Head over to our Facebook page and let us know your thoughts!
A Freelance Writer and Content Editor, Jenni has been working on the women's lifestyle team at TI-Media on and off for over three years. She writes about your favourite celebrities and TV shows so you never miss an update. Jenni also writes beauty news and features - so for all of your skincare and make-up needs, drop her a line.