6 things you didn't know you could make in a stand mixer
THIS is how to make the most of your stand mixer! Use it to make pizza dough, muffins, buttercream, bread and plenty more. It'll make your life easier!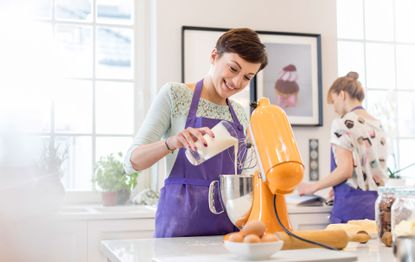 Our stand mixer recipes show you how easy it is to make things like pizza dough and bread using your machine!
Want to know how to make the most of your stand mixer? Read on... Did you know you can use your stand mixer to make pizza dough, muffins, buttercream, bread and plenty more? These stand mixer recipes will make your life easier and may even make you want to cook more from scratch...
If you've got a stand mixer, you'll know just how versatile this bit of kitchen kit is and just how attached you can get to it! Before you know it, you'll be using it to knead, whisk, mix, blend, even shredding, grinding and slicing... Oh, and giving it admiring looks - they look great on a kitchen counter!
All that mixing and kneading by hand will become a thing of the past. But did you know there are so many ways to use a stand mixer? Here are 6 ways to use your stand mixer that you might not have thought of before...
1. Very lazy cakes
Everyone knows that the stand mixer was MADE for baking but bakers, did you know just how easy a stand mixer can make your life?! This Victoria sponge requires the bare minimum effort on your part - once the ingredients are in, it's just a matter of switching the mixer on and letting it do its thing! You can then go and put your feet up with a cup of tea and let the scent of this lovely loaf cake fill the house. That's our kind of baking.
Get the recipe: Mary Berry's Victoria sandwich
2. No-effort pizza
Most pizza dough recipes require you to put in some muscle and knead the dough until it's ready, which is ideal if you're looking for a way to entertain little ones as it lets them work out their energy while you get to relax (yeah right!). Want to skip that part? This pizza recipe means your stand mixer will do all the hard work for you - because, let's face it, 10 minutes of kneading is hard work! Get the recipe: Fig, blue cheese and salami pizza
3. Achieve that 'pale and thick' consistency
We love this pistachio and yogurt cake - it makes a nice change from the classic cake recipes and it's super easy to make too. The only tough bit is beating the eggs and sugar until 'pale and thick', which takes at least 5 minutes. 5 MINUTES?! Use a stand mixer and save the arm ache. Get the recipe: Pistachio and yogurt cake
4. Easy bread
Are you put off baking your own bread with the thought of all that kneading (and mess?). Well, guess what?! No more excuses. Once you've got all your ingredients in the mixing bowl and turned your standing mixer on, the hard work (and that mess) is removed from the equation! It's so easy that you'll never go back to buying shop-bought bread again. Get the recipe: Olive and rosemary bread
5. Super smooth buttercream
In order to get your buttercream perfectly light, creamy and delicious, you need to mix it just right. Get your mixer involved to cut out the hardest part of this process. It can take around 10 minutes of mixing (even when you're not doing it by hand) to get it just right, so do yourself a favour and give your arms a rest. Get the recipe: Key lime cupcakes
6. All-in-one muffins
We LOVE muffins and you can get them right every time with this all-in-one recipe, which really couldn't be any easier. Simply measure out all the ingredients into your free standing mixer and whisk them until combined. Honestly, does it get any easier than that? Get the recipe: Annabel Karmel's apple and sultana muffins
Brought to you by The Total Control Collection by Morphy Richards...