Easy to bake but with an impressive decoration, these key lime cupcakes are perfect for parties or picnics.
This cupcake recipe uses lime zest and curd to inject a citrusy flavour into each mouthful. We've used a Swiss meringue buttercream for the top but you could also swap for regular buttercream or icing if you prefer.
Ingredients
3tbsp lime juice
3tbsps milk
150g butter
175g golden caster sugar
2 large eggs
150g self-raising flour
¼tsp baking powder
Zest of 2 limes
For the filling:
For the Swiss meringue buttercream
4 egg whites
225g granulated sugar
Pinch of salt
300g unsalted butter
1/2 tsp vanilla bean paste/extract
For the decoration:
Neon decorating sugar
Fresh lime, thinly sliced (optional)
Method
Heat the oven to 160C (140C fan, Gas 3). Line a 12 hole muffin tray with paper cases.
Add the lime juice to the milk and leave to one side. Beat the butter and sugar together until light in colour, add the eggs, sifted flour, baking powder and beat again. Add the lime zest, milk and lime mix and beat again until just combined.
Divide the mixture between the 12 cases and bake for 30 minutes. Remove from the oven and cool in the tin for 5 minutes before moving onto a wire rack. When the cakes are cool, remove the centre from the cakes with an apple corer or use a small sharp knife. Add one teaspoon of key lime curd to each cake then replace the sponge centre.
For the Swiss meringue buttercream: Add the egg whites and sugar to a large heatproof bowl and heat over a pan of boiling water, making sure the water doesn't touch the bowl. When the sugar has dissolved, transfer to a stand mixer bowl.
Whisk the sugar and egg white until you have stiff peaks. Once you have stiff peaks and the bowl is cool to touch, add in the butter one cube at a time and mix until all the butter has been mixed in. It may look like the buttercream has split at one stage, this is normal, keep beating until you hear a slapping sound (about 8 minutes), this means it's ready. Add the vanilla extract and the salt and beat until mixed evenly through the buttercream.
Transfer the buttercream to a piping bag with a large round nozzle fitted. Victoria used a Wilton 2A. Pipe some icing onto each cupcake then decorate with the neon sugar and a slice of lime.
Top tips for making key lime cupcakes
If you want to nail the Swiss meringue icing top we recommend reading some of our top tips below before you start baking. It seems like a complicated recipe but as long as you follow the steps carefully it is very simple and brings wonderful results.
How can you tell if sugar is dissolved for Swiss meringue buttercream?
Use clean fingers to feel the egg mixture. If it has dissolved you shouldn't feel any of the crystals. If you have a sugar thermometer the sugar will be dissolved when it gets to between 60C - 70C.
Does Swiss meringue buttercream hold up well?
Yes, Swiss meringue buttercream is more stable than regular buttercream. However, while it can withstand more heat than regular buttercream it will still struggle in hot temperatures. Swiss meringue also holds a better shape than regular buttercream and is why it's such a popular choice for bakers to use when decorating cakes.
Is Swiss meringue buttercream better than buttercream?
This comes down to personal preference for many. We like to use Swiss buttercream because it has a light, fluffy and airy texture while still delivering a rich and creamy taste. We like the combination of light icing and light sponge in these key lime cupcakes and hope you will too. If you don't have the time or patience for Swiss meringue buttercream, the recipe would still taste great with regular buttercream or even a cream cheese frosting or light icing glaze if you prefer.
Using a stand mixer to make the Swiss meringue buttercream will make it easy, especially if you're baking alone. If you don't have one yet, read food editor Jessica Dady's KitchenAid stand mixer review as she explains all the pros and cons of the chic piece of kitchen equipment.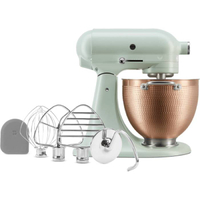 KitchenAid Mixer Design Series 4.7l Blossom Artisan - View at KitchenAid
A stand mixer is your ultimate friend when making Swiss meringue buttercream as you can whisk the hot egg white and sugar mixture without holding onto a hot bowl and it also makes it easy to drop the butter into the bowl in small chunks while still mixing.
You can also get on with some of the washing up while the icing is mixing and cooling down so it's a more efficient process too. We love the detailed hammered copper mixing bowl in this particular design of KitchenAid stand mixer and the chic colour. It comes with four stainless steel mixing accessories to make light work of all your baking endeavours. There are 10 speeds and it comes with a five year guarantee.
Try making the original