We earn a commission for products purchased through some links in this article.
Why go for the traditional wedding cake recipe on your big day when you can indulge in something, shall we say, a little different?
From a ridiculously sweet doughnut tower to a scrumptiously savoury cheese stack, we present some of the quirkiest wedding cake alternatives we've ever seen…
We don't know about you but when it comes to the big day it's all about a) the dress and b) the cake (just us?!). These alternative wedding cake ideas are going to make you want to get married all over again and will certainly make you say, 'why didn't I think of that?'.
From brownies to cheese, from Rice Krispies to pancakes (yes, really!), prepare to have your minds blown by this collection of wedding cake alternatives…
1. The sugar crystal cake
[instagram] https://www.instagram.com/p/BHawah5j_3s/?taken-by=crumbandberry [/instagram] The latest cake trend to hit the wedding world, say hello to the sugar rock cake. Bejewelled with sugar crystals this amazing decorating technique will certainly wow your guests!
2. The 'I dough' cake
 
Image from Pinterest Krispy Kreme
Now that's what you call a stack of doughnuts! Towering higher than your average wedding cake this masterpiece takes seconds to serve and offers an eternity of happiness.
3. The Rice Krispies extravaganza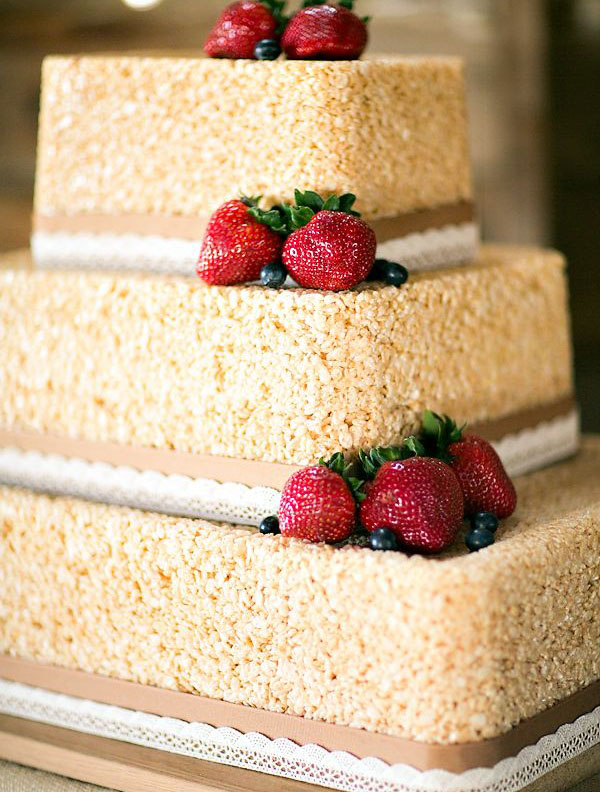 Image from ruffledblog.com
Snap, crackle and line up! Guests will go crazy for a square inch of this stunning Rice Krispies wedding cake. We never knew Rice Krispies could look so elegant!
4. The supersized scone
 
Image from thenaturalweddingcompany.co.uk
For the utmost quintessentially British experience your guests could have bargained for. This mouth-watering scone tower will certainly have everyone talking. Let the tea and bubbly flow!
5. The cheese board brilliance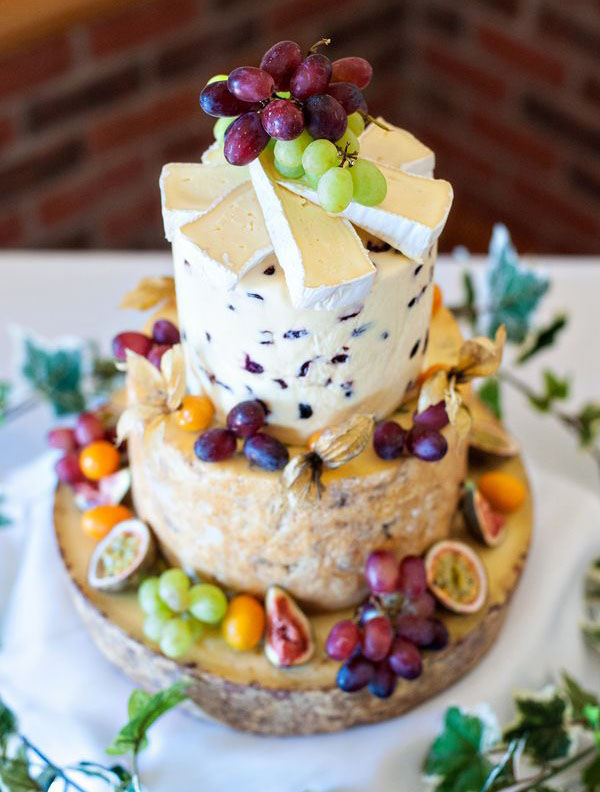 Image from lovewedbliss.com
If you are the cheeseboard-over-dessert type of person, then this might just be the cake you camembert not to have (see what we did there?!)
6. The pancake tower
 
Image from capitolromance.com
Warm up, stack up, and gobble up – this stack has to be the perfect Autumn wedding treat. Maple syrup at the ready!
7. The even fancier fondant fancy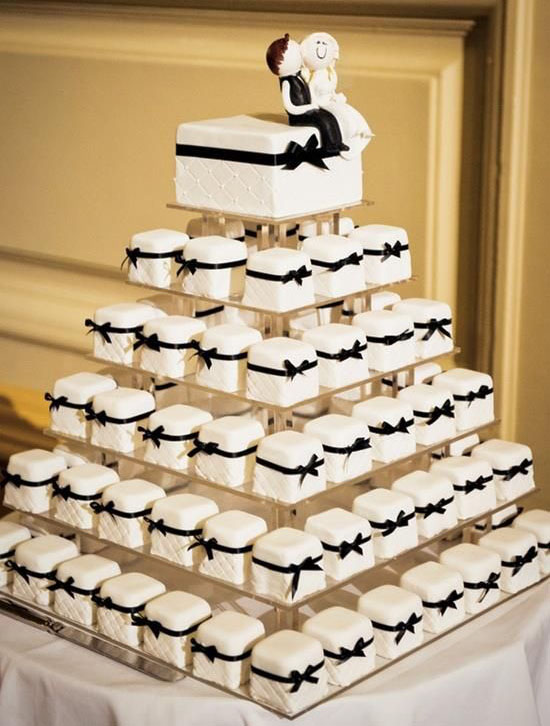 Image from bridalguide.com
Fancy one, two or maybe even three? These little tykes are so cute and oh so scrumptious. Oh, we're feeling all fancy now!
8. The sushi showstopper 
 
Image from ckminteriors.com
Love Japanese cuisine? Go for the unusual choice and be both flamboyant and cultured on the big day with this epic sushi wedding cake.
9. The Eton mess cake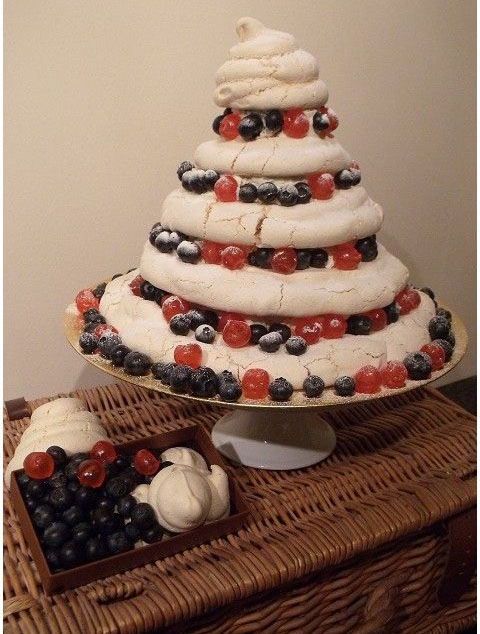 Image from frenchweddingstyle.com
This timeless, simple dessert takes hardly any time to prepare and even less time to demolish! This Eton mess wedding cake has our undivided attention.
10. The pork piedom
 
Image from perfectpie.co.uk
For those savoury sweethearts, enjoy this supersized celebration pork pie option on your big day. It'll be the talk of the day… well, after how wonderful the bride looks of course!
11. The brick laid brownie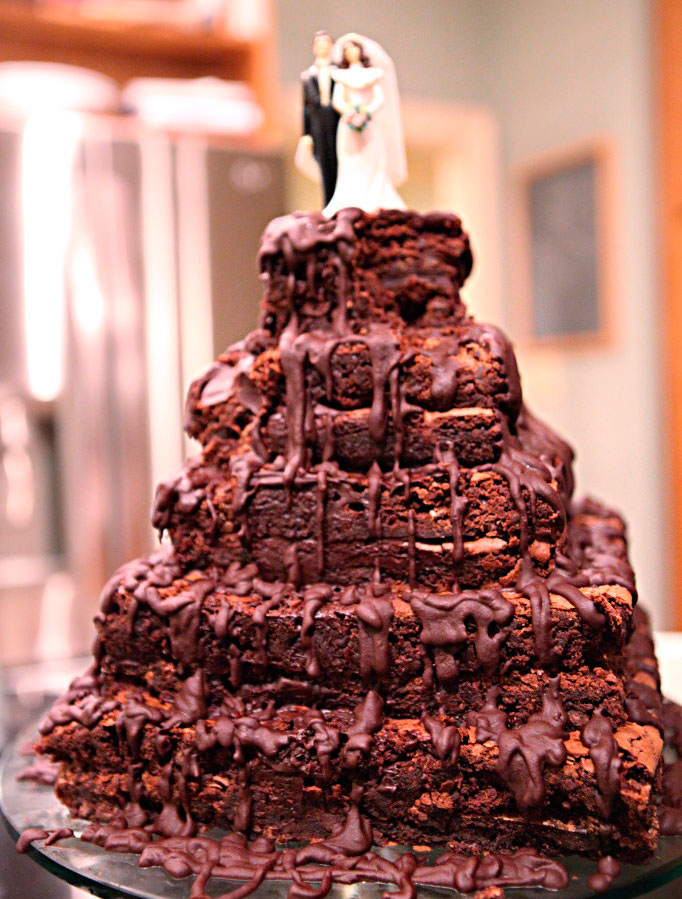 Image from bowerpowerblog.com
Yes, this really is a wedding cake made with layers and layers of chocolate brownie. We want to eat it, plant our faces in it and maybe even lie in it… Bit too far?!
12. The chocolate-strawberry spectacular
 
Image from candycakeweddings.com
What's more romantic than chocolate covered strawberries? This epic cake takes the meaning of chocolate covered strawberries to the next level. We want some!