Is Aldi or Lidl cheaper? We did the same shop at each supermarket to find out
We find out which is cheaper out of Aldi and Lidl and look at whether cheaper still means tasty, and why these discounters are so popular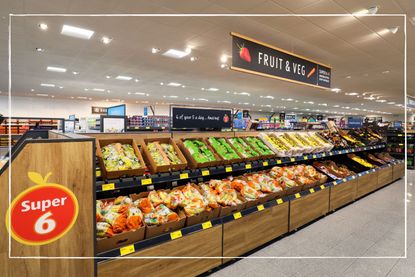 (Image credit: Aldi)
Goodto Newsletter
Parenting advice, hot topics, best buys and family finance tips delivered straight to your inbox.
Thank you for signing up to GoodTo. You will receive a verification email shortly.
There was a problem. Please refresh the page and try again.
Is Aldi or Lidl cheaper? Lots of families will be wanting to know the answer given how high food prices have been since the cost of living crisis hit.
When it comes to the cheapest supermarkets, the German discounters, Aldi and Lidl, regularly top the tables. Although inflation is finally starting to ease, the weekly food shop is still a painful experience for millions of families, with prices remaining 13.4% higher than this time last year. So it's not surprising that people remain desperate to find ways to save money on food. This could be anything from remembering to use your supermarket loyalty card whenever you shop, to buying the supermarket's own brand items rather than big-name brands.
But the pressing question for bargain-hungry shoppers is which is cheapest – Aldi or Lidl? To find out we challenged our personal finance expert, Rachel to do a 'basic' shop at each supermarket to find out which was the cheapest for her family of four.
Here's how she got on.
My Aldi versus Lidl shopping list
My list is made up of 14 items that I regularly buy and include lunch basics like bread, grated cheese (although I might be tempted to try this cheese hack moving forward), baked beans, eggs and yoghurt as well as breakfast cereal (which we go through boxes of each week!), bananas, bacon and squash. I've also thrown in a few treats like ice cream and chocolate, that the kids love.
Is Aldi or Lidl cheaper?
In my case, Aldi works out cheaper than Lidl, but the price difference is tiny. My Aldi shop came to £20.42, while my Lidl shop came in at just 77p more, totalling £21.19.
I went to Aldi first, then the following week I went to Lidl to buy the same (wherever possible) basket of items. Here's how the prices compared:
Swipe to scroll horizontally
| Header Cell - Column 0 | Aldi | Lidl |
| --- | --- | --- |
| Summer fruit squash double concentrate (1.5l) | 99p | 99p |
| Giant chocolate buttons (120g) | 99p | M&Ms pouch (125g) - £1.45 |
| Grated cheddar cheese (250g) | £1.99 | £1.99 |
| 'Cheeky monkey' American ice cream (500ml) | £2.05 | Cheeky caramel ice cream - £2.05 |
| Bananas | 85p | 85p |
| Medium free-range eggs (6) | £1.29 | £1.29 |
| Farmhouse white loaf | 85p | 85p |
| Ridged crisps (6 pack) | £1.05 | Crunchy fries crisps (10 pack) - £1.35 |
| Premium baked beans (1 can) | 45p | 46p |
| Strawberry crisp cereal | £1.49 | £1.49 |
| Yoghurt tubes (9 pack) | £1.25 | £1.25 |
| Premium strawberry jam | £1.45 | Strawberry jam 50% fruit content - £1.79 |
| Thick smoked bacon (10 slices) | £2.19 | £1.89 |
| Aloe vera toilet roll (9 pack) | £3.49 | £3.49 |
Prices correct at the time of writing
Larger supermarkets Sainsbury's and Tesco both match Aldi on many of their essentials and it looks like Aldi and Lidl price match each other too. Most of the equivalent items in my baskets were the same price in each store, the only exceptions were baked beans, which were 1p more expensive in Lidl, the jam which cost 30p more Lidl, and the bacon which was 30p cheaper in Lidl compared to Aldi.
The only other notable price differences were because I couldn't find a direct equivalent item in Lidl to what I had bought in Aldi. I couldn't find a mixed-flavour six-pack of crisps, for example, so got a 10-pack instead. Lidl also didn't have anything resembling chocolate buttons, giant or otherwise, so I grabbed a pricier bag of M&Ms instead.
This was perhaps my main grumble with Lidl – Aldi seemed to have a lot more choice. I'd also argue that Aldi's products came across as more 'premium' and felt closer to Sainsbury's, where I normally do my weekly shop. My 14-year-old son accompanied me on both my missions and Aldi was also his fave – its soft drink, sweets, and chocolate selections certainly earned it the teen vote.
Aldi versus Lidl taste test
With the majority of the items of the list, we weren't able to tell that we were enjoying budget options compared to our normal shop. But there were a few items that were either an absolute hit or a complete miss.
We all really liked the Aldi own-brand chocolate and I'd be more than happy to try out more. The ice cream wasn't anything special though. The Lidl version won the family vote but neither was a patch on Ben and Jerry's – both in terms of flavour and the amounts of chunks and swirls mixed in.
I didn't really like the baked beans from either supermarket as much as I like Heinz baked beans, but thankfully the kids didn't seem to notice, or at least they didn't complain.
Why are Aldi and Lidl so popular?
Both Aldi and Lidl have had a presence in the UK since the 1990s, but neither store made a huge impact on shoppers in the early years. It's only since the Financial Crisis in 2008 – and the impact that had on purse strings – that customer have sat up and taken notice and the pair have enjoyed huge growth.
As the cost-of-living crisis continues, even more of us are turning to the discounters. In the 12 weeks to the 9 July 2023, the supermarkets' combined market share reached 17.9% according to analyst Kantar, with both Aldi and Lidl reporting sales increases of over 22% over the previous month.
The business model of the stores has changed in recent years too. Initially, they only stocked a very limited range of discounted products, but now they both stock a much wider selection – including more chilled and fresh food – making it easier for people to do their full weekly shop there.
Would I make a permanent switch to Aldi or Lidl?
I can't see myself fully switching to a discounter like Aldi or Lidl - for a couple of important reasons. Firstly, I prefer to do my shopping online – it's super convenient, and I find it easier to stick to the shopping list. But Lidl is in-store only and while you can order Aldi food online, they only offer collection in-store.
Secondly, despite each supermarket having approximately 1,000 stores across the UK, neither was particularly local to me. Lidl was a good 20-minute drive away and while Aldi was in my hometown at least, it still ended up being a 15-minute slog in heavy traffic each way.
That said, I wouldn't mind doing a monthly shop at Aldi, stocking up on things I know I can stockpile and save money on like loo rolls, drinks, crisps, and other snacks for the kids. I'd also be happy to try more products and see how they stack up against Sainsbury's. I might also be tempted to check out the Aisle of Aldi (also known as the Aisle of Shame by some customers), which is where all the Special Buy offers are located. Lidl also has an equivalent called the Middle of Lidl - a centre aisle which the retailer explains is 'for household kit you never knew you needed'.
I am, however, on strict instructions from my youngest, 'never ever' to buy 'knock-off' cereal again. We'll have to see about that…
If you are looking for ways to cut down how much you spend on food, you can try this app that helped one mum save £35 a week, or if you're partial to the odd takeaway, follow this hack to get free Deliveroo Plus for a year.
Parenting advice, hot topics, best buys and family finance tips delivered straight to your inbox.
As well as being a mum, Rachel Lacey is a freelance journalist with more than 20 years' experience writing about all areas of personal finance and retirement planning. After 17 years at Moneywise magazine as both writer and editor, Rachel now writes for a variety of websites and newspapers as well as corporate clients. She is passionate about financial education and simplifying money matters for all.