Is Tesco cheaper than Tesco Express? We did the same shop at each to find out
We find out whether Tesco is really cheaper than Tesco Express by comparing two like-for-like baskets, as well as analysing whether Clubcard prices are cheapest prices available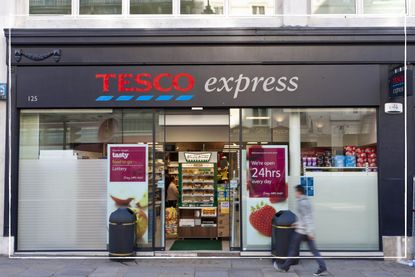 (Image credit: Alamy)
When you're stocking up on groceries midweek, it's normally much easier to head somewhere like a Tesco Express, than out of town to a big Tesco. But will you pay more by taking the convenient option? I'm a money expert and also a parent to two boys, and I've hit my local Tesco and Tesco Express to compare two identical baskets to see if Tesco Express is more expensive.
Using the cheapest supermarket is one of the easiest methods I use to cut the cost of my food shop, (and remembering to take my supermarket loyalty card to maximise any perks I get). But after investigating whether Aldi or Lidl is cheaper, I was wondering whether Tesco Express was actually more expensive than the main Tesco supermarket. So I did the same quick shop at each to compare. (We've also compared whether Waitrose is more expensive than M&S Food if you prefer a premium supermarket.)
As a quick bit of context, my list is made up of 15 items I regularly buy to feed my family of four. It includes items like bread, cheese, fruit and snacks for the kids' lunches, chicken and curry sauces for dinner as well as squash, milk, juice and lemonade which my teen and tween boys consume at an astounding rate. I also threw in a bar of Cadbury chocolate for me (fruit and nut, my secret weapon to stop the kids eating it).
Is Tesco cheaper than Tesco Express?
Tesco is cheaper than Tesco Express, and I wasn't surprised. After all, it's a universal truth that convenience comes at a price. In terms of actual costs, the Tesco Express shop cost £29.85, compared to £25.99 at Tesco, a difference of £3.86 or 15%.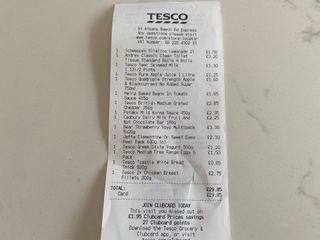 The differences came down to two key factors. Firstly was that most like-for-like items were simply more expensive in Tesco Express - 15p on identical chicken breasts, 45p on Bear Yo-Yos, 35p on Andrex toilet roll and 20p on curry sauce.
Secondly, unsurprisingly for a smaller store, there wasn't as much choice in Tesco Express, so in some cases I had to go for a pricier branded option. My local Tesco Express, for example, didn't stock own-brand lemonade or easy peelers. It also didn't stock the cheaper budget brands that are price matched to Aldi, like the Growers Harvest apple juice which is a bargain at 89p - that's 36p cheaper than Tesco own brand.
Here's how the specific prices of individual items compared:
Swipe to scroll horizontally
| Header Cell - Column 0 | Tesco | Tesco Express | Points to note |
| --- | --- | --- | --- |
| 6 free range eggs (medium) | £1.50 | £1.50 | Row 0 - Cell 3 |
| Andrex classic clean loo roll (4) | £2.85 | £3.20 | Row 1 - Cell 3 |
| 2 pints semi skimmed milk | £1.20 | £1.30 | Tesco store did Aldi price match |
| 2 litres Tesco sparkling diet lemonade | £0.60 | £1.50 | No own brand in Tesco Express so bought Schweppes instead |
| Tesco Greek style yoghurt (500g) | £1.10 | £1.20 | Row 4 - Cell 3 |
| Heinz Baked Beans (1 can) | £1.40 | £1.65 | Clubcard price was 70p |
| Pataks Korma Sauce (450g) | £2.15 | £2.35 | Row 6 - Cell 3 |
| 2x chicken breast fillets (300g) | £2.60 | £2.75 | Row 7 - Cell 3 |
| Growers Harvest Pure Apple Juice (1 litre) | £0.89 | £1.25 | Aldi Price Match on Tesco, Tesco Express only had Tesco own brand |
| Tesco grated medium cheddar cheese (250g) | £2.75 | £2.85 | Row 9 - Cell 3 |
| Tesco quadruple strength apple and blackcurrant squash (1.5l) | £2.00 | £1.60 | 750ml bottle was purchased at Tesco Express as 1.5 litre bottle wasn't available |
| Tesco white bread medium slice (800g) | £0.75 | £0.85 | Only thick slice available at Tesco Express |
| Bear Yo Yos multipack (5x20g) | £2.85 | £3.30 | Row 12 - Cell 3 |
| Tesco sweet easy peelers (600g) | £1.35 | £2.30 | Tesco Express stocked 'Jaffa' easy peelers not Tesco own brand (on Clubcard prices £2) |
| Cadburys fruit and nut chocolate bar (180g) | £2 | £2.25 | Row 14 - Cell 3 |
| Total | £25.99 | £29.85 | Row 15 - Cell 3 |
Prices correct on 6th September 2023
Should you stop using convenience stores?
Popping into Tesco Express for a pint of milk or a pizza when you're in a hurry will always be an easier option than driving further afield, even if you do end paying a bit more. Not only is it more hassle but there's a higher chance that you'll end up buying things that aren't on your list too.
However, if you're filling a basket (or worse, a trolley) in Tesco Express it's likely you'll spend a fair amount more than you would driving to your nearest Tesco.
But if you can't face that – and regularly find yourself stocking up between big shops – it can help to step up your meal planning. By working out exactly what you'll eat, being realistic about how much essential day-to-day food you'll get through and writing a list, you can make sure you get all the food you need in one weekly shop (and save yourself a fortune in the process).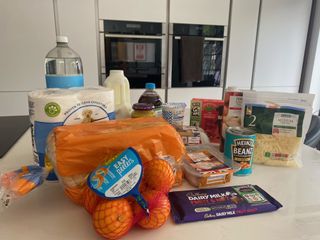 Are Tesco Clubcard prices cheaper?
Whether you're shopping at Tesco or Tesco Express, you'll see that some products have a cheaper price for customers with a Clubcard.
Clubcard prices are a canny way for Tesco to get more customers to scan their Clubcard at check out or sign up to the loyalty programme if they haven't already. Tesco claims Clubcard prices could save regular shoppers as much as £351 over a year, but do they actually offer customers a good deal?
To find out I compared the discounts with what's available at other supermarkets. The first thing I noticed about Clubcard prices was that they tend to focus on branded items (although there were some Tesco products available) and even though the discounts looked good initially, if you really want to cut your spend, a cheaper option would always be available.
And, while there were some essentials on offer, like toilet roll, a lot of the promotions were on products you might like to throw into your trolley but weren't 'must-buys', which doesn't help those trying to drastically reduce their shopping bill.
Take the example of a four-pack of Andrex Quilted toilet roll, with a Clubcard price of £3. I could still get four Andrex Classic Clean rolls for £2.85 or four luxury soft Tesco toilet rolls for £1.79.
Similarly, when I compared the Clubcard prices with deals at rival supermarkets, I saw that the product was often on offer too, taking the shine off the Clubcard price. If I really wanted the Andrex quilted rolls, Morrisons was charging £3 too (without needing a loyalty card) or I could get them even cheaper at Asda for £2.85.
Swipe to scroll horizontally
| Header Cell - Column 0 | Non-Clubcard price | Clubcard price | Sainsbury's | Asda | Morrisons |
| --- | --- | --- | --- | --- | --- |
| Andrex Supreme Quilts Toilet Tissue | £3.35 | £3 | £3.25 or £2.85 with Nectar | £2.85 (on offer from £3.25) | £3 (on offer from £3.50) |
| McCain Crispy French Fries (1.4kg) | £4.30 | £3.50 | £4.30 (but 900g bag was on reduced from £3.20 to £2) | £3.50 (Start product reduced from £4.30) | £3.50 |
| Petit Filous Fromage Frais (4x 85g) | £1.85 | £1.25 | £1.95 or £1.50 with Nectar | £1.75 | £1.49 |
| Heinz Baked Beans | £1.40 | £0.70 | £1.40 | £1.40 | £1.39 (or 5 for £5) |
| Kit Kat (2 finger, 9 pack) | £2 | £1.50 | £2 or £1.50 with Nectar | £1.50 (on offer from £1.95) | £1.65 (reduced from £2) |
Prices correct on 6th September 2023
That's not to say that no Clubcard deals out did their rivals. The Clubcard price for Petit Filous fromage frais trumped all the other deals we looked at, while 70p for a single can of Heinz Baked Beans is great value too, even outdoing Morrisons' five cans for a fiver offer.
Nonetheless, the findings do confirm that supermarket pricing is something of a 'dark art'. Savvy shoppers can certainly save but it's important not to assume that you're always getting the best deal. For supermarkets, after all, it's all about getting shoppers through the door and spending.
If you want to know how to save money on food, it's also worth understanding the sneaky tricks supermarkets use to get you to spend more. And if you are a Clubcard member, make sure you know how to collect more Clubcard points, and what you can spend your Clubcard vouchers on to make the most of the perks you get from the loyalty scheme.
Parenting advice, hot topics, best buys and family finance tips delivered straight to your inbox.
As well as being a mum, Rachel Lacey is a freelance journalist with more than 20 years' experience writing about all areas of personal finance and retirement planning. After 17 years at Moneywise magazine as both writer and editor, Rachel now writes for a variety of websites and newspapers as well as corporate clients. She is passionate about financial education and simplifying money matters for all.