Could you get paid to cut your electricity usage? Here's everything you need to know
National Grid is running a scheme to reward customers for reducing their use of electricity to help avoid rolling blackouts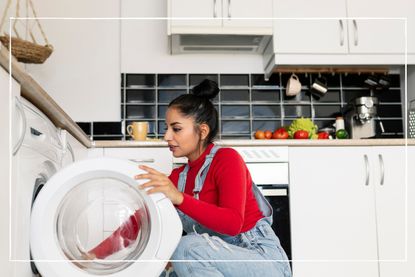 (Image credit: Getty Images)
A scheme run by the National Grid could see families get paid to reduce how much electricity they use at peak times to help households avoid rolling blackouts amid the energy crisis.
The last 12 months has seen families worry about how much their energy bills will cost (opens in new tab), even though the Energy Price Guarantee (opens in new tab) was introduced to help protect households against huge price hikes in their energy bills (opens in new tab).
But with the cold weather meaning we're all using a bit more energy to keep warm, there are concerns that a wave of rolling blackouts may be needed in order to maintain electricity supplies.
Speaking to the BBC about the potential for rolling blackouts, National Grid CEO John Pettigrew (opens in new tab), said that the UK would have enough supplies to meet the demand for heating and lighting over the winter months, but that blackouts were a last resort. "There could be energy shortfalls in the UK and we will manage that very carefully. This isn't a time for people to panic."
"Most importantly what we're doing is making sure that the infrastructure that we have and the networks are robust and ready for the winter, and I've got thousands of engineers making sure that the network is ready for whatever weather we see over the winter."
The National Grid's Demand Flexibility Service scheme has been tested by various suppliers over the last couple of months, but was run on a larger scale for the first time on 23 January between 5pm and 6pm. Households were given another opportunity to save as the scheme ran again between 4.30pm and 6pm on 24 January.
Can I benefit from the scheme?
In order to benefit from the scheme, your electricity supplier must be signed up to the Demand Flexibility Service scheme and you will need to have a smart meter that sends half-hourly readings installed in your home. (This will exclude you if you live in a high-rise flat, an old property with thick walls, or a rural home with poor signal.) This is different to being on a time of use energy tariff, like Economy 7 or Economy 10 that means your electricity is cheaper at night (opens in new tab).
Your energy supplier will either invite you to sign up or allow you to apply to the Demand Flexibility Service via their websites.
Eligible customers will receive a discount if they reduce how much electricity they use between the times set by National Grid. There may be more dates and times announced, but customers should get advanced notice from their suppliers if they are able to take part in the scheme. The scheme launched in November and will run until March 2023.
The National Grid says savings can range from a couple of pounds to as much as £20 depending on the amount of energy saved.
These are the suppliers of domestic energy who are taking part in the scheme (other non-domestic suppliers are also taking part):
British Gas
EDF
E.ON Next
Octopus Energy
OVO Energy
Shell Energy Retail (Via SMS)
CarbonLaces
Equiwatt
ev.energy
Hugo Energy App (via SMS)
Labrador (via Perse Technology Ltd)
Loop.homes (via SMS)
myenergi (via Orange Power)
Power Rewards App (via Orange Power)
SMS
VpowerU
You don't have to take part and you won't be penalised if you don't.
What can I do to reduce my electricity usage?
While you still may use some energy when taking part in the scheme, you can reduce how much you use by being wise about how you use your appliances.
As money saving expert Martin Lewis said when he issued this plea to households (opens in new tab), holding off using energy hungry appliances like tumble dryers, washing machines and dishwashers at peak times could make a big difference in how much demand is put on energy supplies at peak times. When it comes to dinner, try to cook a little earlier or a little later (depending on what time the scheme is running) to keep your electricity usage as low as possible.
While you may need to have a light or two on at home, make sure you turn off any lights you aren't using, and it's best to hold off charging any devices like phones or laptops during the specified time.
You can also switch off any appliances you aren't using at the plug to save a bit of electricity there too. Turning your TV off for an hour will also help.
Use our running cost comparison chart below to see how much your most used appliances cost to run. You'll save the most energy by avoiding using the most power hungry appliances, but any saving will help avoid the chance of power cuts.
Sarah is Goodto.com's Money Editor. Sarah is an experienced journalist and editor with more than 10 years of experience in the Homes industry, working across brands such as Homebuilding & Renovating, Period Living and Real Homes. After segueing into the world of personal finance, acting as launch editor of GoodtoKnow's sister brand TheMoneyEdit.com, Sarah became Editor in Future's Wealth division with a focus on property-related finance and household bills, working across brands including GoodtoKnow and Ideal Home. She is passionate about helping people cut through confusing jargon to make the right financial decisions when getting on the property ladder and turning a house into a home.