How much will my energy bills cost? Use our monthly gas and electric calculator
In the wake of the Chancellor's Autumn Statement, find out how much your energy bills will cost for the rest of 2022 and beyond with our calculator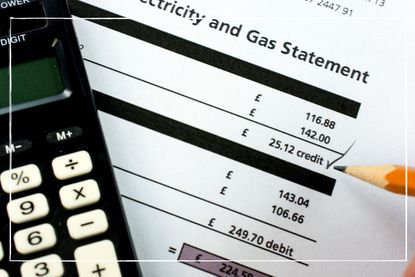 (Image credit: Getty Images)
How much will my energy bills cost is a question millions of people are worrying about in the wake of the energy crisis and the soaring price of gas. But the Autumn Statement given by the Chancellor sheds some light on how much support will be offered by the government and how long it will be in place.
There are multiple complex reasons why energy prices are going up (opens in new tab), including increased demand after lockdown, as well as export issues from Russia, which have worsened since the start of the war with Ukraine. As a result, the energy price cap increased in April and energy bills skyrocketed for millions.
But with an Energy Price Guarantee (opens in new tab) that will effectively override the energy price cap (opens in new tab) now in effect until April 2024, what does this mean for your energy bills?
Since it's introduction in 2019, the cap has been set by energy regulator Ofgem. It is intended to limit how much energy suppliers can charge their customers per kWh of gas and electricity to customers on their default and standard variable tariffs.
But as the cap was due to rise by a staggering 80% on 1 October, there was increasing pressure for the government to intervene to offer more help to struggling households.
Speaking of the October cap rise before the energy bill freeze was announced, Jonathan Brearley (opens in new tab), CEO of Ofgem, said: "We know the massive impact this price cap increase will have on households across Britain and the difficult decisions consumers will now have to make."
How much will my energy bills cost?
From 1 October 2022, average annual energy bills (based on typical use) will be capped at £2,500 until April 2023, following an announcement by former Prime Minister Liz Truss. But in his Autumn Statement on 17 November, Chancellor Jeremy Hunt (opens in new tab) has announced that the Energy Price Guarantee will be extended by 12 months from April 2023, although at a higher level.
Speaking in the House of Commons, Jeremy Hunt said: "From April, we will continue the Energy Price Guarantee for a further 12 months at a higher level of £3,000 per year for the average household. With prices forecast to remain elevated through next year, this will still mean an average of £500 support for every household in the country."
But remember that this is not a maximum you will ever pay. It is based on typical use in a typical house. If you use more energy than 'typical' then you can expect to pay more.
Under the current Energy Price Guarantee, which is in place until April 2023, the average price you pay per unit of electricity is capped at 34p, and the average price you pay per unit of gas is capped at 10.3p.
These are average unit prices. The unit rate itself varies depending on where you live. The full list of rates have been passed to suppliers to ensure that they are used to calculate bills in Great Britain from 1 October. See the full list of regional rates (opens in new tab).
This price guarantee effectively cancels out the £4,279 cap for January 2023 that has been announced by energy regulator Ofgem (opens in new tab).
The £2,500 Energy Price Guarantee was originally meant to be in place for two years, but new Chancellor Jeremy Hunt announced on 17 October than the guarantee (at it's current level) will only be in place until April 2023. From April 2023, the price guarantee will still be in place, but will rise from £2,500 to £3,000. But while it's going up, it should still be less than if the energy price cap was still in place.
While the Energy Price Guarantee is in effect, there won't be any huge price hikes. Use our calculator below to see what this means for your bills.
With prices spiralling, the Government announced a cost of living support package to help with rising costs. Almost all households will receive a £400 energy rebate (opens in new tab) from October 2022, while those on a low income, who are particularly vulnerable to rising prices, will receive an additional £650 of support (opens in new tab). In his Autumn Statement, Jeremy Hunt announced that further support would be given to those most vulnerable, including a £900 cost of living payment (opens in new tab) for those who receive means-tested benefits.
In response to the energy crisis and the rising cost of living in general, two campaign groups have emerged. Enough is Enough (opens in new tab) and Don't Pay UK (opens in new tab) aim to put pressure on the government to intervene and bring energy prices down to an affordable level.
Jonathan Brearley, CEO of Ofgem, said: "The price of energy has reached record levels driven by an aggressive economic act by the Russian state. They have slowly and deliberately turned off the gas supplies to Europe causing harm to our households, businesses and wider economy. Ofgem has no choice but to reflect these cost increases in the price cap.
"The Government support package is delivering help right now, but it's clear the new Prime Minister will need to act further to tackle the impact of the price rises that are coming in October and next year."
How can I reduce how much my energy bills will cost?
Normally, the best way to tackle rising energy prices is to switch to a cheaper deal. But amid the energy crisis, many suppliers have raised the costs of their tariffs. This means there aren't really any cheap deals to be found.
Reduce how much energy you use
While switching to a different provider won't help you to reduce your energy bills right now, the key move is to reduce how much energy you use at home (opens in new tab). There are simple and inexpensive methods you can adopt. You could even consider some options which may involve a short-term cost now with the promise of long-term savings in the future.
Energy-saving measures you could try include:
Turning off any appliances left on stand-by mode
Using eco modes on any wet appliances, such as dishwashers and washing machines
Drying clothes outside or on an airer instead of using a tumble dryer
Swapping older incandescent light bulbs to energy-saving alternatives
Draught proofing
Choosing the most energy-efficient models you can when purchasing new appliances.
Know how much energy your appliances use
It will also be helpful to understand how much your most often used appliances cost to run so you know which are using the most energy and could be used less.
Check your tariff and any grants you might qualify for
You might also find that there is a tariff that allows you to benefit from electricity being cheaper at night (opens in new tab), and that may work for some people, although it's important to note that if you are on this kind of tariff, any energy you use at peak times is likely to be more expensive than other tariffs.
You may also be eligible for a grant from the government for improvements to make your home more energy-efficient. This might be loft or wall insulation or even a new boiler.
Useful tips
If you don't have a smart meter (opens in new tab), it's a good idea to submit a meter reading (opens in new tab) to your supplier before any new cap comes into force, to make sure you aren't charged the new rate for any energy you used before it came into effect.
If you are struggling to pay your energy bills (opens in new tab), speak to your provider in the first instance and see if they can help. You might be able to arrange an alternative payment plan or qualify for support to help reduce your bills.
What is the average UK energy bill?
Your energy bill will depend on multiple factors. These include your location, the tariff you're on, how many people there are in your household and how energy efficient your home is. But understanding the average gas and electricity bills in the UK can be a useful benchmark.
Average electric bill
According to Ofgem, the average household of 2.4 people uses 2,900 kWh of electricity each year, at an average cost of 34p/kWh.
This equates to an average electric bill of £986 per year or £82.17 per month.
You will also pay a standing charge of 46.4p per day on top of your usage.
Average gas bill
When it comes to the average gas bill, the average UK household uses 12,000kWh of gas every year at a cost of 10.3p/kWh.
This equates to an average of £1,236 per year or £103 per month.
You will also pay a standing charge of 28.5p per day on top.
Why have energy prices gone up?
There are numerous reasons why energy prices have skyrocketed. At the heart is the UK's increased reliance on imported energy and a lack of energy storage facilities. There has been a reduction in the gas supply from Russia which has meant extra pressure from the whole of Europe on alternative options. This increase in demand and the limited supply is a key factor pushing energy prices up. We're also not yet in a position to rely on renewable energy as an alternative option.
Moving away from fossil fuels to more renewable sources of energy is high on the agenda though. The UK has wound down its tapping of reserves in the North Sea for gas on-demand, avoiding the need for expensive storage facilities. But, renewable energy is not currently generated in the quantities needed to remove reliance on fossil fuels.
But with these factors still impacting energy prices, it is not yet known when energy prices will come down (opens in new tab) again.
We know this is a difficult time for many people as household budgets come under pressure. If you need to talk to someone, there is free support from the Samaritans (opens in new tab). You can call for free on 116 123.
Video of the Week