This one energy mistake is costing households £150m per year - here's how to avoid it!
More than five million households are yet to make a simple change that could cut their energy bill, according to new research. Are you one of them?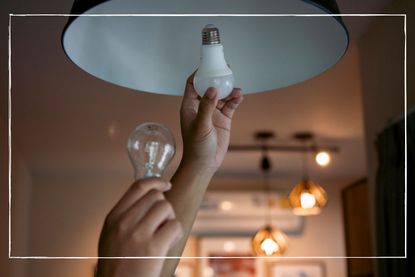 (Image credit: Getty Images)
We're still a couple of months away from the predicted drop in wholesale energy prices, so we're still paying more than ever before for the energy we use in our homes.
Families have spent months worried about how much their energy bills will cost, even more so when the £400 energy bill support scheme came to an end in March. The warmer weather might mean we're spending less on heating our homes, it's still important to try to save energy where possible. And lighting is a key area where families could be paying more than they need to.
New research by energy experts Loop has highlighted that more than five million households in the UK are spending £150m more per year on their energy bills than they need to - simply by not switching old halogen lightbulbs to LED alternatives.
Switching from old, inefficient halogen lightbulbs to LED lightbulbs could save billpayers £60 per year if they switched 10 50W halogen bulbs in their homes and up to £120 a year if they switched 20.
Swipe to scroll horizontally
| Number of lightbulbs in home (based on 50 watt halogen bulb) | Annual saving by switching to LED lightbulbs |
| --- | --- |
| 5 | £30 |
| 10 | £60 |
| 15 | £90 |
| 20 | £120 |
And according to Loop's research, 32% of households are risking higher bills by waiting for old halogen bulbs to run out before making the switch.
Dr Steve Buckley who is Head of Data Science at Loop, says: "With lighting making up 11% of the average household electricity bill, switching to energy-saving LED light bulbs is a simple fix to make some real savings on electricity bills.
"In the past, some people have dismissed LED lights for being overly expensive or not powerful enough, but most now offer better quality than traditional bulbs and are getting cheaper all the time. Part of the appeal of LEDs is that they're long-lasting. Some options claim a lifespan of as much as 25 to 30 years."
How do I know which lightbulb to get?
Loop's research discovered that nearly a third (30%) of Brits confess to LED confusion, admitting they don't know which to choose, where to buy or what difference they make.
Choosing the right lightbulb comes down to a couple of key factors:
the fitting
and the brightness.
When it comes to the fitting, you might have a bayonet fitting (where there are little prongs on the side of the bulb base) which has a push and twist motion to fit, or an Edison fitting which is screwed into place. Some smaller lamps with much smaller bulbs might also have a push fitting. It's important you know what kind of fitting you need before replacing the bulbs with LED alternatives.
When it comes to brightness, you might have tried LED bulbs in the past and been disappointed with the low level of light, but there are now a lot of options available to suit your needs, but it can be confusing to understand which bulb to get.
We used to choose bulbs based on their wattage, which refers how much power they use, rather than their brightness. According to the Energy Saving Trust, LED bulbs are more energy efficient and have a lower wattage, so it's best to look at their lumen value, which is an indicator of how bright the bulb is. The Energy Saving Trust also has a simple table to compare traditional wattages with lumen values of newer LED bulbs. For example, the equivalent of a traditional 60W bulb, would be an 800 lumen LED bulb.
There may be a label on your light fitting that will tell you what type of bulb to get, so do check that before buying any replacement bulbs. Alternatively, you can take your old bulb with you into a DIY store and ask what a suitable LED alternative would be - you definitely won't be the only person asking the question!
Sarah is Goodto.com's Money Editor. After segueing into the world of personal finance from the Homes sector, and acting as launch editor of Goodto's sister brand TheMoneyEdit.com, Sarah now focuses on family finance. She is passionate about cutting through confusing jargon to help people make sound financial decisions, avoid overspending and set themselves and their families up for a financially-stable future.