School dinners versus packed lunches - which is cheaper? Plus pros and cons
Do school dinners or packed lunches work out cheaper? We take a look and weigh up the pros and cons of each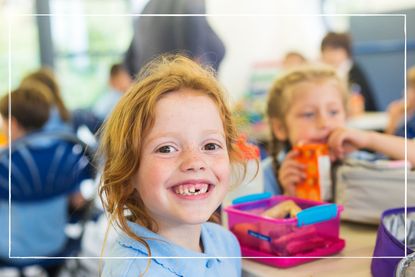 (Image credit: Getty Images)
Many parents of school-aged children will likely have asked themselves whether school dinners or packed lunches work out cheaper, especially in light of the cost-of-living crisis.
Depending on the age of your child and your financial situation, your child might qualify for free school meals. This can make a big difference to your bank balance at a time when food prices and the average cost of school lunches are on the rise. But if your child doesn't qualify, you might be wondering whether you could save money by sending them into school with a packed lunch.
Goodto.com's Money Editor, Sarah Handley, says: "There's a lot to weigh up when it comes to deciding whether it's better to send your child to school with a packed lunch or pay for school dinners. As well as the cost, you might want to think about factors such as convenience and variety of meals, along with environmental and social aspects."
Which is cheaper: school dinners or packed lunches?
Studies have shown that school dinners can often work out cheaper than packed lunches. However, this will depend on where you live, your child's school, including whether it's primary or secondary, as well as how much you spend on your kids' packed lunches.
Latest figures show that the average cost of a school dinner is £2.40 a day, or £12 a week, assuming your child has school dinners every day.
However, the cost of school dinners has been steadily climbing over recent years. Research by the professional body LACA, which represents the school food sector, shows that in March 2020, the average cost of a school lunch was £2.24 a day. The cost rose to £2.32 a day in May 2022 and then again to its current cost of £2.40.
LACA says the price is expected to rise further this year to an average of £2.65 a day, due to rising food and production costs.
On the other hand, a study by School Health UK last year revealed that the cheapest price for a packed lunch came in at £4.13 a day, or £20.64 a week - almost double the cost of the average school dinner. These costs were based on creating well-balanced and nutritious meals, using School Food Plan compliant foods.
By contrast, when the study was carried out in 2020, the cheapest price for a packed lunch came in at £3.52 a day, or £17.58 a week.
How to save money on school lunches
If your child is in a state-funded primary school in England, Scotland or Wales, they will automatically qualify for free school meals if they are in certain year groups.
In England, this is Reception to Year 2
In Scotland, this is Reception through to Year 5
In Wales, this is currently Reception, but some councils also offer free meals to those in Years 1 and 2. All children in Welsh primary schools will get free meals by September 2024.
If your child is older, including if they are in secondary school, or if you live in Northern Ireland, they might also be eligible for free school meals if you receive certain benefits such as Income Support, Child Tax Credit or Universal Credit.
On the other hand, if your child takes a packed lunch to school, planning ahead and buying in bulk is an easy way to save money, as is batch cooking and freezing meals that you can then use throughout the week. Pasta dishes are easy to make in bulk and can easily be frozen, as can muffins and quiches.
Alternatively, cook a little extra for your evening meals and your child can take the leftovers for lunch the next day.
Pros and cons of school dinners
Pros of school dinners
Convenient
Nutritionally balanced
Opportunity to socialise and try new foods
One of the biggest advantages of school dinners is the convenience they offer. You don't need to plan ahead and there's no need to get up early to prepare your children's lunches.
Paediatric dietician and company director at bump2baby Nutrition, Hannah Whittaker, says: "School dinners are also nutritionally balanced. Schools have to follow guidelines on what should and should not be included in school meals."
Additionally, having school lunches means children get to sit together and socialise while eating the same meal. This can encourage your child to try new foods and reduce any previous fussiness - this certainly worked for my son (although the same can't be said for my daughter!).
Susie Robbins, mum-of-two and founder of play-based business, Resolve to Play, told us: "I have a son in Key Stage 1 who receives free school dinners and another son in Key Stage 2 whose lunches we pay for. Whilst both boys would prefer a packed lunch we have chosen school dinners for several reasons.
"The cost of a packed lunch is more than that of the school dinner and the single use plastic waste that a packed lunch creates is something that we try to avoid. Plus, school dinners boost our children's confidence to try new meals that are nutritious and freshly made."
Downsides of school dinners
Might offer poor value for money
Limited options
Might not meet dietary requirements
Depending on the school and what your child eats, you might find school dinners offer poor value for money. After all, if your child is having a jacket potato most days, you might feel paying £2.40 for this is a little excessive.
The range of choice can also be limited and you could find your child ends up eating very little at lunchtime - meaning they eat more when they come home (costing you more money). Not all schools will cater for all dietary needs either.
Pros and cons of packed lunches
Advantages of a packed lunch
More control over what they eat
Can meet dietary needs
Can be cheaper if you plan well
With a packed lunch, you get to decide what goes into it each day and know the food you are providing is nutritionally balanced. You can also offer more variety compared to school meals and meet any dietary requirements. Plus, if you plan well, packed lunches could work out to be cheaper than school dinners.
Amber, mum-of-two, makes packed lunches for herself, her husband and her 14-year-old daughter each day. She says: "We were spending around £10-£15 per day on school lunches and buying food at the work canteens and we found the quality and nutritious options of food available wasn't great.
"We decided to plan ahead and buy extra food in our monthly/weekly shop for packed lunches. We cook pasta dishes, make sandwiches and salads with pulses. We also take leftover soup to work/school on a cold day.
"I think now we spend around £15-£20 extra a week on shopping for packed lunches. And our lunches are much healthier. It has been very beneficial for all of us! We are saving around £35 - £55 per week."
Kay, mum-of-two, agrees, saying: "Our school charges £2.60 a day for school dinners, so that's a cost of £26 per week/£104 per month and roughly £200 per term for my two children. The cost increased from £2.40 in September and will keep going up and up so I've now switched to making packed lunches every day.
"Although more time consuming, I can do a shop at one of the cheaper supermarkets once a week and spend roughly £12 to feed them healthily and sufficiently. It saves us well over £100 by doing this."
Disadvantages of packed lunches
Time-consuming
Plastic waste
More expensive if your child gets free school meals
One of the biggest downsides of packed lunches is the time involved in shopping and preparing for them. It's not always easy to think of something nutritional and varied to put in your kids' lunch boxes.
If you have a lot of plastic waste, it can also have an impact on the environment, plus it can work out to be pricier - particularly if you qualify for free school meals.
Paediatric dietician Hannah Whittaker adds: "Children may also feel 'left out' if all their peers have school lunch and they have packed lunch."
As well as being a mum of two, Rachel is a freelance personal finance journalist who has been writing about everything from mortgages to car insurance for over a decade. Having previously worked at Shares Magazine, where she specialised in small-cap stocks, Rachel developed a passion for consumer finance and saving money when she moved to lovemoney.com. She later spent more than 8 years as an editor at price comparison site MoneySuperMarket where she helped support the CRM programme, as well as the SEO and PR teams, often acting as spokesperson. Rachel went freelance in 2020, just as the pandemic hit, and has since written for numerous websites and national newspapers, including The Mail on Sunday, The Observer, The Sun and Forbes. She is passionate about helping consumers become more confident with their finances, giving them the tools they need to take control of their money and make savings. In her spare time, Rachel is a keen traveller and baker.