How much did National Insurance go up in April 2022 and why?
How much did National Insurance go up and what did it mean for your money? We explain everything you need to know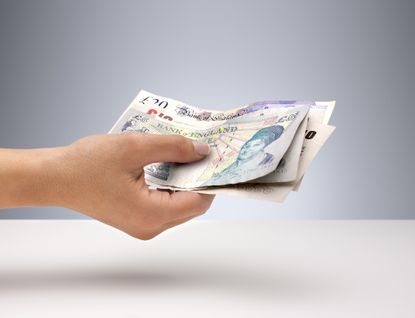 (Image credit: Getty Images)
National Insurance payments rose by 1.25 percentage points in April, meaning the amount of National Insurance you pay went up.
It was a controversial decision and one that's been heavily criticised. This is because the news came at a time when households were feeling the financial squeeze after the energy price cap increased (opens in new tab) and prices for things like fuel and food were also rising.
The National Insurance increase was first announced by the former Prime Minister Boris Johnson in September 2020. Then Chancellor Rishi Sunak supported the announcement, saying: "To fund this big increase in permanent NHS spending and social care, we're making the tough but responsible choice to increase taxes."
But in his Spring Statement on 23 March, Rishi Sunak announced a further change to National Insurance (opens in new tab) that meant the planned increase would be effectively cancelled out for some people and less steep for others. Find out more about how the National Insurance threshold change (opens in new tab) affected how much NI you pay.
However, Chancellor Kwasi Kwarteng has just announced that April's National Insurance increase will be reversed (opens in new tab), just ahead of his first 'mini budget' (opens in new tab).
How much did National Insurance go up by?
National Insurance increased by 1.25 percentage points in April 2022. Sarah Pennells (opens in new tab), consumer finance specialist with life and pension provider Royal London explains the numbers. "In April, National Insurance went by 1.25 percentage points for employers, employees and those who are self-employed. So the standard rate for people who are employed rose from 12% to 13.25%, while the upper rate rose from 2% to 3.25%. For people who are self-employed, it went up from 9% to 10.25%, and from 2% to 3.25%."
The April increase applied to employers, employees, and the self-employed who surpassed the minimum threshold.
However, as announced in the Spring Statement, the threshold at which you start paying National Insurance will be increased by £3,000, to £12,570 from 6 July 2022.
While this threshold change applies to workers on PAYE, those who are self-employed could also see a reduction in how much they pay in the light of the National Insurance shake up.
By making this change to the threshold, almost 2.2 million people were taken out of paying National Insurance Contributions (NICs) altogether.
But from 6 July 2022, the minimum threshold increased, meaning that you can now earn more before having to pay NI.
How much National Insurance will I pay now?
Thanks to the announced change in threshold, between 6 July and 5 November 2022, the 1.25 percentage point rise will not be as steep as it would have been for those on higher salaries, while for those on lower salaries, they will not see an impact of the rise, and could even pay less than they do now. MoneySavingExpert's Martin Lewis tweeted that those earning less than £35,000 per year will see no rise in National Insurance contributions.
Use the table below to see how your NI contributions will have been affected.
Swipe to scroll horizontally
| | | | |
| --- | --- | --- | --- |
| Salary | NICs in 2021/22 | NICs 2022/23 with 1.25 percentage point increase in effect | 2022/23 NICs with increased threshold in effect |
| £20,000 | £1,251.84 | £1,340.90 | £1,073.12 |
| £30,000 | £2,451.84 | £2,665.90 | £2,398.12 |
| £40,000 | £3,651.84 | £3,990.90 | £3,723.12 |
| £50,000 | £4,851.84 | £5,315.90 | £5,048.12 |
| £80,000 | £5,478.84 | £6,317.90 | £6,049.92 |
| £100,000 | £5,878.84 | £6,967.90 | £6,699.92 |
| £120,000 | £6,278.84 | £7,617.90 | £7,349.92 |
Source: Quilter (assumes primary threshold of £9,880 for April, May and June 2022 and £12,570 thereafter)
However, from 6 November 2022, the National Insurance increase will be reversed, and rates will effectively drop by 1.25 percentage points back to the same levels as the 2021-22 tax year.
But the threshold increase will remain in place, so people can still earn up to £12,570 before they need to start paying National Insurance.
Why did National Insurance go up?
National Insurance went up to fund the former Government's plans for more investment in the NHS. The investment was aimed at easing the backlog caused by the pandemic. It was also planned to go towards plugging the gap in funding for social care as the Government introduces a price cap of £86,000 on the amount people pay in care costs during their lifetime.
NI is not the only nationwide thing increasing in 2022, with Royal Mail announcing that the cost of First and Second Class stamps will go up (opens in new tab) in April too.
Related video
Sue Hayward is a personal finance and consumer journalist, broadcaster and author who regularly chats on TV and Radio on ways to get more power for your pound. Sue's written for a wide range of publications including the Guardian, i Paper, Good Housekeeping, Lovemoney and My Weekly. Cats, cheese and travel are Sue's passions away from her desk!