These mouthwatering air fryer chicken drumsticks are full of flavor thanks to a handful of store cupboard ingredients including soy sauce, allspice, and honey.
Ready in just four simple steps, cooking chicken drumsticks in the air fryer is much easier than you may think. Factor in some extra prep time to ensure that the drumsticks are marinated and thoroughly infused with homemade jerk chicken flavors. Serve with air-fried potato wedges and fresh coleslaw for added crunch.
Ingredients
8 chicken drumsticks
3 small red chillies, roughly chopped
1 small red onion, roughly chopped
4 spring onions, roughly chopped
4 garlic cloves
1 tbsp white wine vinegar
2 tbsp soy sauce
thumb-sized piece fresh ginger, peeled and roughly chopped
2 tbsp brown sugar
1 tbsp vegetable oil
juice of 1 lime
½ tsp ground allspice
1 tsp runny honey
sea salt and freshly ground black pepper
Method
Make the jerk sauce by putting all of the ingredients in a blender or smoothie maker and blending to a smooth paste. If the mixture is too thick and doesn't blend, add a little more oil to loosen slightly.
Lay the chicken drumsticks in the base of a lidded container, then pour over the sauce and rub into the chicken to ensure everything is well coated. Cover with a lid and transfer to the fridge to marinate, ideally overnight.
Once the chicken is marinated, lay it in the base of the air fryer in a single layer (you may need to do this in batches, depending on the size of your fryer) and cook at 180°C for 20–25 minutes, turning the drumsticks halfway through cooking time, until the meat is tender and the juices and run clear.
Serve hot. These are wonderful to serve alongside salads and slaws, or with rice and peas for a true taste of the Caribbean sunshine.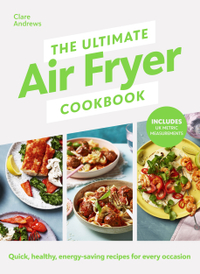 The Ultimate Air Fryer Cookbook by Clare Andrews (Penguin Michael Joseph, £20) – photography by Danielle Woods.
Top tips for making air fryer chicken drumsticks
Author and recipe writer, Clare Andrew says; "My top tip here is not to skimp on the marinating time, a few hours is ok, but for maximum flavor, you really need to make these a day ahead and leave them overnight to soak up all that flavor. The recipe below is fiery without being volcanic, but feel free to add or lessen the chilli to suit your family's tolerance level."
If this recipe has inspired you to invest in an air fryer or you're looking to upgrade your current model, you should take a look at our best air fryers guide as all of the air fryers in this collection have been tried and tested by the team.
You might also like...
Recipe writer and cookbook author
Recipe writer and cookbook author, Clare Andrews specializes in air fryer recipes and has published The Ultimate Air Fryer Cookbook packed full of delicious, inspiring air fryer recipes to try in the comfort of your own home. Clare started developing her recipes and ideas on Instagram and after a lot of attraction during lockdown decided to join forces with the publishing company Penguin Michael Joseph. The cookbook has been voted The Sunday Times' No.2 Bestseller.