Succulent air fryer chicken wings cooked in a sticky sweet glaze of soy sauce, rice wine vinegar, ginger, and gochujang.
It takes just 15 minutes to cook these delicious Korean chicken wings in an air fryer using a handful of store cupboard ingredients. The main ingredient of the glaze is gochujang which is Korean red pepper paste and can be found in larger supermarkets or wholefood stores. These air fryer chicken wings are perfectly served with chips and homemade coleslaw.
Ingredients
6 chicken wings
1 tablespoon olive oil
salt and freshly ground black pepper
finely sliced spring onion, to garnish
For the glaze:
2 tablespoons rice wine vinegar
11/2 tablespoons soy sauce
1 tablespoon unrefined sugar
1 teaspoon freshly grated ginger
1 tablespoon gochujang (Korean red pepper paste)
Method
Preheat the air-fryer to 200C/400F.
Toss the chicken wings in the oil, then season with a little salt and pepper. Add these to the preheated air-fryer and air-fry for 10 minutes.
Meanwhile, add the glaze ingredients to a small saucepan and heat over medium heat until reduced and the alcohol has burnt off. You'll know it is ready when you can stir the thickened glaze and you momentarily see the base of the pan.
After 10 minutes, brush the reduced glaze onto the chicken wings and cook for a further 5 minutes. Check the internal temperature of the wings has reached at least 74C/ 165F using a meat thermometer – if not, cook for another few minutes. Serve sprinkled with spring onion.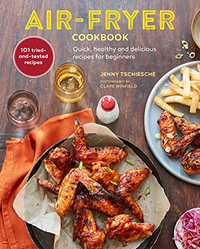 Air-Fryer Cookbook by Jenny Tschiesche, published by Ryland Peters & Small (£16.99) Photography by Clare Winfield © Ryland Peters & Small.
Top tips for making air fryer chicken wings
Cookbook author Jenny Tschiesche says; "You'll want to pick these up and nibble away at every last tasty morsel of chicken on these flavor-packed wings."
This recipe would work just as well with other cuts of chicken including drumsticks or thighs - you will have to adjust the air fryer cooking time accordingly.
If you're looking to upgrade your current air fryer or this recipe has inspired you to buy your own, have a look at our tried and tested roundup of the best air fryers for families - a great range suited to a family of four or more.
You might also like...
Nutritionist and cookbook author
Jenny Tschiesche, also known as the Lunchbox Doctor, is a nutritionist, recipe writer, and cookbook author who has been providing nutrition workshops to schools, workplaces, and clubs for many years. Alongside this, she creates a writes her own recipes to inspire others to make the best food and drink to support their health. She has five cookbooks to her name including the popular Air-Fryer Cookbook.