Put your air fryer to the test with this sticky sweet air fryer doughnut recipe by air fryer cookbook author Emily Paster.
Flavored with fresh lemon juice and zest and topped with edible dried lavender these doughnuts are elegant and perfect served for afternoon tea or a special birthday party. They are easily made in the air fryer too taking just 10 minutes to cook. You'll need plenty of time to prep and proof these doughnuts so keep that in mind when making.
Ingredients
120ml (1/2 cup) milk, warmed to between 100°F and 110°F (38°C to 43°C)
1 tsp yeast
50 g (1/4 cup) granulated sugar, divided
250 g (2 cups) all-purpose flour
1/2 tsp kosher salt
Zest and juice of 1 lemon
55 g (4tbsp) unsalted butter, melted
1 egg
Vegetable oil for spraying
150 g (11/2 cups) powdered sugar, sifted
Dried lavender for culinary use (optional)
Method
Combine the warm milk, yeast, and a pinch of sugar in a small bowl and whisk to combine. Allow to sit until the yeast blooms and looks bubbly, about 5 to 10 minutes. Meanwhile, whisk together the remaining sugar, flour, and salt. Add the zest of the lemon to the dry ingredients.
When the yeast has bloomed, add the milk mixture to the dry ingredients and stir to combine. Add the melted butter and the egg and stir to form a thick dough. Turn the dough out onto a well-floured board and knead until smooth, 1 to 2 minutes. Place the dough in an oiled bowl, cover, and allow to rise in the refrigerator overnight.
The following day, remove the dough from the refrigerator and allow it to come to room temperature. Turn the risen dough out onto a well-floured board. Roll the dough out until it is approximately 1/4 inch (6 mm) thick. Using a 3- or 4-inch (7.5 or 10 cm) circular cookie cutter, cut out as many doughnuts as possible. Use a 1-inch (2.5 cm) round cookie cutter to cut out holes from the center of each doughnut.
With the dough scraps, you can either cut out additional doughnut holes using the 1-inch (2.5 cm) cutter or, if desired, gather the scraps and roll them out again to cut out more doughnuts. (The doughnuts from the rerolled scraps will not rise as well as the other doughnuts.)
Transfer the doughnuts and doughnut holes to a lined baking sheet. Cover with a clean kitchen towel and allow to proof in a warm place until puffy and, when pressed with a finger, the dough slowly springs back, 30 minutes to 1 hour.
While the dough is proofing, prepare the glaze. In a medium bowl, whisk together the sifted powdered sugar and the juice from the lemon. Set aside. When the doughnuts have been proofed, spray the basket of the air fryer with oil. Transfer no more than 3 or 4 of the doughnuts and 2 or 3 of the holes to the air fryer basket. Spray the doughnuts lightly with oil. Cook at 360°F (182°C) for 5 to 6 minutes, flipping once halfway through, until browned and cooked through. Transfer the cooked doughnuts and holes to a cooling rack and repeat with the remaining doughnuts and holes.
Once the doughnuts are cool enough to handle, dip the tops into the glaze. Return the dipped doughnuts to the rack to allow the excess glaze to drip off.
Once the glaze has hardened, dip each doughnut again to create a nice opaque finish. While the second glaze is still wet, if desired, sprinkle a few buds of lavender on top of each doughnut.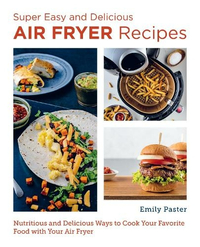 Super Easy and Delicious Air Fryer Recipes: Nutritious and Delicious Ways to Cook Your Favorite Food with Your Air Fryer by Emily Paster
Top tips for making air fryer doughnuts
Recipe author and air fryer expert Emily Paster says; "This recipe makes a classic American-style yeast-risen doughnut, but without the hassle and mess of deep-frying. The lemon zest in the batter and lemon juice in the glaze combine to create a doughnut with a bright, sweet-tart, citrus flavor. Because lemon and lavender are one of my favorite combinations, I sprinkle just a few buds of lavender on top of the glazed doughnuts. If lemon is not your thing, you can omit it entirely and use milk and vanilla extract for the glaze.
An overnight rise is traditional for doughnuts, and I think it breaks up the work into more manageable parts. The overnight rise is especially convenient if you are planning to serve the doughnuts in the morning."
If you're looking to upgrade your air fryer or you're researching a bigger model for your growing family, it would certainly be worth visiting our guide on the best air fryers for a family of four.
You might also like...
Recipe writer and cookbook author
Recipe writer and cookbook author Emily Paster has an array of cookbooks under her belt including Food Swap, The Joys of Jewish Preserving, Epic Air Fryer, and her latest Super Easy and Delicious Air Fryer recipes. Emily Paster is a food writer and culinary instructor specializing in global Jewish cuisine. Emily lives outside Chicago, where she teaches culinary classes, with her husband and two children.