It takes just three ingredients to make these flavorsome air fryer pork chops.
Drizzled in olive oil and cooked in garlic salt and black pepper, these air fryer pork chops are so simple to recreate at home using your own air fryer. Cook for 10 minutes in the air fryer at 180C, turning over occasionally to make sure both sides are being cooked. A simple yet delicious recipe. Serve pork chops with new potatoes tossed in butter and tenderstem broccoli.
Ingredients
2 x 250-g pork chops
1 tablespoon olive oil
garlic salt and freshly ground black pepper
Method
Preheat the air-fryer to 180C/350F.
Rub the olive oil into each side of the chops, then season both sides with garlic salt and pepper.
Add the chops to the preheated air-fryer and air-fry for 10 minutes, turning them over after 4 minutes. Check the internal temperature of the chops has reached at least 63C/145F using a meat thermometer – if not, cook for another few minutes and then serve.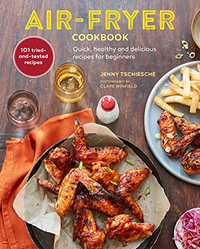 Air-Fryer Cookbook by Jenny Tschiesche, published by Ryland Peters & Small (£16.99) Photography by Clare Winfield © Ryland Peters & Small.
Top tips for making air fryer pork chops
Cookbook author Jenny Tschiesche says; "These moist and well-seasoned pork chops are pure comfort food! Great served with buttered new potatoes, green veg, and mayonnaise."
If you'd like to find out more about air fryers - how they work, and what are the best air fryers on the market, we have a range of nifty guides for you to read including the below:
You might also like...
Nutritionist and cookbook author
Jenny Tschiesche, also known as the Lunchbox Doctor, is a nutritionist, recipe writer, and cookbook author who has been providing nutrition workshops to schools, workplaces, and clubs for many years. Alongside this, she creates a writes her own recipes to inspire others to make the best food and drink to support their health. She has five cookbooks to her name including the popular Air-Fryer Cookbook.